I like using Pinterest boards as a way to organize bookmarks and remember cool Web sites. But they just changed things around and now I can't seem to comment on my pins. Can you help me out?
As with so much of the Web, Pinterest also seems to have bought into the dictum that there's nothing so constant as change. In this case, Pinterest keeps changing its user interface, sometimes stepping in a good direction, other times changing for, well, what appears to be the sake of change. Maybe it's just to ensure that whatever I write about how to use Pinterest is obsolete by the time I click the "Publish" button? Hmmm…
More seriously, the sequence of steps required to pin a particularly useful or interesting Web page does seem to have changed rather significantly overnight for us Pinterest fans and users, and it does make it harder to edit or modify comments. Perhaps that's deliberate?
In any case, let me go through the steps needed. If you haven't yet installed The Pinterest Pin-In button in your Web browser, I strongly encourage you to do so before we proceed.
Ready? Good. Here I am viewing an article on the BBC Web site. Here's the address bar:
Now I could copy and paste the URL into Pinterest directly to achieve the desired goal, but the pin-it button actually does a better job of scanning a page for potential images, so I encourage you to use that instead.
One you click on the Pin-It button, you get a nice gallery of images from that particular page that are suitable for pinning onto a Pin board: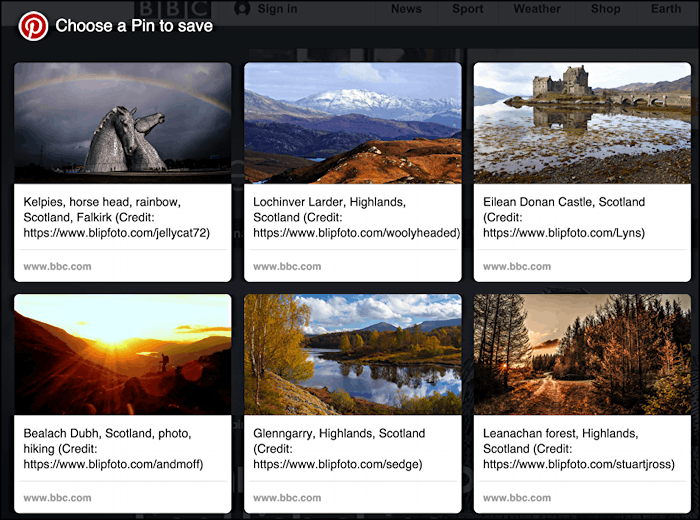 I really like the photo of Eilean Donan Castle on the top right, so I"ll move my cursor into that area and a button appears: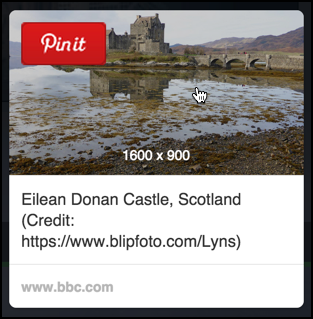 You already know the steps up to this point. They're the same.
Click on "Pin it" to proceed. Here's where things have changed dramatically: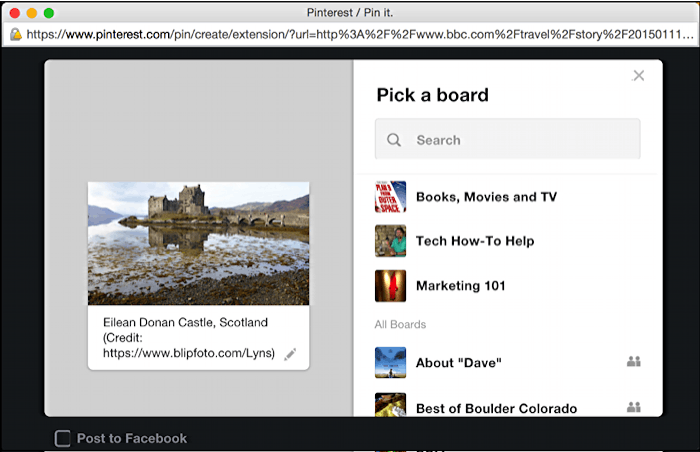 What's not at all obvious in the newly designed pop-up window is that you can edit the comment. You just need to remember to do so and to click on the pencil icon on the lower right of the comment prior to being able to modify it.
Make whatever changes you want, then scroll down on the clumsily designed list of pin boards to find the one that's the best fit. Once you move the cursor over that board's name, another button shows up:

If you're guessing that you should click on "Pin it" you'd be exactly right.
That's all there is. Now it's pinned: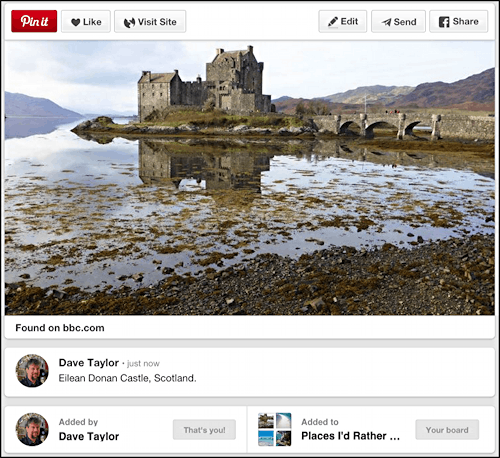 As you can see, I tweaked the description slightly and it worked. Perhaps surprisingly.
Now, the real question: what's changed on Pinterest since I wrote this particular tutorial? 🙂