Hi Dave! I am a freelance artist and the beginning of each year I get lots of requests from clients to fill out and send back IRS W9 forms. I don't really want to send my social security number in the clear, though, so is there a way to password protect these files? I'm running an old iMac if that matters…
While most email services are probably more secure than you think, it's smart to pay attention to document and information security nonetheless. After all, your email doesn't just magically hop from your computer directly the recipient's inbox but rather winds its way from computer to computer, network to network en route. There are also system backups that could have a copy of your file sitting on a cloud disk server forever. Encrypted? Hopefully. But do you want to risk it?
Fortunately you're on a Mac system: Apple has PDF password protection and encryption built right into the operating system, while Microsoft, for reasons I cannot explain, pushes out the task to Adobe Acrobat. But Adobe Acrobat is a licensed software product and costs a minimum of $10/mo for the right to add a password to an occasional PDF. (okay, it does more than that, but still, $120/year versus free on the Mac?) If you only do so very occasionally, you can just download Acrobat Pro from adobe.com and use it during your 7-day free trial, but that's a bit tedious too.
Truth is, I don't really know of a good, free solution on Windows to password protect a PDF document. If you're comfortable with a command prompt – going really old school – there are some free utilities you could download and utilize, but for a windows-friendly experience, you'll be paying for one app or another, either one time or a subscription to Adobe Acrobat as part of the Adobe Creative Suite.
Fortunately you are on a Mac and in MacOS the lowly and modest Preview program can do everything you need, from letting you fill in that W-9 form to saving it as an encrypted PDF with an access password for your privacy. Let's check it out…
PASSWORD PROTECT IRS TAX FILES (PDF) ON MAC
As it happens, while I was writing this, I received a request for me to fill out and send in a W-9 form for a company. In their email to me, they had simply attached the .pdf file straight off the IRS Web site:
A click on the tiny preview icon and Gmail showed me my options for accessing the file:
Basically, download it, or save it to Google Drive. Unfortunately, none of the Google Office Suite apps can open up a PDF, and the third party Lumin PDF utility doesn't support password protection, so it's not a tricky workaround.
No worries. Download the PDF and double click to open it up in Preview on your iMac:
You probably already know this, but Preview actually lets you fill in PDF forms, it's not just a reader app! In fact, click where you imagine an input field should be and it'll likely highlight that otherwise invisible text input box and let you type in. I've already entered my name, so you can see how it highlights my business name below:
Once you have it all filled out – and you can even scan in your signature if you want, as I detail here: How to Add a Signature to Preview on your Mac – don't save it, because here's where you want to add the password protection. Without the password, it's locked up, even if someone grabs a copy on a flash drive, steals your computer or hacks the recipient's backup server.
Here's probably the only confusing bit: Even though the document is already a PDF, you'll want to Export as PDF to be able to apply the password feature. It's an option off the File menu in Preview, as you can see: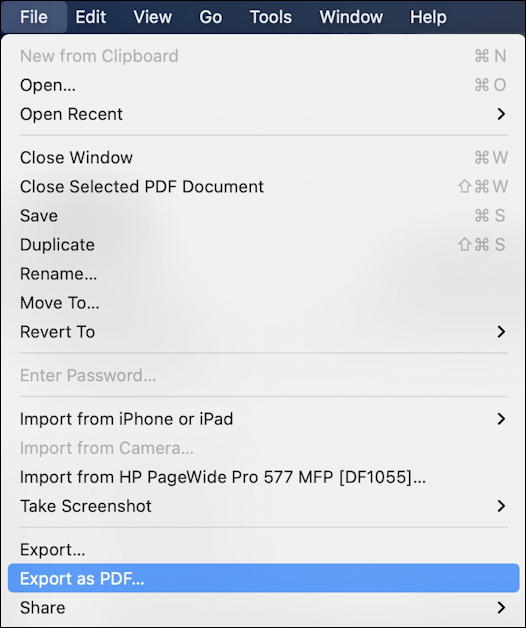 At this point, however, it looks like a regular file save window:
Click on that "Show Details" button and things get a whole lot more interesting:
Since the print subsystem on a Mac uses the PDF environment, some of this looks just like the print dialog. Disconcerting, but you don't need to change that anyway. Instead, check "Encrypt" and type in a simple password twice:
Once they match, click "Save" and you now have a version of your W-9 tax form PDF that's password protected. It even gets a new icon:
What I do is email the encrypted PDF (don't send the original!) to the person, letting them know that I will send the password through another channel. Then I'll typically text them or send another email that just contains the password itself and nothing else. It works every time, and whether they're in China, India or just down the street from me, I feel like I've done my bit to protect my Tax ID information and SSN (social security number). Best of all, it's pretty easy.
As long as you're not on a PC, that is. And if you, dear reader, are a Windows user, please do share in the comments how you create password protected PDF documents on your PC!
Pro Tip: I've been writing about MacOS since the very beginning. My first Apple computer was an Apple II, as it happens. Suffice to say, I have a substantial Mac help library I encourage you to check out while you're visiting. Thanks!