I use Preview on my iMac all the time, and it looks like it can include a digitized signature. Nice. How do I add one for myself?
The PDF Preview program included with Mac OS X does indeed have quite a variety of different capabilities and features that make it a lot more useful than just to view PDF documents. There are a lot of review and annotation tools and, yes, there's the ability to have a digital version of your signature, which makes it much easier to "sign" documents sent by other parties in digital format without having to print, sign, scan.
Scanning in and saving a really good example of your signature can be more than a bit tricky, however, as I'll demonstrate. There are basically two ways you can enter the signature too: either use your finger to sign on your trackpad, or sign on a blank piece of white paper and use the webcam to scan it in. Really.
Let's have a look, shall we?
To start, here's a typical digital document, an IRS Form W-9, as viewed in Preview:
As you can see, it has a space where you're supposed to sign. A perfect use for the signature capability of Preview!
Easiest way to get to the signature management area is off the "Tools" menu:
As you can see, it's Tools > Annotate > Signature > Manage Signatures…
Once you get there, you'll see the two options, Trackpad and Camera: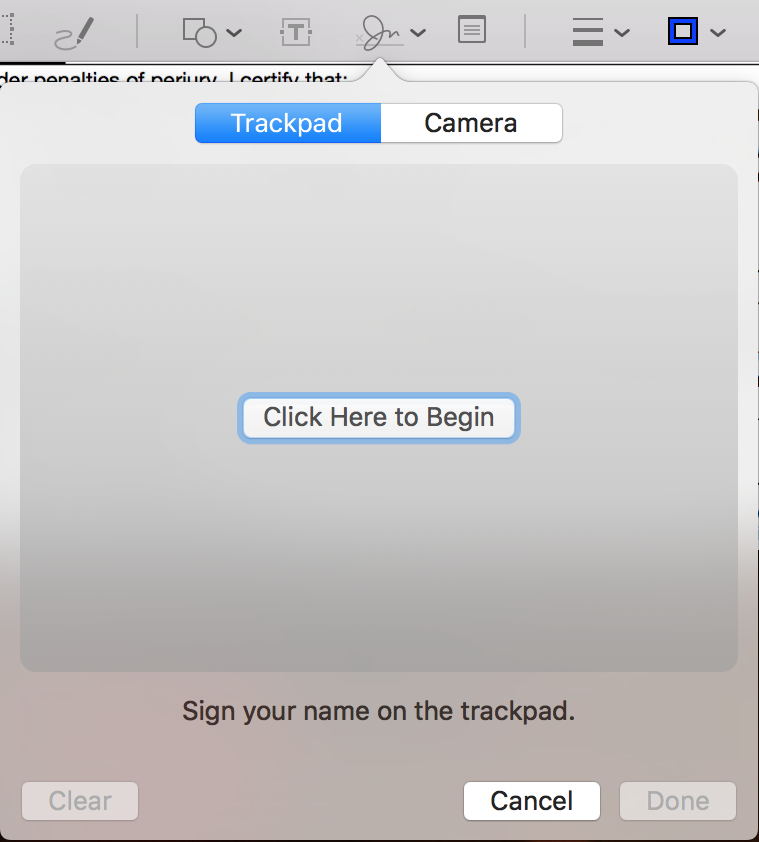 Now you might be great using your finger on the trackpad to create a signature, but even after a couple of tries, mine is, uhhh, not great:
Instead, a click on "Camera" and we can try using the built-in Webcam on the Mac to create a signature!
You will need to grab a piece of blank paper and write your signature big and bold. I suggest a black felt marker if you have one to create a high contrast sample.
Then it's a bit tricky to hold it up in the right spot, but if you peek around the side, you can get it in just the right place (the blue line is from Preview for alignment):
Fortunately when I held it still, I got a good scan, though it's still showing the live Webcam view at this point too, so the signature is superimposed, which is a bit weird:
Looks good, actually! I'll click "Done" and save this scanned signature, which now shows up on the Signature menu:
Then it's just a matter of selecting it while viewing a PDF and the digitized signature is added on top of the doc:
At this point you can resize it (grab a corner and drag) and move it around (click on the center of the signature and drag it to where you need while holding down the mouse). That's it. Easy, and darn useful!