I use the Calendar app on my iPhone to manage my schedule and am wondering if there's a way that my Alexa devices can access my schedule too?
Back when the Amazon Alexa first showed up, it really didn't interface with much of anything third party. Amazon's done a great job of fixing that problem, however, and nowadays you can access all sorts of third party data sources, including Apple's iCloud information. Which includes your iCal (oops, Apple Calendar) data. Getting it to work involves a bunch of steps, however, starting with the requirement that you're backing up your calendar to iCloud and the necessity that you've enabled two-factor authentication for your iCloud account. Haven't done so yet? Here's a tutorial: How to Enable 2-Factor Authentication for iCloud.
Got it? Great, let's jump in. You're going to need access to both your iPhone, your Mac and possibly an Amazon Echo device like an Echo Dot for testing purposes. To start, launch the Amazon Alexa app on your iPhone, then tap on the three horizontal lines on the top left to open up the main menu:
I really hope you've seen this many times before as its how you add new skills, routines, devices, etc. Either way, for this task you want to go into Settings so tap on the last option of the group: "Settings".
Swipe down as needed until you see "Email & Calendar" show up as one of the menu options:
I know this will be startling but… tap on "Email & Calendar" to enable Alexa to access your Apple Calendar data.
If you have more than one Alexa user, as I do, the program will prompt you like this: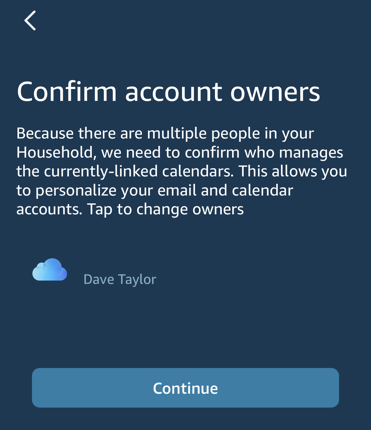 Make sure it has the correct account owner shown or tap to change as needed. Once you've done that, or if you're flying solo, it'll go here: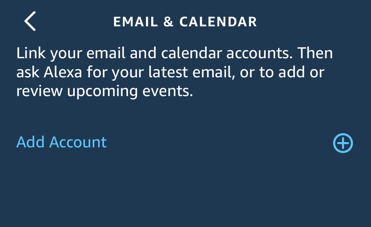 At this point you'll need to grant the Amazon Alexa app access to the data in your iCloud account. We're about 1/3 of the way done here, if you're curious. To proceed, tap "Add Account"…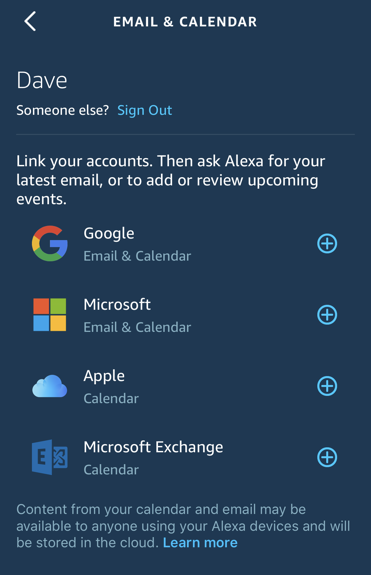 As you can see, it offers support for quite a few options, from Google Calendar to Microsoft Calendar to Microsoft Exchange Calendar to the one we want, Apple Calendar. Tap on "Apple" to proceed.
After a few warning screens about needing 2-factor authentication (as discussed earlier) it will prompt you to log in to your account: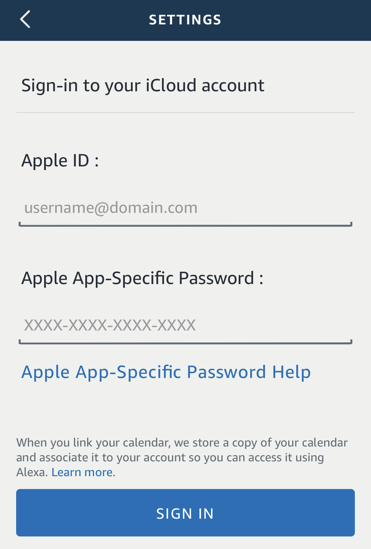 Here's where it gets a bit complicated.
Put your phone aside for a moment and grab your computer.
Login to appleid.apple.com (type it in so you know it's the right site!) and once you've verified your access, you'll see this as one of the sections in the Settings screen:

See where it says "APP-SPECIFIC PASSWORDS"? That's what you need to be able to log in to your Apple cloud account through the Amazon Alexa app. Tap on "Generate Password…" to proceed.
Now it'll ask for a handy memo or note to associate with this password:
I suggest something like "Alexa" as a password label (note: these labels are particularly helpful when you occasionally clear your app specific passwords, so it's worth taking the few seconds to add it here). Good? Click or tap on "Create" and it'll show you the unique – and valid – app-specific password:
That's all you need from the computer. Well done.
Pick up your iPhone again, and now in the password field, enter the app-specific password as generated on the AppleID site. Mine is the simple and easily entered gdxd-gdxd-gdxd-gdxd, but yours will be a bit more complicated. 🙂
That's basically all the work required. At this point the Alexa app will show you a list of all calendars you have hooked up to your iCloud account (if more than once) and you can tap to choose which calendars you'd like to have included in the Alexa updates: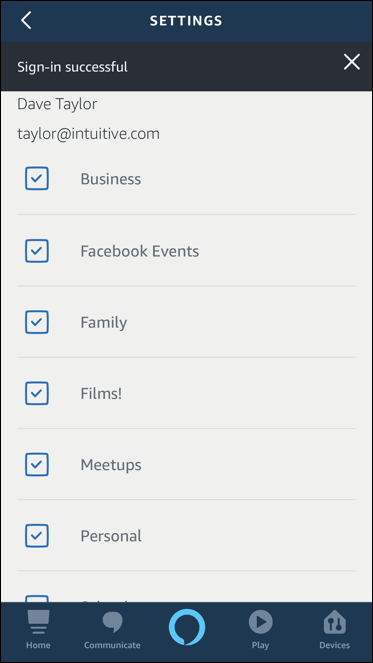 I have a lot of calendars, as you can see! A tap to select them all and I'm done. That's it.
Next step is to test the connection out, and that can be done by tapping on the circular icon at the bottom of the screen. A tap and Alexa's listening! "What's on my calendar today?" produces:
A pretty light day, but that's exactly right. Better yet, now just say out loud "alexa, what's today's schedule?" and let your Echo Dot or similar device actually read out your calendar for the day. Then try "alexa, tomorrow's schedule?"
Nice, eh? A bit tedious but doable if you take it step by step.
Pro Tip: I have lots of iPhone help here on the site, and lots of Alexa tips and tricks too. Please check 'em out while you're here!