My eyesight must be going because I often can't find the cursor on the screen on my PC. I have a big screen, but the cursor is often this tiny line, not an arrow or bar. What can I change in Windows 11 to make it more visible?
Much of the user interface of modern computers seems to be built around the assumption that you have excellent vision and motor control. This may be true for a lot of users, even a majority, but there are millions of people who are challenged to be efficient and productive. Companies like Microsoft have been working with variously abled communities for decades, however, trying to find what changes and optional accessibility settings can help with overall usability. Fortunately, there are some really great options in Windows 11 that will totally change your computing experience…
Before we go further, however, I am going to strongly recommend that you do not download and install any cursor utilities or tools from the Internet. While it might seem useful, these are commonly some of the most malicious malware, because once installed they literally have access to every keystroke and every character and picture on the screen. Good for the criminals who want to surveil you, but really bad for your privacy. Solution: Don't use third-party cursor apps and programs. On any system.
Let's have a look at some of the basic tweaks you can make in Windows instead!
CHANGE YOUR CURSOR COLOR IN WINDOWS 11
The problem is pretty common and even the greatest power users occasionally find themselves spinning the cursor in circles to try and find the pointer image on the screen. Here's an example: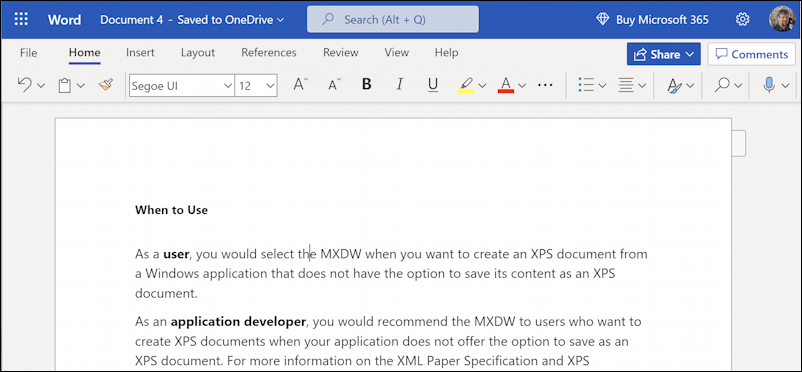 Can you find the cursor? It's a 1-pixel wide line in the middle of the word "the" in the first sentence. It takes some eagle eyes to spot that, however, so what can be done to improve the situation?
Open up Settings for your Windows system (not Word or Office 365) and search for "cursor" to find out…
Turns out that there are a number of different cursors and pointing icons on the screen. The line is the "text cursor" and the arrow is the "mouse pointer". Let's start with that text cursor. Choose "Text cursor thickness" and a specific window within System Settings is displayed: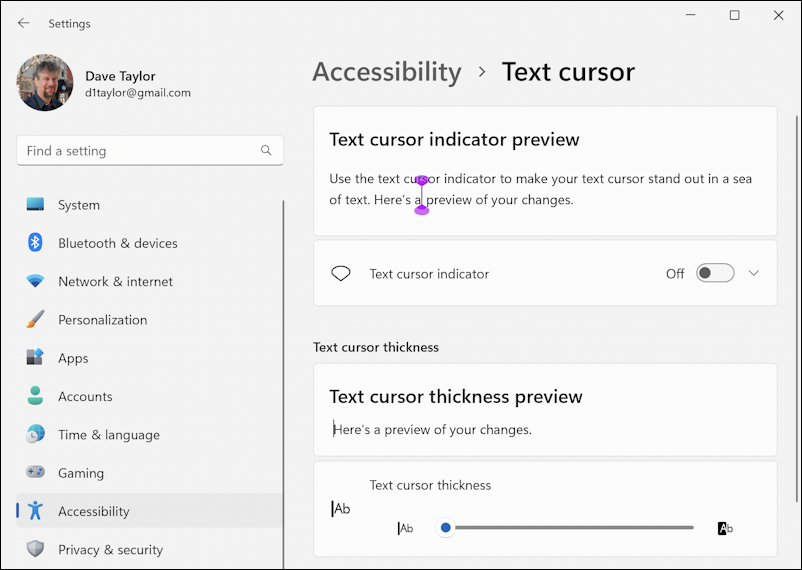 Notice that in this window it's called "text cursor", a bit of inconsistency that can lead to additional confusion. But you can both change the thickness of the text cursor and its "indicator" graphic. In the above, it's gained these purple bubbles above and below, which makes it much easier to find!
Click on the "v" symbol to the right of the on/off slider for "Text cursor indicator", however, and you'll see there are a lot of options: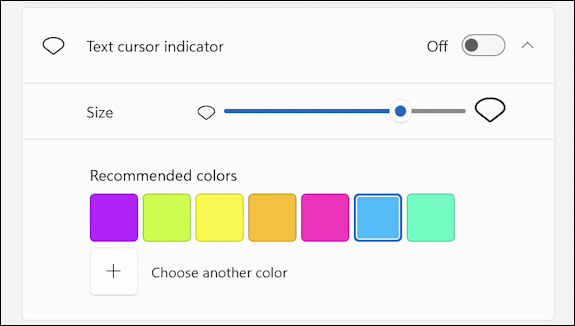 You can change both the size of those bubbles and the color! It will even show you a preview. Like what you see? Click on the slider so it shows "On" instead of "Off" and you've just improved your Windows user experience.
While you're here, however, you might consider making your text cursor line thicker too: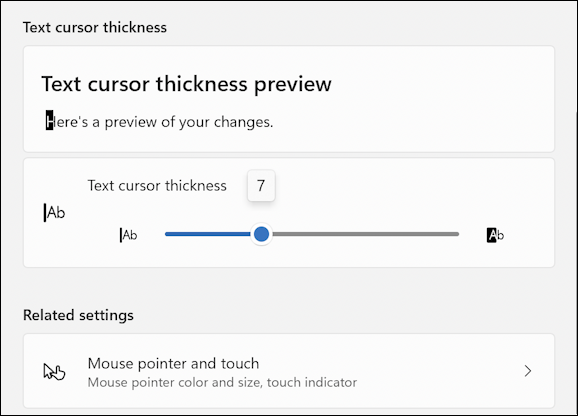 '7' is probably too thick, as you can see, but changing from 1 pixel width to 2 or 3 will also offer greater legibility. Combine them and it's much easier to see where that text cursor is on the screen:

But there's more you can change while you're seeking greater legibility and a better user experience on your Windows 11 PC…
IMPROVE LEGIBILITY OF YOUR MOUSE POINTER
Go back to Settings and search for "mouse pointer". Choose "Mouse pointer and touch" and you'll see this: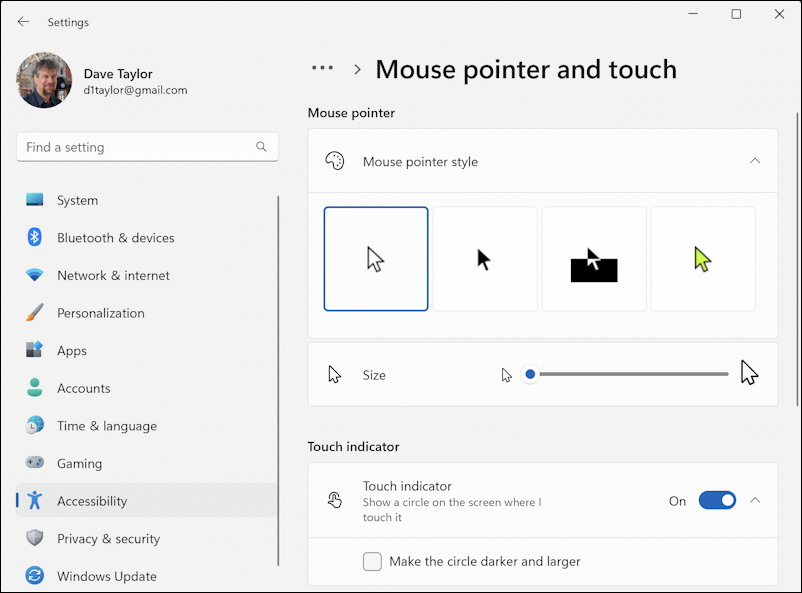 You can change the size of the mouse pointer arrow, but I suggest instead that you utilize color to help. Click to choose the light green mouse pointer and it's an instant game changer!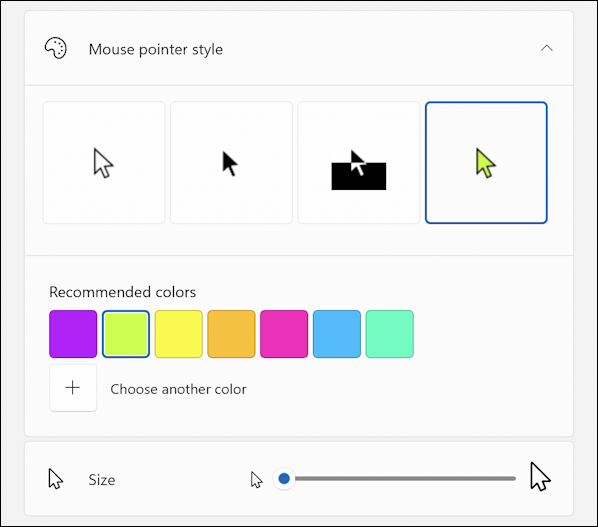 You can try making it a bit bigger too, but I find that turning that cursor a bright color like lime green or yellow significantly helps its "findability" on the display screen all by itself.
And one more, while you're here. Scroll down to "Touch indicator" on this Settings window:

You can see that I've enabled "Touch indicator", which briefly shows a circle centered on the spot tapped or touched on the screen. Hard to see? Choose "Make the circle darker and larger" to improve legibility.
Between all those settings you should be able to significantly improve your Windows experience. Good luck!
Pro Tip: I've been writing about Windows since the beginning. While you're here, please check out my extensive Windows help area for hundreds of other useful tutorials and how-to articles. Thanks!