You've done enough reading and now it's time to actually get your hands dirty with actual generative AI tools and capabilities? You don't have to go any further than Bing Search! Here's how…
The tech industry is definitely susceptible to hype and an excess of enthusiasm but even factoring that in, there are few new technologies that have shown up in the last decade with more promise than Generative AI. Known informally as GAI, it's the concept underlying tools like ChatGPT and Midjourney, but as the big tech players get more involved, you don't have to go any further than your Web browser (or OS home screen!) to tap into the capabilities and opportunities of these technologies.
Are there risks and dangers? Yes. Should you immediately stop creating anything, writing memos at work, essays at school, and painting what's in your heart on your canvas? Of course not. But as tools that can help us imagine our vision or just have some fun exploring what "the robot" can do, they're remarkable. Microsoft has a big partnership with OpenAI, the company behind both ChatGPT and the image creation GAI tool Dall-E, and now both are integrated right into Bing Search itself! Let's have some fun…
CHAT WITH AN AI? LET'S DO IT!
To start out, just go to bing.com as if you were poised to begin a regular old Web search. Look closely at the toolbar along the top:

What's new here is the "Chat" option. Click on it and you're ready to interact with ChatGPT!
You can see along the top that there are some fun suggestions to consider. They also neatly demonstrate the range of possibilities too. Just as importantly, notice you can choose a "conversation style" and that the default is a balance between creative and precise. Let's leave it at that and try a first query:

You don't have to limit your response, but sometimes these GAI tools can be long-winded, so it's not a bad strategy (though it won't hit that target exactly). Can ChatGPT field such an abstract question? Yes it can!
You can see that there is some awkward redundancy here that would be a sure red flag for a teacher if a student were to submit it without actually critically reading the results beforehand!
How about a bit more of a creative answer? This is where ChatGPT / Bing AI Chat can be really fun:
Could you answer this in the form specified? Turns out that the GAI tools can manage the response in under 60 seconds. Here's what it produces: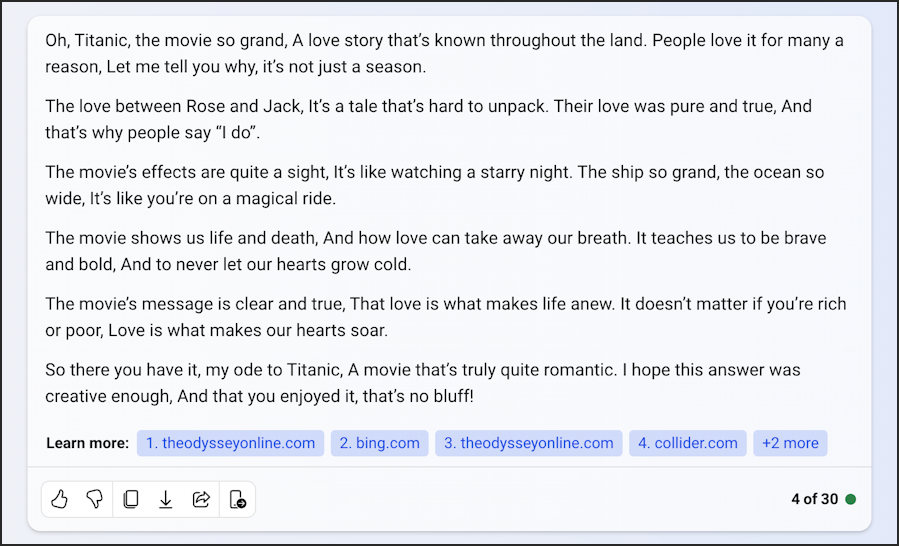 It's not bad at all, actually. Notice that there are some reference sites included at the bottom too, including the ability to give feedback on the result to help train it to have better answers in the future. You can also keep interacting and it'll remember previous comments so you can refer to, for example, "the film" without a problem.
Now, how about images? Turns out that OpenAI's Dall-E is also integrated into Bing Search, though it's not quite as elegant…
CAN AI PRODUCE IMAGES? YES, YES IT CAN!
To switch, simply click or tap on the "Images" link on the very top (in the navbar of Bing Search) and you'll go to the standard Bing Image Search. But there are a couple of new buttons that have been rather stealthily added: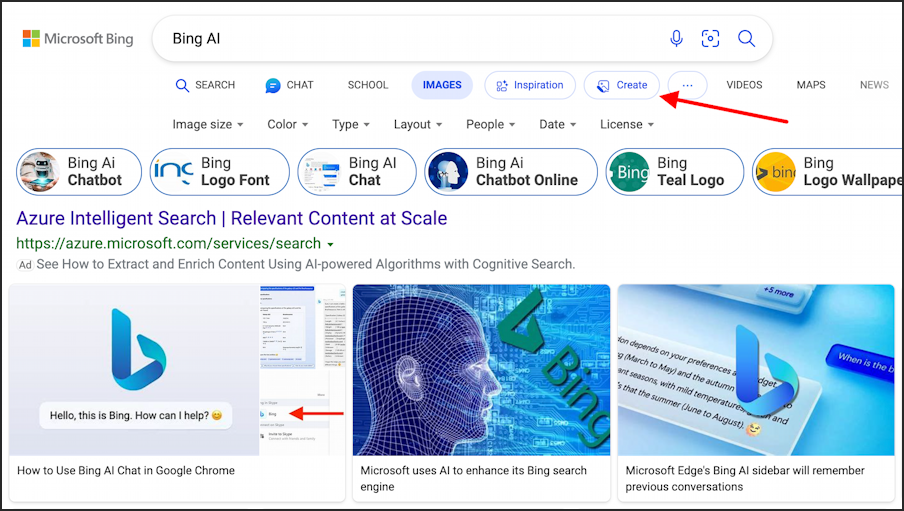 To get to the Generative AI facet of Image Search, click on the "Create" button. It's rather a subtle button, isn't it? But when you click, it all changes…
All the fun images are recent generated artwork by the Dall-E tool. Pretty amazing, really, and all generated based on user prompts. With that in mind, let's prompt it using the same Titanic theme:
Notice that half of my prompt relates to the style I seek in the results. Easy enough, and you can experiment with "pencil sketch", "oil painting", "photorealistic", "cartoony", and hundreds of other styles. The creation takes a short period (maybe 30 seconds or so) after which it will show a grid of four results:
Now it's only so smart so, for example, image #4 doesn't make sense given the film itself, and while image #3 is beautiful, there's a slight factual error in that the Titanic had four smokestacks, not three (interestingly, the fourth was just for air circulation and aesthetics, it wasn't part of the engine system). Still, incredible results for a general purpose image creation tool.
You can also click on an individual image to get a larger version of it and right-click to save a copy to your own computer or mobile device:
Finally, here's the image itself, for your viewing pleasure:
Now, go and try all this out for yourself, and let me know how it goes!
Pro tip: I've been writing about computer and Internet basics, including AI, for many years. Please check out my computer and Internet basics help area for lots more useful tutorials on AI and much, much more!