Dave, I want to try out the fancy new AI powered image creation tools online but have no idea how and where to start. Can you get me moving in the right direction, please? I'm on an old Dell PC if that matters.
There's a revolution of content and media happening before our eyes and it's surprising how few people have actually tried any of the free, publicly available tools. Not a week goes by without some major announcement or update, ethical debate, or predictions of dire consequences for the tech we have.
What's rarely mentioned, however, is just how darn fun it all is. Imagine, you can produce a hip-hop song lyric with just a dozen words of prompting, or create an image suitable for your holiday cars in under 30 seconds!
There are some other considerations, of course, including copyright (as of this moment only humans can create copyright so everything created by AI is de facto in the public domain) and whether you would have previously hired a human to do the job (us creative humans need to earn a living too). Plenty of people are considering these aspects of the AI revolution, however, so let's focus on how you can dip your toe into the AI water and see if you're ready to swim!
You can start exploring the textual side of AI, known generally as Generative AI, in my earlier tutorial on How to Get Started with Generative AI. In this article, I'm going to focus on AI image creation by considering two free and easy to use tools: Bing's DALL-E, and Ideogram.AI. Let's check it out…
BING IMAGE SEARCH CREATOR
Probably the easiest way to understand how powerful these AI image creation tools can be is to utilize the tool that's now just a click away from the Bing Image Search home screen: DALL-E. If I go to Bing Image Search, there are the usual buttons below the searchbar, but there are also a few new ones you might not have noticed:

I added the arrow to help identify "Create"; it's the shortcut to Bing's version of OpenAI's excellent DALL-E AI-powered image creation tool. Click on it and you'll go to a completely new area of Microsoft Bing: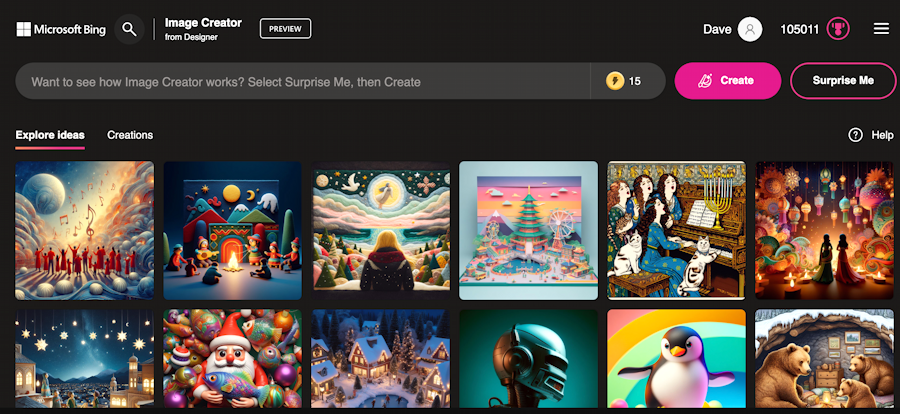 You simply type your "prompt" for the image you'd like created into the search box and click "Create" to have the program produce your desired image. Below you can see some of the recent creations people have produced, very holiday themed, very appropriate for holiday cards and e-cards!
CREATING IMAGES IN BING / DALL-E
The trick to all of these AI tools is that the more information you submit, the more likely it'll be close to what you seek. I'm going to demonstrate by using the example of "sleeping cricket". In my mind is a cartoony illustration like something out of Disney's Pinocchio, but will the software know that assumption?
While it's generating, there are very helpful tips and suggestions that appear:
AI image creation tools tend to offer a couple of variations on what you request, and this one's no different. Here's what it offers up:

Well, it definitely took me literally, being able to understand 'sleeping' as a concept and 'cricket' as an image subject. Not exactly what I was thinking, however!
The key to improving the results is to be more detailed including specifying the style of image you seek. I'm going to try again, but this time add a bit more information. My new prompt for the AI is "cartoon pastel color sleeping cricket on plush blanket, warm fire in the background". The results are VERY different!

Pretty amazing, isn't it?
But that "sleeping" gives me an inspiration. What if instead of cricket I tried "angel"? This time I'll also specify "3d" to give it a different feel. Very different, and equally fascinating results:
Heads up: Here's where one of the great challenges of AI rears its ugly head, though; why did the AI assume that when I specified an "angel" I meant they should be caucasian? Embedded bias is one of the dimensions of AI that has yet to be solved, but it's worth keeping in mind as you proceed. Note that I could have specified "Hispanic angel" or "Vietnamese child" or similar to change the results.
The results are still astonishing because these images were created on demand, they're not "search results" of images that an artist has created somewhere on the Web.
Bing Image Search's DALL-E interface is very good, but there's a second tool I want us to explore too, so let's not stop here.
BASIC AI IMAGE CREATION WITH IDEOGRAM.AI
Bing AI works based on tokens. Notice the number on the right edge of my search box decrements as I proceed. When it gets to zero I need to buy more tokens to proceed. I believe they're renewed at the beginning of each month, but am unsure since Microsoft's been a bit coy about that aspect. The alternative AI-powered image creation program at Ideogram.AI works differently: The more you use it, the slower it'll get. You can continue to use it, however, but like most of these tools, it'll quickly teach you to be as detailed as possible with your prompts to get good results quickly!
The main prompt immediately conveys that it's a bit more user friendly than the Bing interface:
What I really like is that it suggests styles (including the fun "Lucky style") and lets you specify preferred dimensions for your resultant image, tall, square, or wide. I'll again start with something basic…
This time it's "sleeping angel on plush blanket, warm fire in the background" in the style "anime". The four images it creates are quite interesting:

As is common, some of them tend to ignore aspects or make different assumptions (for example, did I specify "young" or "old" angel?) and one even has the "background" fire in the foreground, but they're all really interesting and would be great inspiration prompts for an artist learning to drawn their own angels too!
You can try how much the AI might vary results with the "Remix" button below each of the images, successively refine your vision or start over entirely.
LEARN BETTER AI IMAGE PROMPTS
There's a secret to really learning how to produce great AI images and it's staring at you from the home page of both creation tools. Look at the images on the home screen of the service; these have all been generated by the tool too, and you can see the prompt!
For example, here are four from Ideogram.AI:
The "Janeth Cute" image of the young woman with the Christmas sweater and Santa hat is interesting. To learn the full and detailed prompt, simply click on the image:
You can see from the "Parent" image that this is a refinement of an earlier creation and notice that it's super detailed with lots of information about style, even some that seem to have been completely ignored ("dark christmas"??).
Bing AI Image Creation also offers up its previously generated images to help learn prompting…
These are wonderful, but I am particularly drawn to the image on the lower left. A click on it and the full and detailed creation prompt is revealed:
Not quite as detailed as the earlier Ideogram.AI example, but still: "whimsical paper diorama collage, surreal, surrealism, boys on a village rooftop at night looking up at beautiful stars, qajar art, twinkling lights, middle eastern architecture, beautiful night scene, dreamscape fantasy".
For even more fun, you can then feed the prompt to one of these tools to see what it proceeds. I'm going to cross-pollinate and feed that prompt to Ideogram.AI. Here's the result:
Isn't this all just amazing? I hope you'll give both tools a try and have lots of fun learning about the capabilities of these AI image creation tools. Now, imagine how good they'll be in five years!
Pro tip: I've been writing about computer and Internet basics, including AI, for many years. Please check out my computer and Internet basics help area for lots more useful tutorials on AI and much, much more!