I could swear that pinching to zoom used to work on my MacBook Air, but now it does nothing at all. Is this a setting? How can I enable pinch to zoom on my MacBook? Running MacOS 13.
While the general Mac user experience is pretty consistent across hardware, there's a big gap between the functionality of a traditional mouse and a trackpad. That's one reason that most Mac users, even desktop Macs like an iMac, tend to get a trackpad, typically the Apple wireless Bluetooth "Magic Trackpad". There's just a lot more you can do with multi-touch than with a ball being pushed around a desktop. But it turns out that there are rather a lot of options and settings to change or tweak this behavior in MacOS, whether you have MacOS 13.2.1 (the very latest as of this writing) or MacOS 12 or earlier.
Before we go further, however, I have to say that even with Pinch to Zoom (technically called "Gesture: Zoom In or Out") there are some Mac apps that just don't offer that functionality, including some email programs. It's disconcerting to have it work great in your Web browser, photo browser, or graphics editor but not work in email, but such is the state of modern Mac software.
MACOS 13: SYSTEM SETTINGS
To get things set up and configured, it's time to move into System Settings… [off the 🍎 menu] but if you're new to MacOS 13, you're in for a pretty big shock: It's completely redesigned versus the rows of setting icons from all previous generations of MacOS. The new design is intended to be more like the experience of a mobile device like an iPhone or iPad. And so, the new System Settings:
Mine defaults to "Appearance", as you can see, but where in previous versions there were rows of buttons, now everything's in the list on the left side.
MACOS TRACKPAD SETTINGS AND PREFERENCES
You'll  need to scroll down to the very bottom to find "Trackpad". Click on that and the options on the right side change: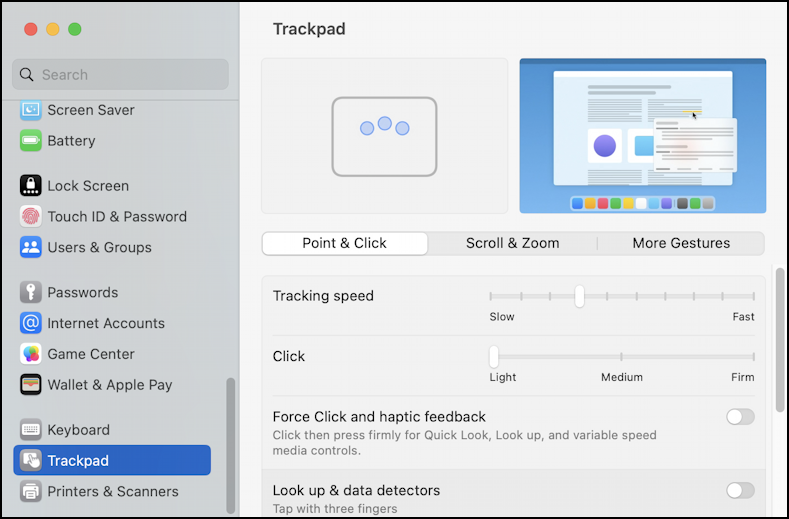 Before you look at the individual settings, note that there are three "tabs" in the middle of the window labeled "Point & Click", "Scroll & Zoom", and "More Gestures". That denotes that there are three different screens full of settings and preferences.
At this point, however, you can adjust your tracking speed and how hard you need to press to get a "click" registered. You can even get haptic feedback on your trackpad (which is interesting, try it, see if you like it. I don't but I think a lot of people like it). Scroll down to see what other options there are on this Point & Click settings page.
Then click on "Scroll & Zoom" to see that Pinch to Zoom setting!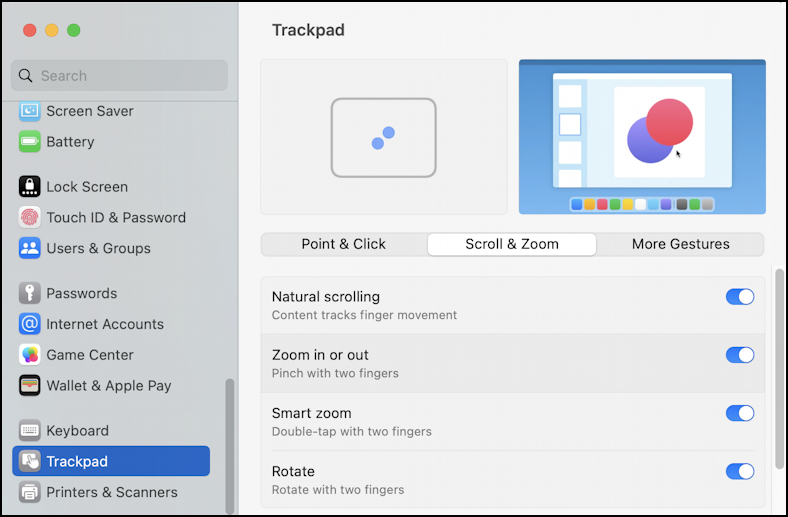 What you seek here is "Zoom in or out": simply make sure it's enabled. As you can see above, I enable all of these Scroll & Zoom settings for my MacBook Pro. Again, scroll down to check out all the different options. More importantly, watch the animations on this settings page too, because as you click on a setting, it'll give you a visual representation of what it lets you do, which can be quite helpful!
You might want to also check out "More Gestures" while you're looking at all your Trackpad settings. I mostly have those disabled because I don't use things like Launchpad, Mission Control, or Exposé, but if you do, then give 'em a try.
BONUS: MACOS MOUSE SETTINGS
What you might notice is that there's no option for Mouse settings. That's because you don't have one plugged in if you're utilizing the trackpad on your MacBook Air. Plug one in and new Settings appear in the System Settings window: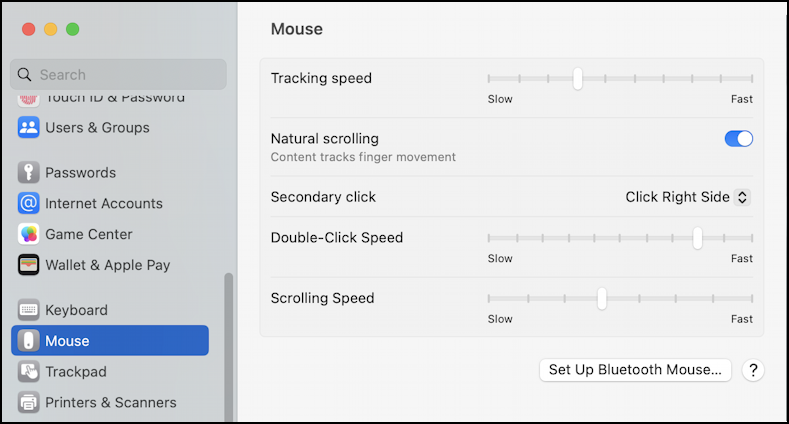 Probably the most useful of these is Tracking speed – a really important setting with a mouse! – but you can see the other options too. Helpful!
Pro Tip: I've been writing about the Mac since the very first system was released. Please check out my extensive Mac Help Library while you're visiting. Thanks!