I'm afraid that I might be running out of disk space on my new iMac, but I can't figure out how to tell how much space I have! Seems like it should be easier! What's the best way to see free space on my MacOS drive?
By default, Apple seems to want to keep users in the dark about the size of their hard disks and how much space is remaining. You just use it until a warning appears that you're running low on space, which can be alarming if you're in the middle of a download or saving an important file or manuscript. There are plenty of ways to find out, but they all generally involve you digging around or launching one program or another.
Heck, you can even find out directly from the About This Mac window, but, again, you need to click on a specific button (which means you need to know that the button exists). A computer for the rest of us? Well, maybe once you get it all configured properly. I've been using Mac systems since the dawn of Mac OS so have figured out just about all of the possibilities. Let's go through a scenic tour of the many, many ways you can identify free space on your iMac disk…
MACOS FREE SPACE: IN THE FINDER
The most obvious one is to look in the Finder. Turns out that at the bottom of every single Finder window you can display a "status" line that includes the available free space on that particular drive. Here's what I mean: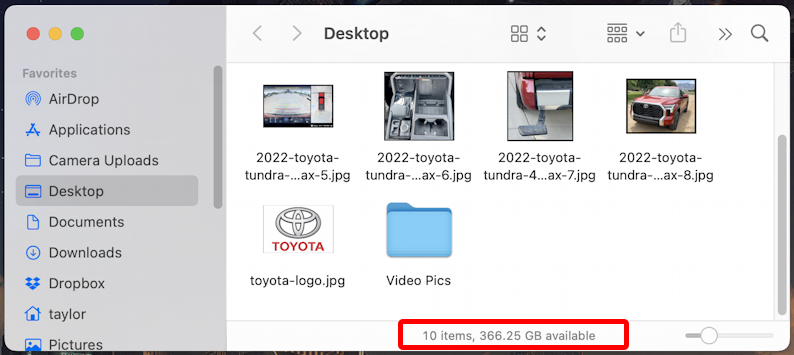 In this instance, you can see that I have 366.25 GB of available space. How do you enable this status line? Go into the Finder (easily done by clicking on your desktop) and choose View > Show Status Bar. If it's grayed out, that's because you don't have an actual Finder window open, so use File > New Finder Window to remedy that problem.
While we're here, a really handy navigational trick: If you click on the current location ("Desktop" in the Finder window above) while holding down the Command key, you'll get a hierarchical menu of parent folders, all the way up to the very top of your system:
Choose the bottommost option – on my computer it's "M1 MacBook Pro" – and you'll get a new Finder window that shows an icon for your entire hard drive. Click once to select it, then use File > Get Info and you'll see more details about the drive's capacity and available space: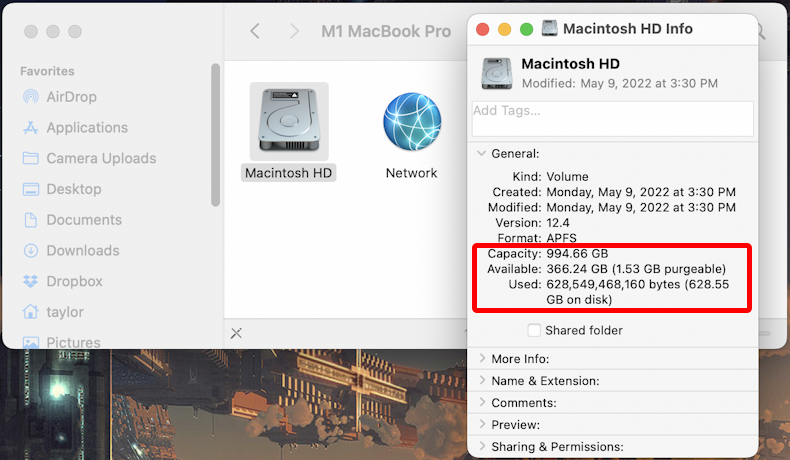 The overall drive capacity finally appears: 994.66 GB. Why isn't it the 1TB advertised? Because the file system used to organize everything takes up a little bit of space. Still, I can see that out of 994.66 GB I'm using 628.5 GB, which means I have 366.2 GB available.
FIND DISK SPACE THROUGH ABOUT THIS MAC
For a third way to figure out available disk space, choose "About This Mac" from the Apple menu on the top left of your Mac screen. Then click on "Storage". Here's what I see:

Definitely a more attractive presentation, and it includes the capacity and even shows you by color the types of files that are consuming all the space. I have a lot of Documents (which include virtual machines and other files).
A similar image can be displayed but with more technical information using Disk Utility…
AVAILABLE FREE SPACE THROUGH MACOS DISK UTILITY
Disk Utility can be found in the Applications > Utilities folder. Launch it with a double-click and it'll also show you free space, along with quite a bit more information: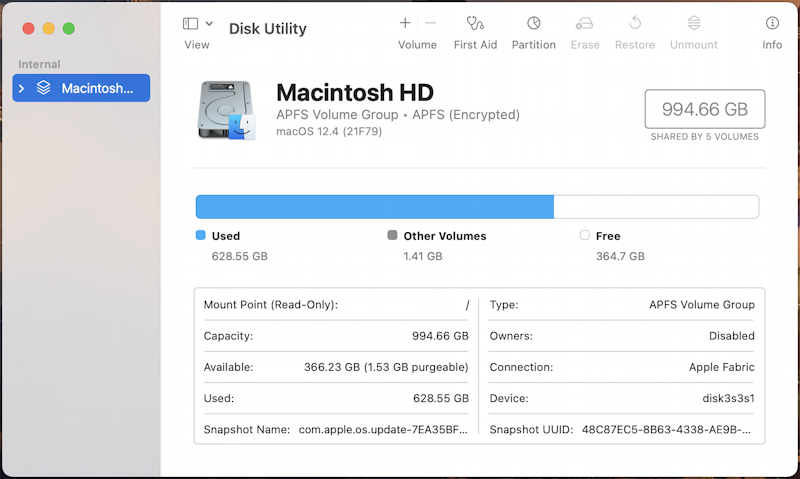 This is an administrative tool, so I recommend caution while this is open. The only thing you might want to try is to click on "First Aid", but then again, if you have a Mac expert friend or family member, you might instead ask them to assist so you stay safe. This tool can also erase your entire drive so extreme caution is warranted while it's open.
MAC FREE SPACE WITH SYSTEM INFORMATION
There's one more option that's even more geeky, but some tech people will really enjoy learning about System Information, another tool that can be found in Applications > Utilities. This one can't actually change anything so while it's a bit harder to interpret, it's safer to explore. Launch it, then, on the left side, find and click on "Storage".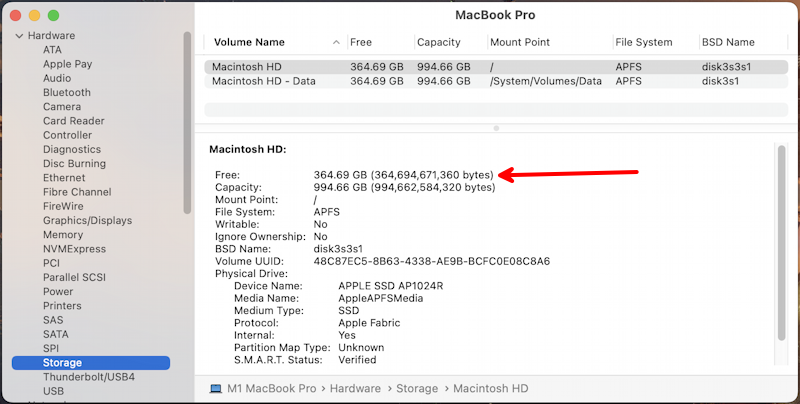 This is as technical and geeky as you can get, with lots of information that even experienced Mac users might find confusing. It's also very, very detailed, so we don't have 365GB free, we have 364,694,671,360 bytes of free space! There's lots to explore in this tool too, including "Power" which can tell you how many watts that charger is feeding your Mac if you're charging it, and "Bluetooth" to see how the actual Bluetooth hardware is configured on your computer.
And that's it. A half-dozen different ways to ascertain how much free space you have on your Mac!
Pro Tip: I have hundreds of Mac tutorials and help pages on the site as I've been running MacOS since the introduction of the operating system. Please take the time to check 'em out!