I'm baffled. I've tried the Export feature and the Export All to Notes feature in Stickies on my Mac, but I still can't migrate all of my actual Stickies to my new iMac! Is there a trick to exporting all my Sticky Notes so I can move them from Mac to Mac?
There are definitely a lot of alternative programs you can run on your Mac system, notably Evernote, but I'm a fan of Stickies. It's simple, lightweight, free, and available on every single Mac system. Convenient! The sticky notes are also more flexible than most people realize, allowing you to use multiple fonts, paste in images, and much more.
The problem is that for reasons that are completely inexplicable, there's no way to export all your notes and import them into another copy of Stickies, or even just back them all up to a recoverable file. It seems like it does, but as I'll show, it doesn't. If you don't mind getting your hands dirty, however, there is a really easy way to make a highly functional backup and even copy all your Stickies Notes from one Mac to another.
STICKIES CAN'T EXPORT STICKY NOTES
Let's jump into the Stickies app for just a moment to see what it offers. Go to the Window menu and you can see a handy list of all your Stickies, whether they're minimized to just the title bar or open on the screen: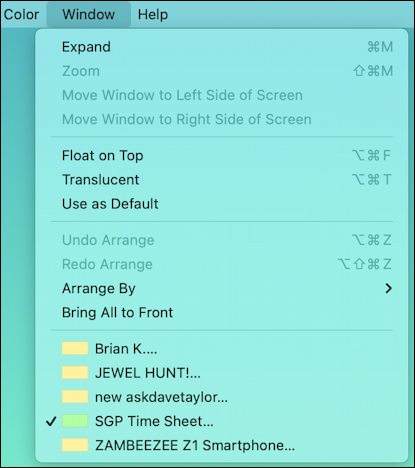 Notice the green Stickies note has a tiny green box adjacent: Use color coding to help know what's what with your own notes.
But let's move over to the File menu…
It's certainly not obvious on first glance that Import Text… and Export Text… relate to the active Stickies note only. In other words, if I have five notes, I'd have to go through this export process five times. Tedious and inefficient.
Okay, how about Export All to Notes…? Nope, that turns each Stickies note into its own note in the Notes app, which is better than nothing, but still not what you seek. Why doesn't the app have "Export All Notes…" and "Import Notes…" as options? Inexplicable.
MANUALLY ACCESS AND BACKUP YOUR STICKIES NOTES
The solution is to use the Finder and access the actual Stickies Notes files themselves: Each note is on your Mac as a separate file. It's just buried pretty darn deep in the file system…
What you'll want to do is go to the Finder and choose Go To Folder from the Go menu:
I think that most people use the Finder without ever checking to see what's on the Go menu, so it's a chance to notice all these handy shortcuts too, like Shift-Command-D to go directly to the Desktop.
In this instance, Finder is going to prompt you to enter a specific file path and this one's a bit gnarly:
If you want to copy and paste, it's ~/Library/Containers/Stickies/Data/Library/Stickies and once you've typed or pasted it into the Go to Folder prompt, click on "Go" and you'll see a Finder window with the files that comprise your entire collection of Stickies!
Here's how mine looks:

That's it. You can back these up by choosing them all, right-clicking, then choosing "Compress", for example, or you can just drag them into another folder on your Mac – or even an email message – to have copies.
Tip: Remember that you can do a move-and-copy by holding down the Option key while dragging and dropping in the Finder!
If you're migrating to a new system, you can drag all of these into an email message, open up that message on the new computer, open up the folder specified, then simply drag all of these .RTFD files therein. Start up Stickies on the new system and all the notes should be there (tho they might all end up stacked atop each other, so be prepared to move them around as their screen location isn't included in the RTFD file itself.
That's it. Pretty easy, really, so it's inexplicable why Stickies doesn't have a 'compress all notes into a ZIP file and call it a backup' feature, right?
Pro Tip: I've been writing about the Mac since the days of Multifinder! Please check out my extensive Mac help library for hundreds of useful tutorials and how-to guides while you're visiting. Thanks.