I'd like to jump from Windows 10 to Windows 11 but the update screen says "coming soon", though it confirms that my PC is eligible. Is there a way I can just upgrade without waiting for Microsoft to offer up a link?
You're definitely not alone in being a bit confused by Microsoft offering up a major update to Windows in the form of Windows 11, but then telling you that you have to wait – possibly weeks or months? Who knows? – until you're in the right place in the queue. It's hard to know what's going on behind the scenes, but given that there are probably over 800 million computers running Windows 10, it's no surprise that the company is trying to slowly introduce the update. After all, if everyone tried to download the update at the same time, it'd be chaos!
Fortunately, Microsoft does have a pretty easy path to upgrade a licensed copy of Windows 10 to Windows 11 with just a few clicks and one monster big download. I've done it on a couple of computers at this point and you should expect it to take 2-3 hours total, but the actual human interaction portion is straightforward. Let's have a look.
HOW TO DOWNLOAD THE WINDOWS 11 UPGRADE
The first step is to pop over to the Microsoft Windows 11 update page. That can be found at:
https://www.microsoft.com/en-us/software-download/windows11
Note: If you're not based in the United States, you'll need a different link, but it should automatically redirect you there from the above URL once you click on it. Don't download the Windows 11 Installation Assistant from a non-Microsoft site!
Look for the portion on the subsequent Web page that has this information:
Click on "Download Now" and you'll get a surprisingly small download: it's just the install assistant, not the actual Windows 11 download. That shows up a bit later (and is huge!).
Once downloaded, launch the Installation Assistant and the very first thing it will do is ensure that you have an encrypted drive and a Trusted Processor Module (TPM). Those are both requirements to run Win11 and if you don't have them, you might need a hardware upgrade; check with your computer's manufacturer to find out what upgrade options you may have.
Hopefully, however, you are all ready to go with everything you need. If so, here's what you'll see:
Notice the beginning text: "Good news! This PC meets the minimum system requirements to install Windows 11." That is good news! 🙂
You can read through the license terms but that would probably make you one out of a million, honestly. Or you can do what the rest of us do and just click on "Accept and Install" without actually learning what you're accepting! Happens every hour of every day.
Now the big download will begin. And it'll take a while…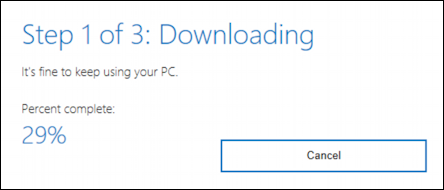 The entire process is very well designed so it's easy to just keep using your computer while this chugs along in the background. Just check every 15-20 minutes to see how it's going. Once it's fully downloaded, you'll still have 30 minutes before it automatically restarts your system.
HOW TO UPGRADE FROM WINDOWS 10 to WINDOWS 11
The Windows 11 Installation Assistant really does most of the work at this point. You can watch the screen slowly progress, or you can catch up on your favorite Netflix show or play a few games of Fortnite. Your choice. The download will eventually succeed, though, and you'll end up here:
Interestingly, even while it's going through the first phase of the installation process you can continue to use your computer. A neat trick!
Once that first phase installation is done, however, you'll end up here:
It has a 30 minute countdown timer on the lower left, but you don't have to wait. Shut down and save any work you have open, wrap up that Fortnite game, and click "Restart now" to proceed.
A bright, colorful banner will pop up to warn you that you're about to be signed out:
Ready? Click "Close".
YOUR COMPUTER WILL UPDATE ALL BY ITSELF
You're mostly done with the process at this point. Your PC will restart and then do the final phase of the update, showing this on screen:
It definitely will take a few minutes but you don't have to do anything at all, so you can leave the computer and do the dishes, run a quick errand, or even just sit back and relax for a bit. Eventually, you'll get to the login screen and it'll look just like the Windows 10 login screen. Almost: The typeface of the clock has changed if you look closely.
Log in.
Congratulations and welcome to Windows 11!
DON'T FORGET TO IMMEDIATELY CHECK FOR UPDATES
It may seem counterintuitive, but the first thing you want to do is check for updates to get the very latest antivirus data, etc. As with Windows 10, in Windows 11 the easiest way to do that is to search – the magnifying lens on the Taskbar – for "updates" and choose "Check for Updates". When I did that, there were indeed some updates to apply: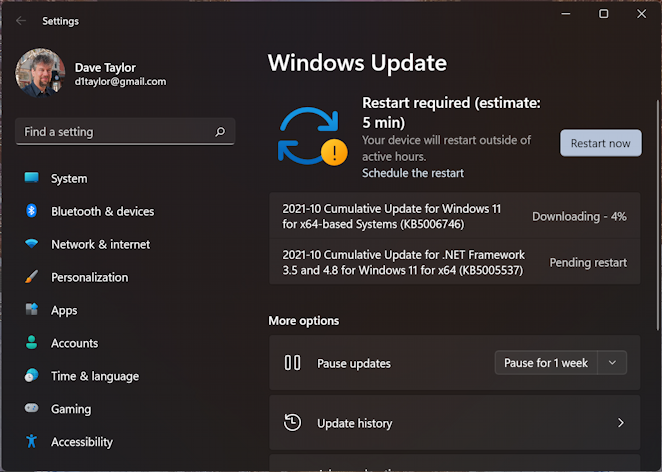 Download those, restart one more time, and you're finally ready to go, ready to explore and have fun with Windows 11. You'll find that it's muchly a cosmetic change, however, and most all of your apps will look and behave the same as they did under Windows 10. Still, it's good to stay updated, right?
Pro Tip: I've been writing about Windows for many years and have an extensive Windows 10 & Windows 11 help area. Please check it out to find lots of additional tutorials and guides while you're here. Thanks!