It's that time of year, I'm shopping for gifts for my family. My son, unfortunately, is a smart little punk and knows things like how to check browser history to see what I've been viewing. How can I shop for presents online without leaving a digital trail behind on my Windows PC?
Modern Web browsers are remarkably sophisticated applications, able to do quite a few different tasks. From running Office 365 in a browser window to offering you the latest on Disney+ to playing fun, interactive games, your Web browser is a workhorse. Heck, on a Google Chromebook, it is the operating system! This means that the capabilities of a browser like Microsoft Edge are extensive, but so are all the settings and features to improve your user experience. Including, you guessed it, browser history. Normally that's a great thing, and who doesn't like URL auto-completion when you want to pop back to a specific page on a site?
Except when you want to hide your tracks due to shopping or a variety of other reasons, this can be problematic. Fortunately there are a couple of different ways you can hide your browser history while you're busy shopping for holiday gifts. The easiest is to download and use a different Web browser for the task. If you always use Microsoft Edge on your PC, you could install Google Chrome or the privacy-focused Brave browser, omit having a desktop icon, and use that exclusively for your shopping adventures. That's what's known as "security through obscurity" and if your son stumbles across your new browser, obviously he's got all your browser history.
THE JOY OF INCOGNITO WINDOWS IN MICROSOFT EDGE
If you want to stick with MS Edge as your browser but still hide your tracks, a smart approach is to use what Microsoft calls "InPrivate" (Chrome calls it "Incognito" and Apple refers to the same thing as "Private" windows if you're curious). Launch an InPrivate window off the "•••" menu on the top right:
What's the benefit? An InPrivate window lets you retain far more privacy than a normal Web browser window. Microsoft explains: "When you use InPrivate tabs or windows, your browsing data (like your history, temporary internet files, and cookies) isn't saved on your PC once you're done." In other words, while the window's open it'll all seem pretty normal, but once you close the window, all the cookies, browser history, temporary files, everything magically vanishes from your computer. Handy!
The downside is that you will find you probably have to log in to your favorite shopping sites every time you visit them in an InPrivate window, which can be a bit tedious. You also, obviously, have to remember to use InPrivate windows in the first place.
Which is why there's an alternative…
HOW TO DELETE YOUR BROWSING HISTORY FROM MICROSOFT EDGE
Rather than worry about other browsers or InPrivate browser windows, yet another way to manage this challenge is to simply delete your browsing history and temporary files from your PC manually. That's done by going to a different entry on the same "•••" menu:
Note: The dashed line is where I chopped out a bunch of entries to shrink down the image. Your menu will be much taller!
Choose "Settings" from this menu and Edge will open up a new tab and give you access to a zillion preferences and settings:
As you glance down the left side it can definitely be overwhelming. There are a lot of settings in Microsoft Edge!
For this task, however, choose "Privacy, search and services", the second option. You'll immediately be presented with a friendly list of three privacy setting options related to site tracking: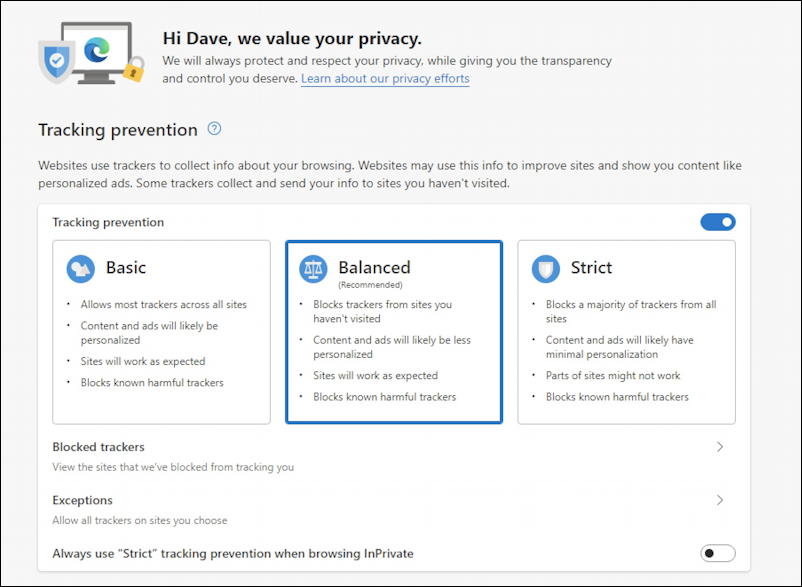 Tracking is a big deal with individual user privacy and I generally recommend "Balanced", as shown above, but if you're more concerned about sites keeping track of what you do and where you go online, then "Strict" can be entirely appropriate. Please never choose "Basic" unless you understand the implications of site trackers and are fine with the consequences of accepting them all.
A bit further down this same page, however, are some additional options that are more relevant to our quest: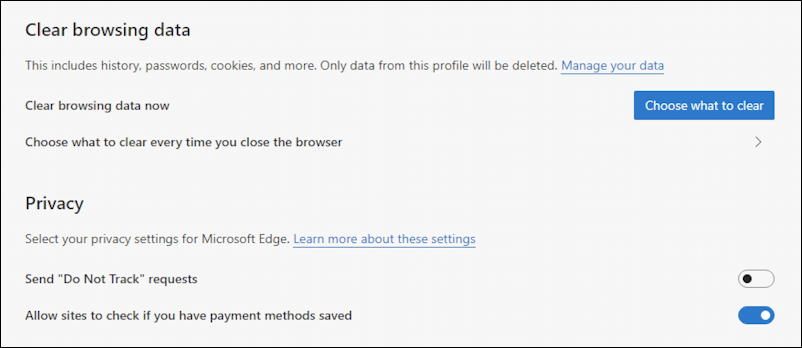 If you want to improve your privacy, note that you can "Choose what to clear every time you close the browser" which enables you to automatically delete all browsing history every single time you quit the browser. Remember to do that before you walk away or let your son use your computer (though he should have his own account, as I explain here: How to set up separate child accounts on a Windows PC). That might be a bit aggressive considering you aren't shopping for gifts 12 months of the year, however!
Instead, click on the "Choose what to clear" button associated with "Clear browsing data now". A window pops up with some options:
I will warn you that if you clear all cookies and other site data that you will have to log back in to each and every site you frequently visit, which can be a pain. Your Browsing history should be wiped for sure, however, and you might consider getting rid of your Cached images and files, though odds are your son isn't that sophisticated as a snooper to examine that data.
You can also specify how far back in time you want to go. The default is 24 hours, but:
If you want to be completely safe, you can choose "All time", which is also a nice way to clean up old files, cookies and other data in the browser too. Again, though, if you delete cookies, you will have to log in to your fave sites again.
Just remember to go here and delete browser history for the last 24 hours and you should be fine!
Oh, and if you're curious, here are the settings for "Clear browsing data on close":
Quite a few options, which is great if your goal is to maximize your privacy.
Good luck and happy hunting for the best gifts for your family!
Pro Tip: I've been writing about Windows since the early days, and my site has hundreds of useful tutorials and how-to guides that I invite you to explore while you're visiting. Just go to Windows PC help to see the full list!