I have to be honest, I really don't like having my 5th grader using the same account I am on my Windows 10 PC. Is there some way to set her up with her own account on my PC without too much fuss?
There are thousands of PCs in use right now by younger children whose parents don't realize how dangerous that can be. One "let's delete all the files" or "what's this reset button?" or "delete big files to make space? Sure!" and those parents will face the awkward reality that their delightful children are unexpected risks! The thing about it is that it's actually quite easy to add unique and custom accounts for each of your children – or even a single 'kids' account – that protects parent settings, browser history and files. Not only that, but you can add all sorts of controls and monitors to help keep an eye on what they're doing.
Sounds good? Let's have a look at how to get things set up for a child account on my own Windows 10 PC. To do this I'm actually going to set it up for one of my other personal accounts, so hopefully it won't come across that I have multiple personalities, but… maybe it's my inner child trying to log in? 🙂
To start out, go to the search box on the TaskBar and look for "add user"…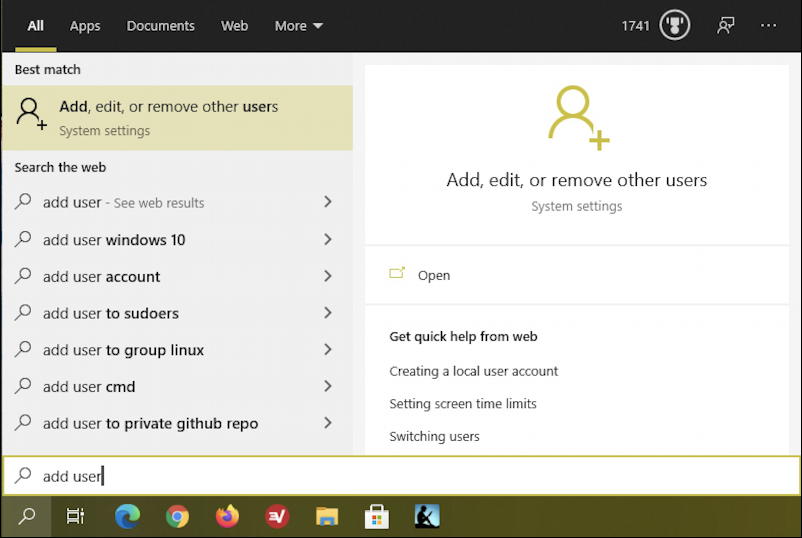 A quick search on "add user" brings up the system setting you seek: "Add, edit or remove other users".
CREATE A FAMILY MEMBER ACCOUNT ON THE PC
Click on that icon and you'll be in the add user area, which splits into two possibilities: Add a family member or add someone else:
As you can see, if you're adding a child like your fifth grade daughter, that's "Add a family member", whereas if you just want to set up a new account for your roommate or coworker, then "Add someone else to this PC". The primary difference is the "family settings" offers quite a bit more control that probably isn't appropriate for your roommate. Though maybe…
Click on "Add a family member" and you go into a rather cheery set of windows, starting with "Add someone":
Unfortunately, it doesn't appear that you can create a child account without setting up their Microsoft account too, though you can probably set up a secondary email account of your own for this purpose. For a modern child, however, by fifth grade they probably have had to set up an email address of some sort, whether on Gmail, Outlook or even their local school district's email server. Since access later down the road is important, I would avoid using a school district server's email address (ditto a college address).
Enter their email address, then click "Next". The next question is a big one:
Unless there's a strong reason to make the new user an organizer (essentially an admin for both the computer they'll use and the overall family account setup) then your choice should be "Member" so that you still have some level of control. Choose "Member", then click "Invite".
They then will receive an email from Microsoft inviting them to join the family group with a link. An email like this:
As needed, encourage your daughter to actually look at her email inbox (if she's like my kids, she won't think important messages arrive via email) and click on the "Accept Invitation".
Then they are taken to the live.com Web site where they'll need to log in to their account and opt to join the family group:
All of those family licenses suddenly make sense too, including your Microsoft 365 license, shared OneNote accounts, and more.
Have 'em click "Join now" and they're in! Now they can actually log in to your PC if you log out and give them the chance…
LOGGING IN TO A FAMILY ACCOUNT PC
Log out and now your login screen will not just show your login prompt, but list accounts on the lower left too:
There's the new account, sadly without a profile picture. But we can fix that! First off, log in:
Since this is probably a new account, you'll have to enter the password, but then you can set up a shortcut through Microsoft Hello or similar. This device lacks biometrics so it's a PIN your daughter would be prompted to set up:
Finally, logged in, go to account setting info and you can easily add a fun profile photo to the new account:
I opted for an image from Family Guy for my profile, which shows up the next time I'm at the login screen:
The only step left is for you to now teach yourself to always log out when you're done working. If you don't do that, then your child will probably just keep going in the account that's logged in, rather than log out and log in to the correct account. So set things up, teach your daughter how to log in to her own account and make sure you log out. Easy enough.
MICROSOFT FAMILY ACCOUNT SETTINGS
If you log back in as yourself, go back to the user account settings and there's a link that's now far more interesting: "Manage family settings online". See it below, in yellow?
A click on that and you'll be on the Live.com Web site but in the family account management area. It shows each and every family member:
and you can now fine tune their settings as you prefer, including being able to monitor their computer usage:
Lots to explore, but really helpful information you can set up or modify for your child, all without them knowing that you haven't just given them their own account, but are now keeping an eye on them to ensure they stay safe online. Smart.
Hope that helps you get things set up in a way that's best for both you and your computer usage and the needs of your child too!
Pro Tip: I've been writing about Windows since the beginning. Please check out my extensive Windows 10 help area for lots and lots of useful tutorials and how-to guides while you're visiting! Thanks.