I have an account on my friend's Ubuntu Linux system which is great, but the account icon at login is just my initials. Boring. How can I assign a photo or picture to my account photo?
Imagine an era when there weren't user accounts on computers and every program was run as if it were a single user. Ah, kind of like our mobile devices, right? Anyway! Linux, and Unix before it, really pushed the envelope with the implementation of separate user accounts, each of which could share apps and programs, but each of which also had its own protected file space. You can't read my files, I can't read yours. Smart. But getting this to work on computers involves creating user accounts for each user, which can be a bit tedious, particularly if there are dozens or hundreds of users, so the default is just to show initials or a generic icon.
This might be logical and efficient, but, as you point out, is pretty darn boring. Fortunately, Linux is ridiculously flexible and there are a zillion things you can set and tweak. Better yet, Ubuntu Linux makes it all even easier, allowing you to change your account full name, photo, even your password any time you want. You don't even need to resort to the command line to get any of this done. What you do want before you begin is a good photo of yourself, one suitable for use as your portrait picture. Don't worry about zooming or cropping, because that's part of setting it as your account photo.
BORING LINUX LOGIN: NO ACCOUNT PICTURES
I have to admit, my Ubuntu system is pretty dull too, when I look at the login screen: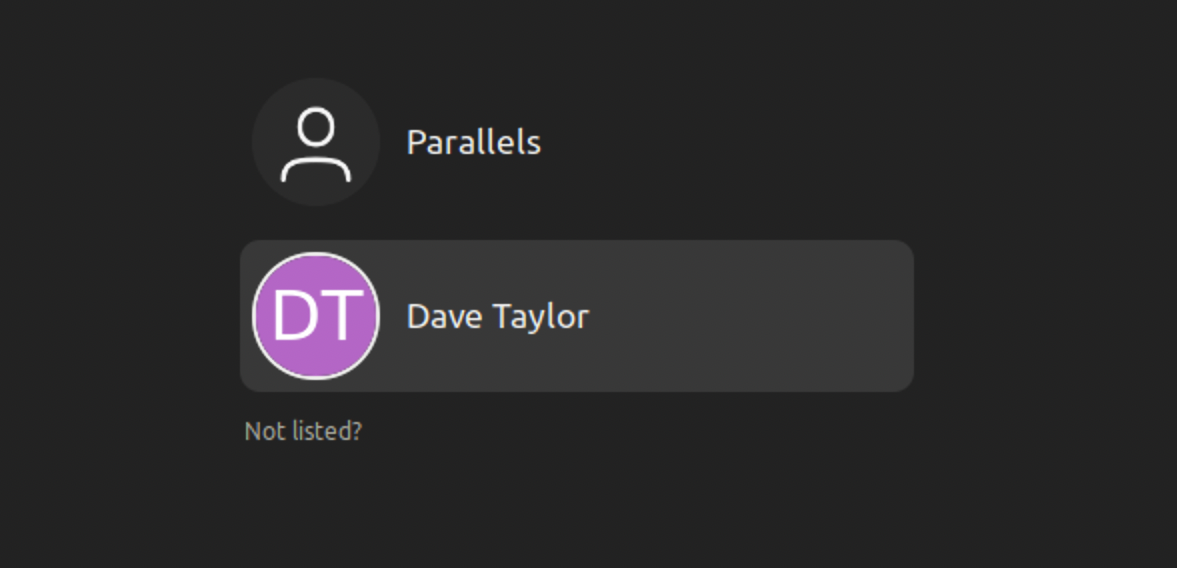 Let's jump into my "Dave Taylor" account and update from the DT initials to something a bit more creative.
USER ACCOUNT SETTINGS IN LINUX
I've been using Linux long enough that I remember using commands like 'adduser' to accomplish these tasks, but graphic interfaces make things soooo much easier. Go to Settings (off the toolbar on the left or the admin menu on the top right) and navigate to "Users":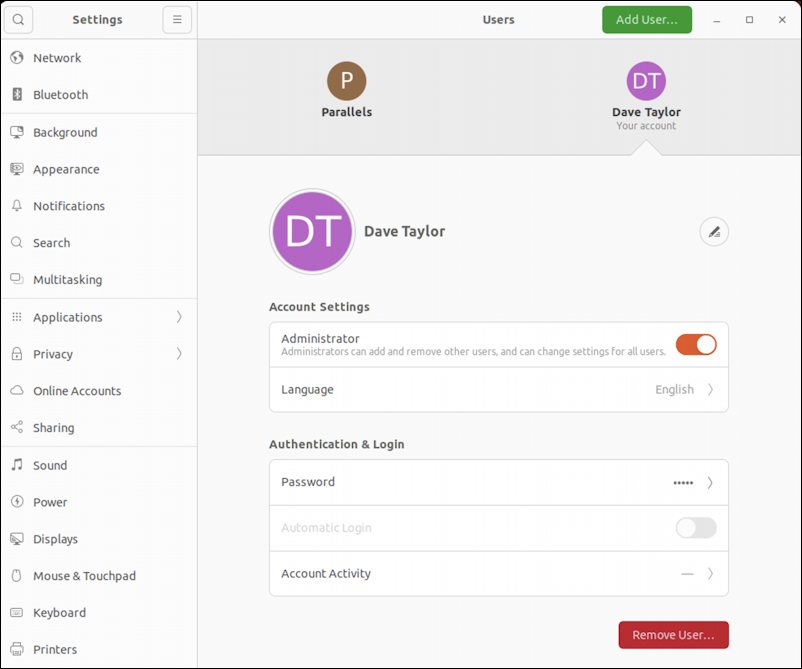 In this view, notice that the Parallels account just gets a "P", which is different from the login screen. Why? Because it's the admin "root" account, so it's shown with the silhouette of an administrator. Ah well, better than a penguin, I suppose.
It's not obvious, but the icon to the right of the account name is a pencil. Click on it.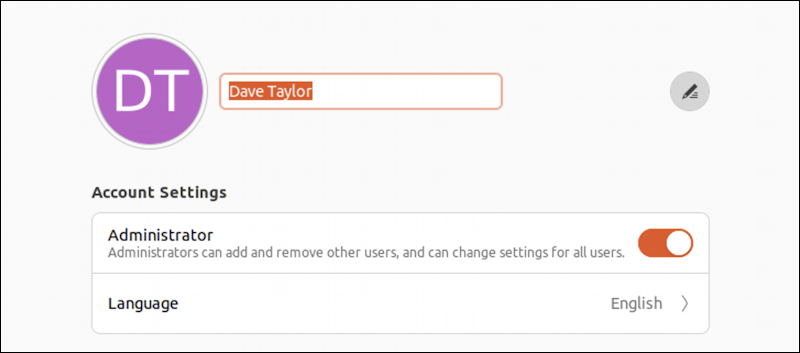 If I preferred "Sir David Taylor, Esq." as my account name, here's where I could change it. Easy enough. More importantly, though, you can also click on the account picture. Even though it's just initials!
CHANGE OR UPDATE AN ACCOUNT PICTURE IN LINUX
A click on "DT" and here's what appears: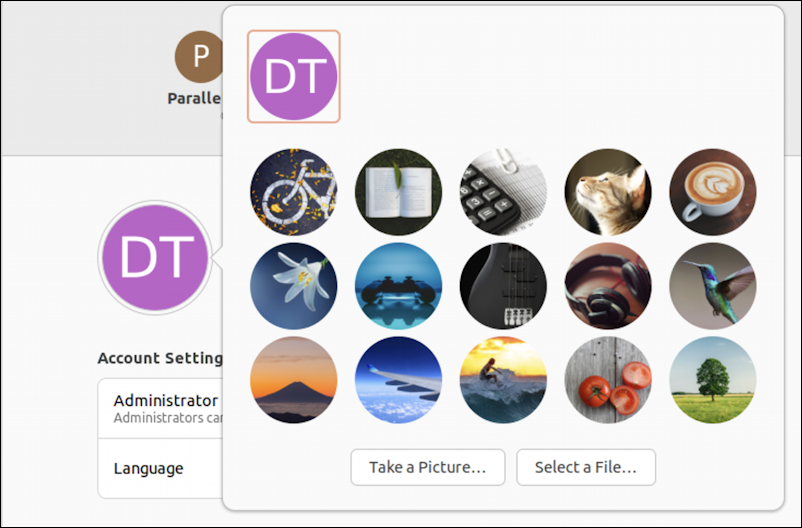 Fifteen pre-loaded – and very generic! – images from which you can choose. Have a webcam or camera set up on your Linux PC? You can choose "Take a Picture…" if you want. More likely, you'll click on "Select a File…"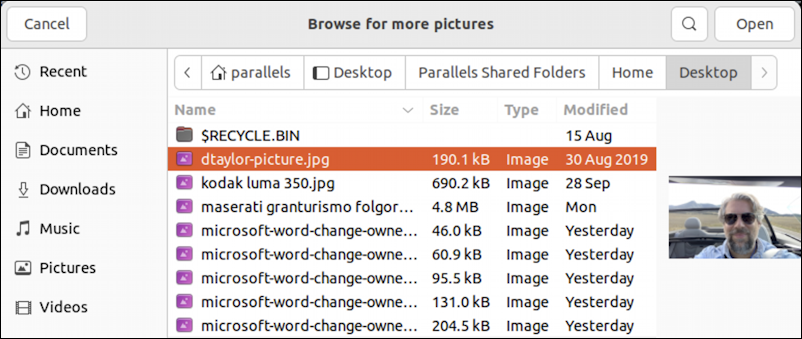 I just happen to have a file called "dtaylor-picture.jpg" on my Desktop, so that's what I'll choose. Notice the tiny preview on the right side, then compare that with what's shown in the cropping window.
CROPPING YOUR LINUX PROFILE PICTURE
Realistically, there aren't a lot of image editing options when you're setting a photo, but it does offer the ability for you to crop and pan: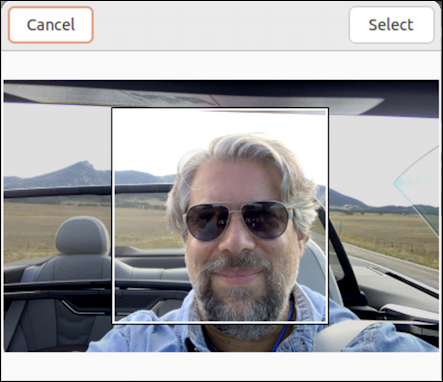 Simply click and drag any of the corners, or click and drag from the center of the box to move it on the underlying photo.
When I'm ready, I'll click on "Select" and it's set as my profile photo:
Now if I log out and look at the login options, it's a bit more interesting: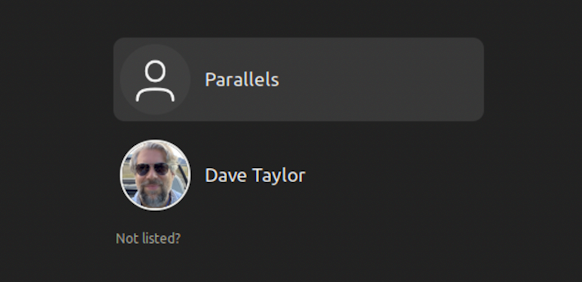 That's how it's done. Now go and have fun with your profile photo!
Pro Tip: I've been writing about Linux since the dawn of the operating system, and Unix before that. Please check out my extensive Linux help area for lots of additional tutorial content while you're visiting. Thanks!