I have a new Apple Watch SE and am really loving it, but want to create my own watch face rather than use one created by Apple. How can I create a custom Apple Watch wallpaper and use it as a watch face?
Congrats on the new Apple Watch, first off! If you spend lots of time staring at your phone, you can now stare at your watch instead! 🙂 Actually, they're pretty amazing devices and while the screen might be the size of a postage stamp, it's quite beautiful, bright and vivid. So it's no wonder that people quickly decide that they want to create custom watch faces based on their own photos or artwork rather than the relatively small number of custom faces from Apple.
Most all the work required takes place on your iPhone, however, not on the Apple Watch itself, so that's where I'll be focusing my attention on this tutorial. I'm going to create a watch face based on a photo of the planet Saturn, one of my favorite space images that I think works really well on my Watch too. Let's do it!
FIND A GREAT IMAGE ONLINE
As a first step, jump into Safari on your iPhone and go to Google Image Search. I'll search for "saturn":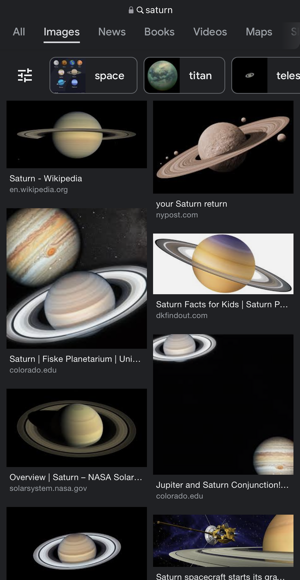 That one on the lower left looks good! I'll tap on it to see a bigger image:
Definitely a great choice, particularly with the tiny moons and even smaller stars portrayed. Best option from here is to visit the Web site in question by tapping on "Visit". This will take me to the article Facts About Saturn on starwalk.space:
We're getting there…
HOW TO SAVE A PHOTO FROM THE WEB
On your phone double-tap on the image and it should appear all by itself on the screen. Tap again and you'll have a pop-up menu appear:
Choose "Add to Photos".
Didn't have this happen? Take a screenshot of the page with the image then crop it using the built-in screen capture edit tools. Save that and you're ready to proceed.
TURN AN IPHONE PHOTO INTO AN APPLE WATCH FACE
That's the hard part out of the way. The rest is knowing where to scroll and what to tap. Start by going into "Photos" on your iPhone and finding the new image you've saved.
On the bottom are some very helpful tools, the most important of which is the box with the arrow on the left edge. Tap on it to share the photo:
Most of the time you probably share with a friend via Messages, post it to Facebook, etc, but this time you want to swipe up from the bottom because underneath "Copy Photo" are a lot of additional options!
See it near the bottom? You'll want to tap on "Create Watch Face" when your image is selected. It opens up the Apple Watch app and offers a number of customization options:
If you like weird, trippy imagery, then Kaleidoscope Watch Face is for you, but probably you'll choose Photos Watch Face. Tap on your preference…
CUSTOMIZE PHOTOS WATCH FACE FOR APPLE WATCH OS
At this point, you can choose a color, move the time display, etc. The top portion shows this:
You can try the different colors; they tend to recolor the entire image, not the background (which would be really cool, but tricky to implement properly). Note that you can choose up to 24 photos if you want a montage, which is fun.
Swipe up again and there are a few more options:
I'm going to move the time to the bottom, then turn off the date display above the time and instead choose to have it below the time display. You can see the preview in the app. A tap on "ADD" and it's on the Watch too:
Darn smart looking, I say! For bonus points, if you have some proficiency with graphics editors, you can change the image to a 4:5 ratio and even add some extra background so that it fits better. Here's "version 2" of the photo of Saturn after just a bit of fiddling: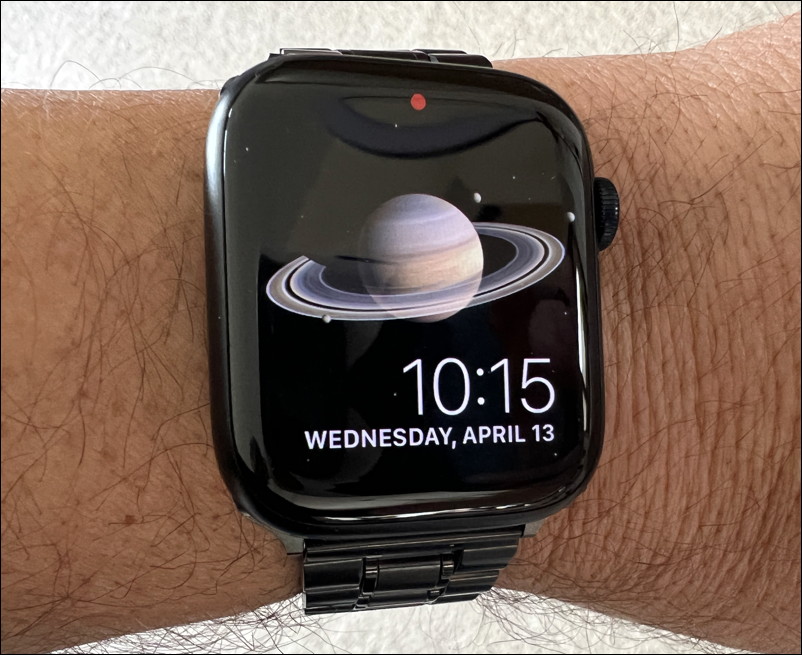 Pretty darn cool, isn't it? You can do the very same with any image from your own photo library or from the Internet. Have fun!
Pro Tip: I've been writing about the Apple Watch since the very first model. Please check out my Apple Watch Help area for lots more tutorials and guides while you're here. Thanks!