It used to be that you went to Appearance > Colors and picked the highlight color for both your text and the Windows taskbar. No more, however. Nowadays, it's a bit more convoluted…
As Windows has evolved, it's added lots of smarts and sophisticated new features. Sometimes, however, they come at the cost of simplicity and usability. One of the most common puzzles people have in this regard is to change the appearance of their Desktop, specifically the Taskbar color in Windows 11. Want to change the highlight color of text on your Windows computer? That's basically a non-starter, unless you want to dig into the registry file (which I never recommend doing). Some apps have their own highlight color, so it's worth checking in Settings, but some things we can change, other things are just stuck.
The challenge with changing the Taskbar is that the modern light/dark theme overrides the usual options, so while it seems you're doing the right thing, your newly selected Taskbar color doesn't change anything. Unfortunately, there's no handy pop-up that says how to solve the problem, but that's what this tutorial covers, so let's get to it!
WINDOWS 11 WITH "LIGHT" THEME COLORS
Start out by going into the Settings app and choose Personalize…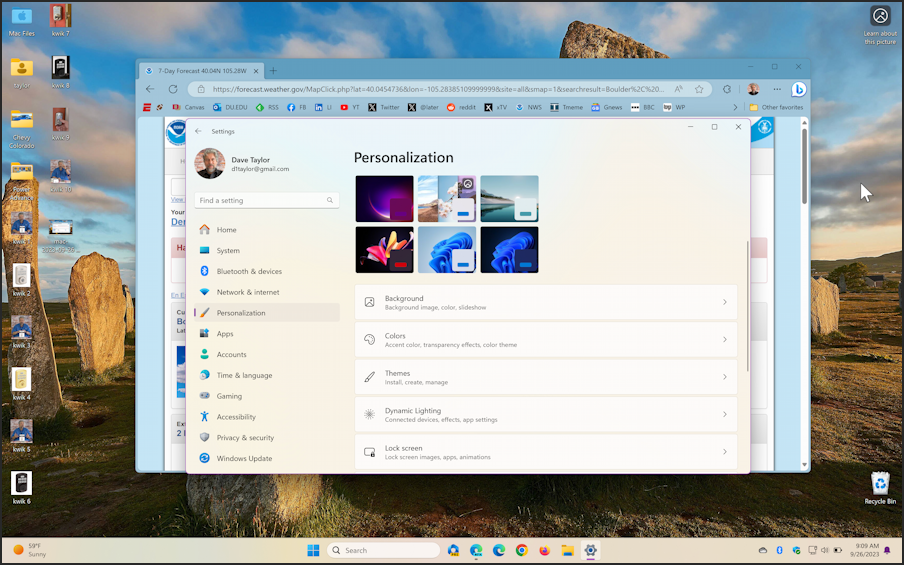 Notice that my Taskbar above is a sort of beige, not very exciting.  To change it, click on "Colors".
WIN11 PERSONALIZATION > COLORS
The info screen certainly doesn't indicate anything about the subtle interaction of settings to enable you to choose a Taskbar color, does it?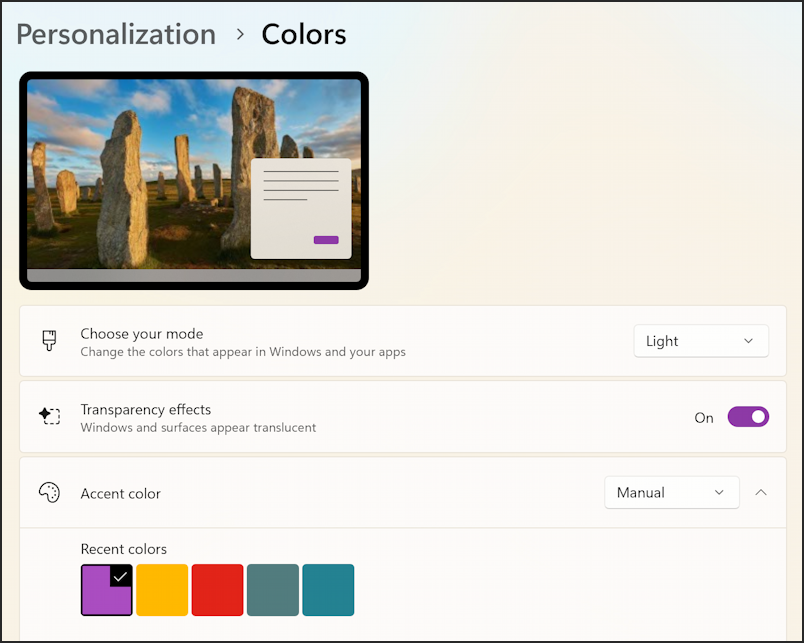 Notice that while my Taskbar is beige, the Accent color I've selected is purple (and it's reflected in the enable/disable slider control with Transparency effects).
It turns out that you cannot choose a custom Taskbar color if you're in "Light" mode. Switch to "Dark"…
Things won't instantly change, however, other than switching from dark letters on a light background to light letters on a dark background.
CHOOSE A COLOR FOR THE TASKBAR
Scroll down below the grid of color options now that you're in Dark mode. You're seeking the two options just below:
What you need to change is "Show accent color on Start and taskbar". To reiterate, you cannot change this if you're in Light mode, only Dark mode.
When you do enable "Show accent color" however, things finally change!
While we're in the Colors area, I encourage you to check out the differences between "Transparency effects" mode being enabled or disabled. I prefer it enabled so there's a bit of bleed thru with the actual Desktop image:
Note also that the little preview thumbnail image also changes as you try different settings and colors, something well worth considering as you fine-tune your Taskbar and overall color settings.
Want to go back to a good default? I accomplish this by setting "Accent Color" to "Automatic", and it's particularly effective if you have your Desktop wallpaper change every morning.
Pro Tip: I've been writing about Windows for many years and have an extensive Windows 11 help area. Please check it out to find lots of additional tutorials and guides while you're here. Thanks!