I spend a lot of time staring at my Windows computer and am tired of the default wallpaper. Is there any way to have a new image each day? I recall something called Bing Desktop? I don't want anything that costs money or includes malware!
Whether you're on a Windows PC, a Mac desktop, or a Linux notebook, the same background wallpaper definitely gets boring after a while. Not the most important part of your day, I admit, but still, why not personalize your experience so that it is a bit more interesting? In the old days there were third party wallpaper apps, and you're exactly correct that they became one of the most common ways to inadvertently install malware on your precious PC computer. Not good!
As Microsoft really became serious about its Bing search engine, which included its enormous image library, accessible through images.bing.com. It was a logical extension to have a Microsoft wallpaper app that would grab a new image each day and install it as your desktop image! What's cool about the Bing Wallpaper solution is that it includes lots of licensed images from some of the best photographers in the world, so it's always quite stunning. But it's another app running on your computer, however benign.
More recently, Windows Spotlight has given users an easy way to change the image on their lock screen, and in the very latest release of Windows 11, that can now be used to change your desktop wallpaper too. What's great about Windows Spotlight is that it's not a separate app but instead integrated into Windows itself. Fewer apps = faster and more secure computing. Let's see how it works together…
WELCOME TO BING WALLPAPER
You might not have the version of Windows that includes Windows Spotlight, so Bing Wallpaper is for you. You can grab a copy of this great little program from Microsoft: download Bing Wallpaper. With it running, here's my latest PC desktop: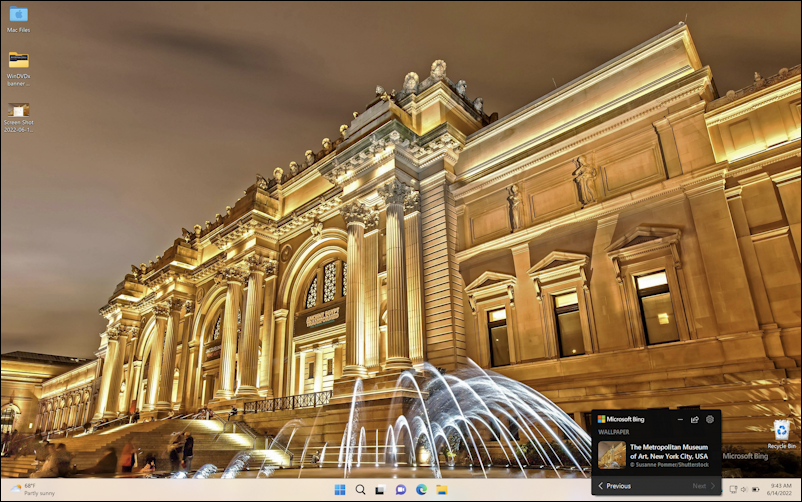 A gorgeous picture, no question about it. The program adds a tiny icon to the shortcuts area of the Taskbar, and a click tells you more about the image. This is "The Metropolitan Museum of Art, New York City, USA". It also lets you click "< Previous" to back up to review or switch to a preferred image:
Notice that this one has switched to a photo from Ranthambore National Park in India. You can quit Bing Wallpaper by choosing Quit from the tiny menu that pops up upon clicking the gear icon, but if you do have Windows Spotlight, you can also entirely remove the program with Add or Remove Programs in Settings.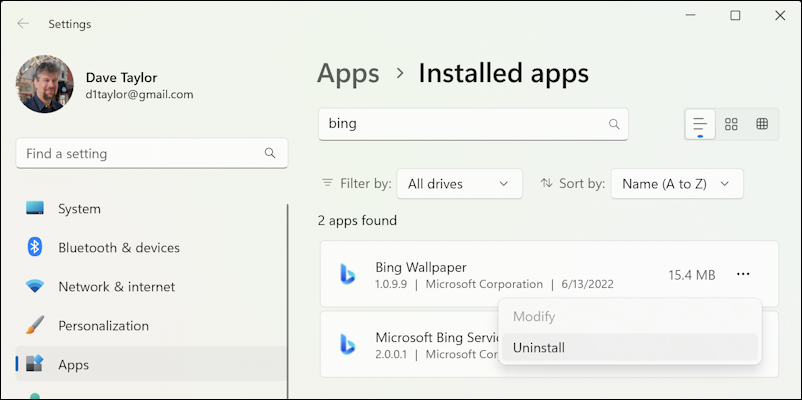 How do you know if you have Windows Spotlight? Let's check it out!
NEW DESKTOP WALLPAPERS WITH WINDOWS SPOTLIGHT
For this task, simply right-click on an empty spot on your current Desktop. A menu appears:
Choose "Personalize" from this menu and you'll be bounced into the corresponding area in Settings. Click on "Background" and you'll find that the Bing Wallpaper app (if you're running it) adds those images to your library. If not, it'll be your current Windows wallpaper: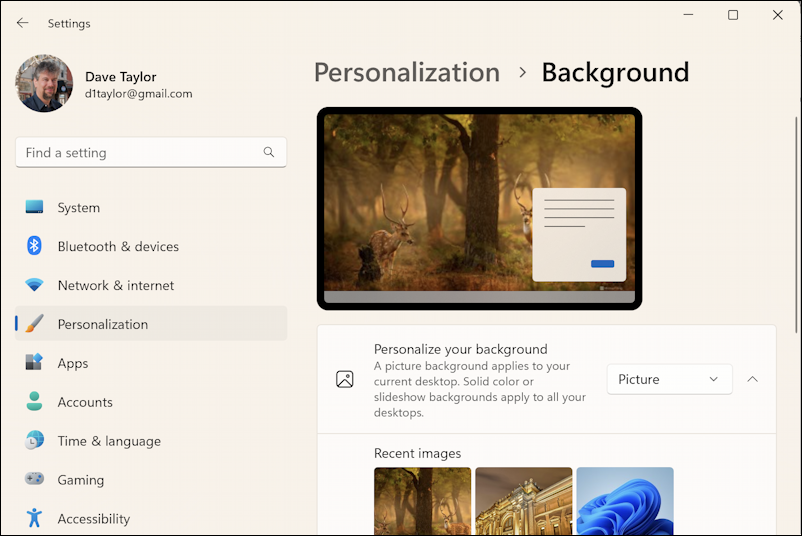 What you want to do is click on "Picture" to see what options are on that menu. If you have Windows Spotlight in your version of Windows 11, that's where it will appear, as shown:
Great. Choose it and your Desktop wallpaper will immediately change, no app required.
That's it. Now, worth noting is that on the top right there's also a tiny camera icon superimposed over the image if you want to learn more about it. A simple mouse click on this image, for example, will reveal:
Pretty cool. If you can access it, I'm a big fan of Windows Spotlight, for obvious reasons. If not, well, Bing Wallpaper is a nice alternative, and both are definitely virus free and safe to enable on your own PC.
Pro Tip: I've been writing about Windows since the beginning. While you're here, please check out my extensive Windows help area for hundreds of other useful tutorials and how-to articles. Thanks!