I run Windows on my Mac through VMware Fusion and want to start testing with Windows 11. But it can't run because I don't have a Trusted Processor Module (TPM). Is that something I can add to a VMware Fusion virtual machine? If so, how?
Developers have long since realized that one of the great features of a modern Mac system is that it can also run Windows really well. Whether you choose a dual boot scenario or just run Windows within a virtual machine through either Parallels or VMware Fusion, it's surprisingly fast and compatible. Indeed, most of the Windows tutorials on this site in my PC Help area were produced with the help of my trusty VMware Fusion virtual Win10 system.
As many have written about, the early versions of Microsoft Windows 11 require something called a Trusted Platform Module, or TPM. Not just that, but you need version 2.0 of the physical hardware chip on your computer, so it's not an app you can install on your PC. But on a virtual machine? It's a quick download and install, as it happens, and you can indeed make your Windows 10 virtual machine Windows 11 ready, as I'll demonstrate.
Start out by reading through my Check to See If Your PC is Windows 11 Compatible tutorial. Hopefully, Microsoft has re-enabled the PC Health Check app download too: As I write this, it no longer shows up at the indicated link, but it worked fine 48 hours ago.
Run the compatibility checker on your Windows 10 virtual machine in VMware Fusion and you'll undoubtedly get this result:
The wrinkle here is that you can't just install the TPM 2.0 module on your virtual machine: You have to encrypt your virtual machine first…
ENCRYPT VIRTUAL MACHINE IN VMWARE FUSION
Fortunately, both the encryption and TPM install steps are easy if you know what order they need to happen. You can test it for yourself, but the Trusted Platform Module can't be installed on your virtual machine until you encrypt your VM. That's done by going into your Windows machine and shutting it down (Start Menu > Power > Shut Down).
Then you can get to the Settings in VMware Fusion for this particular virtual machine, which will look like this: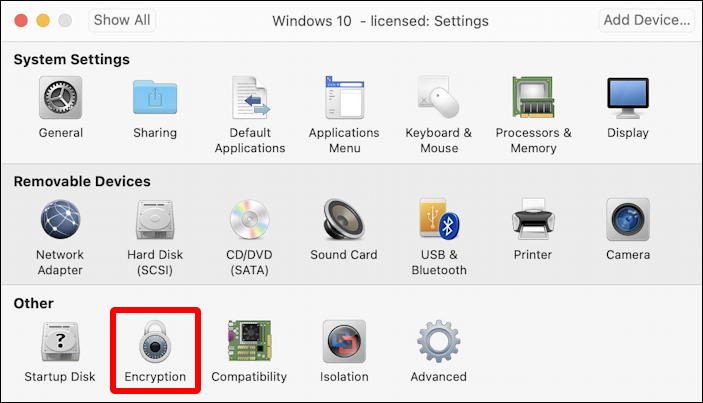 As highlighted, you'll want to click on "Encryption" along the bottom row, but before we do that, I want to bring your attention to one more thing: The "Add Device…" button on the top right. We'll need that in a minute or two.
For now, click on "Encryption" to proceed…

It's actually easy to turn off encryption once you enable it, though I'm not sure if it'll then disable the TPM 2.0 module once installed. For our purposes, check the "Enable Encryption" box.
You'll then be prompted to set a system password: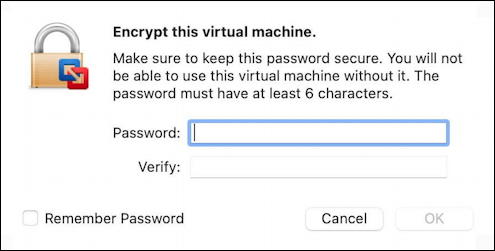 I checked the "Remember Password" option and found that I never had to enter the password on restarts, re-launch of VMware Fusion, etc. Basically it's an invisible password at that point, but it lets you encrypt your virtual machine.
Enter a password twice, then click "OK" to proceed. Now go get a cup of tea…

I have a pretty big Windows 10 VM so it took maybe five minutes to complete? Something like that. Once done, a cheery window pops up: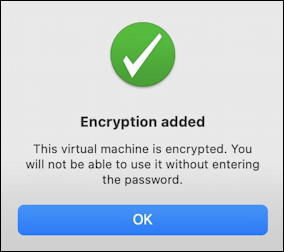 Great. Step one complete.
INSTALL A TPM 2.0 MODULE IN A VMWARE FUSION VM
The second step is easier if a bit confusing. Now that you've added encryption, click on that "Add Device…" button on the top right of the main Settings window. You'll be presented with a list of possible devices you can add: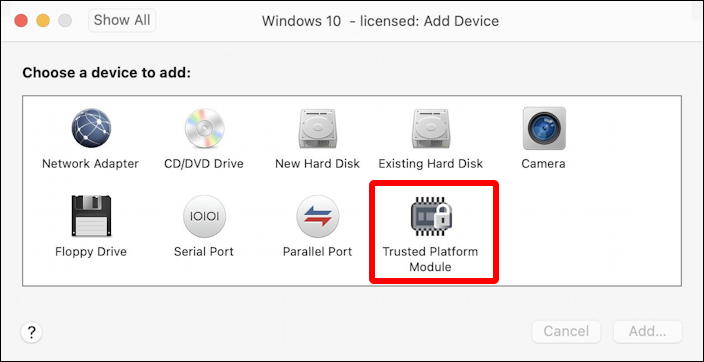 I've highlighted the Trusted Platform Module. Click on that icon and a window pops up that confusingly talks about what happens if you remove this device:

What's going on here? You've already installed the TPM 2.0 module when you checked it and clicked "Add.." so it's asking if you want to remove it.
Yes, super confusing. I hope VMware Fusion redoes this to at least say "TPM 2.0 Installed." to make it more clear what's going on. In any case, you're done. Close this tiny window and you'll notice that the list of Removable Devices for this virtual machine is just a bit longer:

Okay, so is the virtual machine now compatible with Windows 11?
MAKE VMWARE FUSION WINDOWS VM COMPATIBLE WITH WINDOWS 11
I'll run PC Health Check and find out…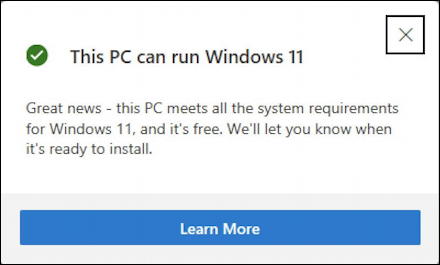 Boom! Mission accomplished. Not too difficult once you know you have to encrypt your VM then install the TPM 2.0 module. Now, about Windows 11…
Pro Tip: I've been writing about the Mac since, well, the very beginning. Please check out my PC help and my extensive Mac help library for hundreds of useful tutorials and how-to guides. Thanks!