I listen to Sirius XM quite a bit off my phone and in my car, but I would like to have access to it through Amazon Alexa too. Possible? If so, how do I get it all hooked up and connected?
You're in luck, actually, because the Sirius XM "skill" for Amazon Alexa works really well and is one of the easiest to hook up. More importantly, since you're using your phone for Sirius XM (with the XM app, I assume) then you've already set up an account on their Web site and have a login and password that work. A critical ingredient!
What's better is that once you get it all connected, you can then say things like Alexa, play 80's on 8 from Sirius XM and it works exactly as you would expect. Darn nice, really, and it's quickly taken over the Sonos One speakers in our office too!
To get things hooked up, you'll want to go through the Alexa app on your smartphone, either iPhone or Android. The interface is essentially the same, so I'll go through the steps with my iOS 12 device and you can follow along. Launch the app, then tap on the three horizontal lines on the top left and choose "Skills & Games" from the resultant menu. You'll end up here: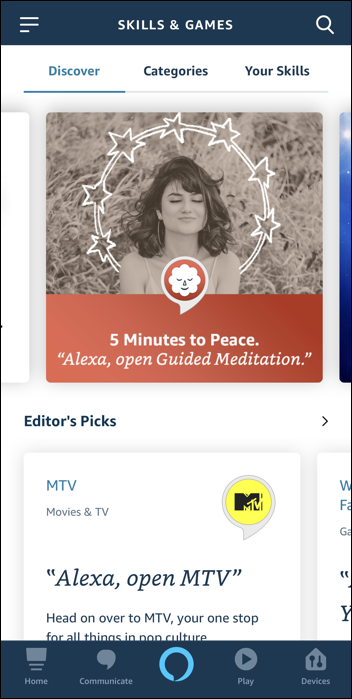 You can check out the meditation skill – or whatever else they're promoting – but to stay on focus, tap on the magnifying glass icon on the top right to go to the search area. Then simply type in "xm":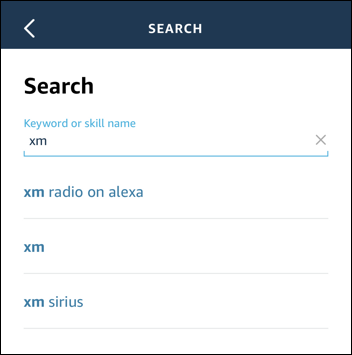 Any of these suggested searches will do the job, so pick one and tap on it.
You'll then see that there are three matching skills: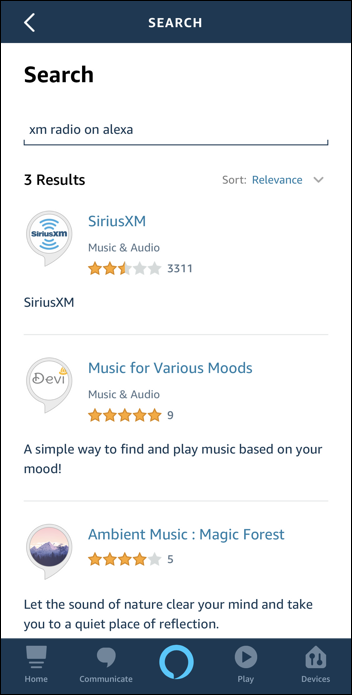 The first is the official SiriusXM app from the company, that's the one you want to choose.
Don't be put off by the low star rating, as far as I can tell it's because some people don't realize you have to set up your account and password at siriusxm.com before you can enable the skill. Maybe needs a tweak on the documentation! 🙂
Tap on the skill…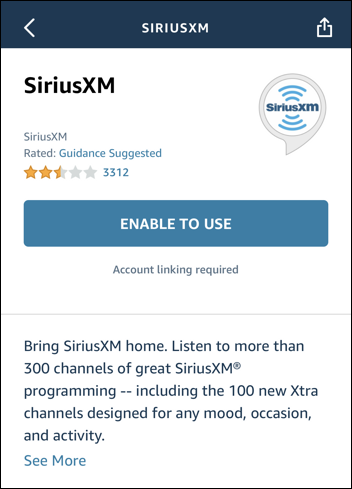 300 channels of music. That's a lotta choices!
To proceed, you need to tap on "ENABLE TO USE" so do so. It'll then pop you into a Web browser for you to log in to your siriusxm.com account: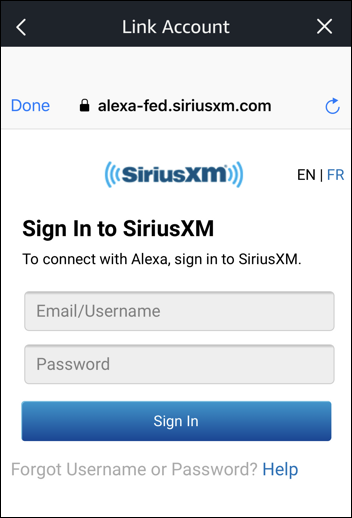 Sign in as specified and once you do it'll take just a second or two before it returns with a success message: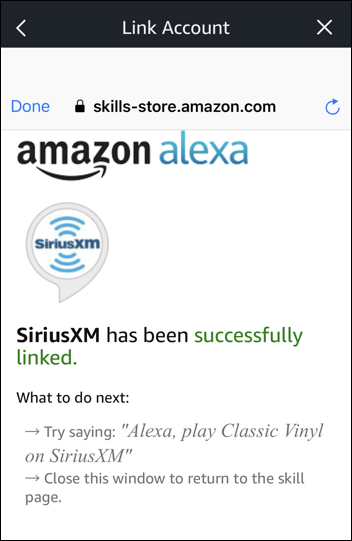 Done. Really. Tap on "Done" on the top left and you'll be taken back into the Alexa app where it'll be enabled and ready to go.
Okay, I admit, it doesn't say that, per se, but if you're seeing the option to disable the skill that's because it's enabled. Makes sense!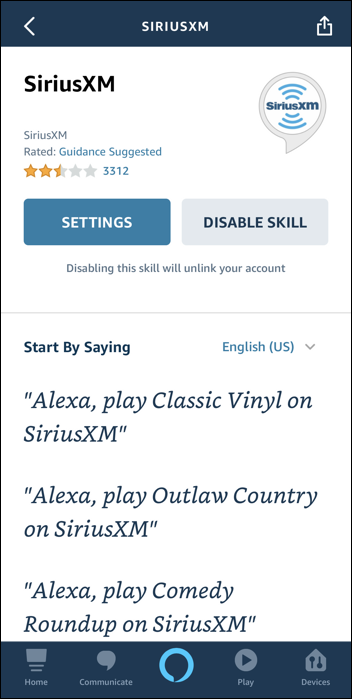 Done and ready to use. Now I can tell my Echo Spot, for example, to play channel 32 from Sirius XM and it knows just what to do:
My only tiny complaint is that on Echo devices that have screens, like the Spot, it would be great to have it show track information rather than channel information. But otherwise, it works great!