I need to print out notes from my PC that look like I wrote them by hand. What's the easiest way to find or add a new handwriting or script font in Windows so I can get the job done? I would like to avoid buying any new programs or fonts if possible.
In the early days of the PC, you were basically limited to the half-dozen typefaces included with Windows. If you wanted to get more, you were buying them from a big type foundry company like Merganthaler or picking up CDROM's full of mostly public domain indie fonts, many of which were crude and poorly implemented. How could you tell? By the ligatures. I know, you're now asking "what's a ligature?" and the answer is a letter pairing that's used when you have common sequences like a lowercase 'f' followed by a lowercase 'i'. Try it: fi should not have the dot over the 'i' on a well-implemented font. A more common ligature is the æ diphthong of encyclopædia, as a common example. But I digress. 🙂
Suffice to say that as our computers have gained more and more storage space, it's been easier for operating systems to include more typefaces and now Mac and Windows systems typically have a few dozen included. Install a program like Microsoft Word and it adds more typefaces! Hopefully, you can find a typeface that will work already installed on your PC, but if not, there are ways to add new ones with a simple download. Let's have a look!
Note: Technically, a font is a typeface at a specific size, so Times Roman is a typeface, but Times Roman 16pt is a font. Most tech people don't pay attention to that difference, however, but as the son of a typeface designer, I do, in case you're wondering.
CHANGING FONTS IN NOTEPAD
The easiest way to demonstrate what available typefaces are on your PC is to just open up NotePad and type in a quick demo message. Like this: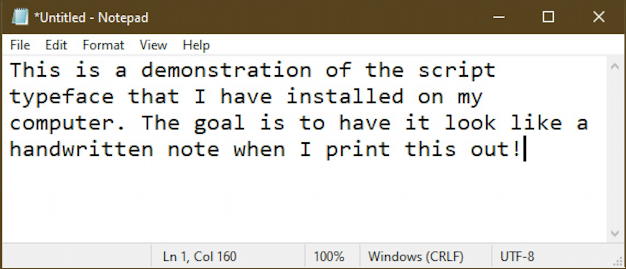 Now select it all, then tap or click on the "Format" menu and choose "Font…" :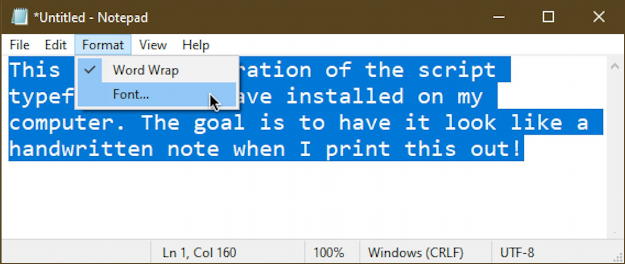 The font selection window pops up. It's not super helpful but will let you plod through all of your installed typefaces: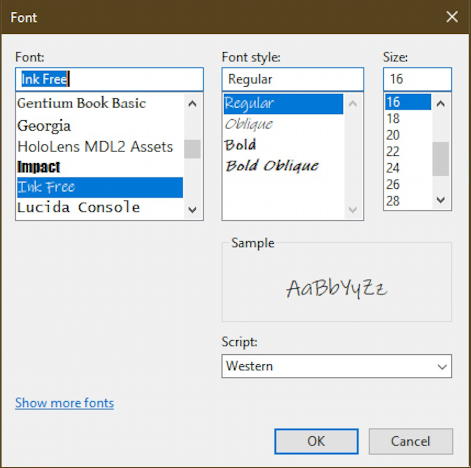 One of the installed typefaces on your system is called "Ink Free" and it might just do the job for you. Scroll down to find it (alas, no search box), choose Regular as the font style and a size sufficient to make it easy for you to see the result. A click on "OK" and…
Ink Free isn't too bad, but it still looks artificial; it takes years of practice to get your handwriting to be quite so neat and uniform.
Don't like that? There are plenty of options. Start by launching the Fonts window within Windows 10 itself. Easily done by searching for "font" in the Win10 search box. Here's what you'll see:
This lets you search through your typeface library (ok, "font library") as desired. When I searched for "script" it offered up Segoe Script, another example that's a bit more natural-looking for handwriting. Still no go? Try clicking on "Get more fonts in Microsoft Store" to see what typefaces are available through the Microsoft online store. It's not much: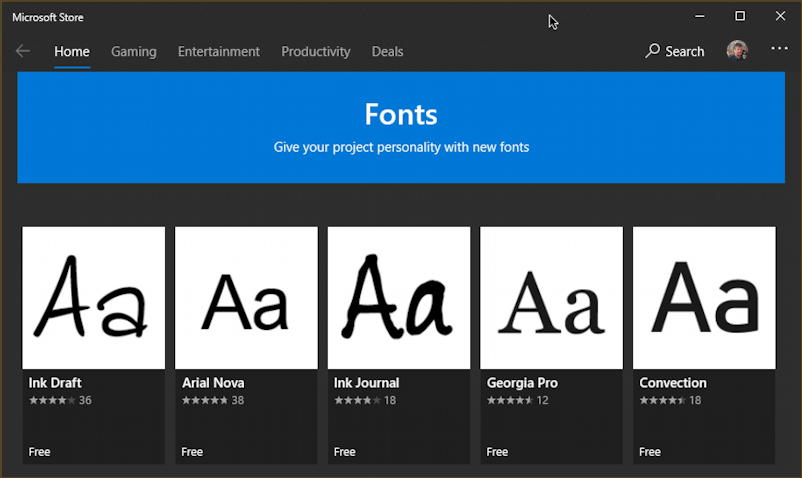 Don't be surprised if you don't find those inspiring, even the ones that cost a few dollars. Instead, there's a far better resource built atop a standard called TrueType that offers crisp, professional, and fully implemented typefaces for free!
INSTALL TYPEFACES (FONTS) FROM THE GOOGLE FONT LIBRARY
Simply head over to fonts. google.com and you'll find a marvelous resource that's also atypically beautiful in design too. Why "atypical"? Because mostly Google's user interfaces seem to be designed by engineers, not UI specialists, so it's a delight to find an online resource from the company that is so clean and elegant:
Actually, that Ranchers typeface is pretty sweet, with a kind of 50's sci-fi vibe to it.
But we're here to look for script or handwriting typefaces, so type that into the search box. There are a decent number of results (the library includes over 1000 typeface families!) including Nanum Pen Script:
To download and install a typeface from the Google font library, click on the sample to get to its detail page:
The key is the button on the top right: Click or tap on "Download family" and it'll send a ZIP archive file to your computer in just a few seconds. Open that up in the File Browser and you'll see it consists of two files: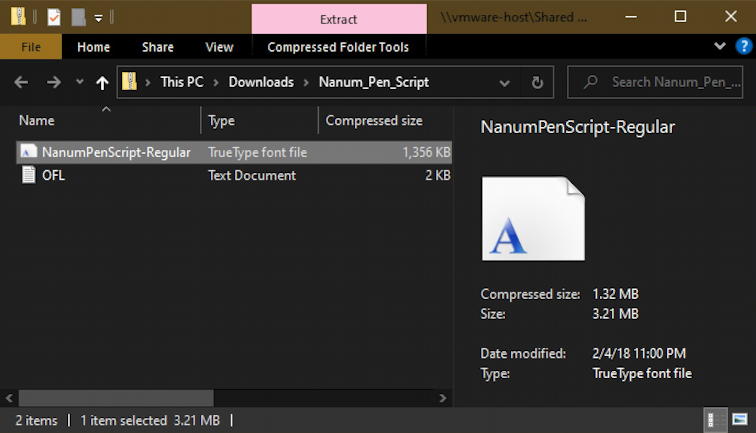 Double-click on the TrueType font file and it'll open up in the Windows 10 font installer utility…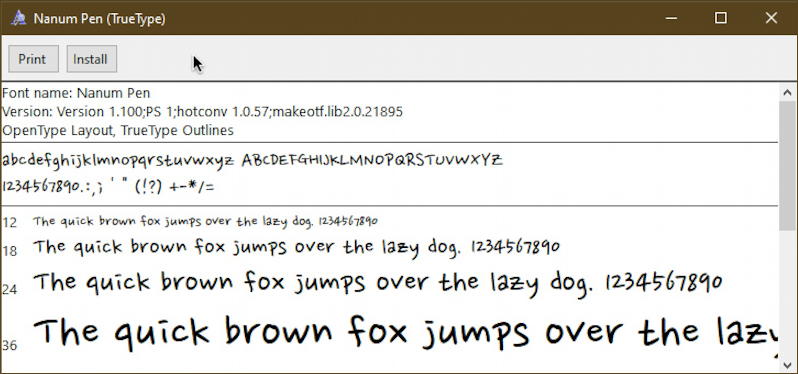 You're so close! Just click on the "Install" button on the top left and it will be a new – permanent! – part of your PC's list of typefaces. Not only that, but it also instantly shows up as an option in any open program too, so you can go back to NotePad and choose "Nanum Pen" for the final result: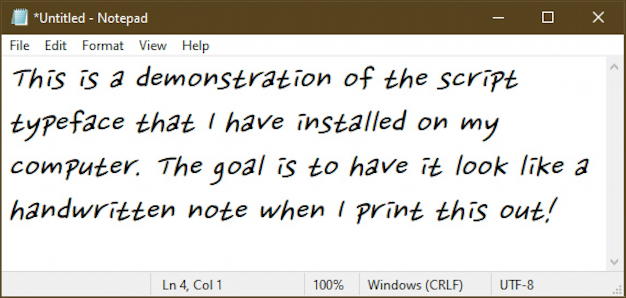 There ya go. A bit of work going through the steps, but worth it if you want to add a new typeface or two to your PC. I will add one caveat: If you add a lot of typefaces to your PC, it can slow down the startup time of programs like NotePad and Word that give you access to your entire library. So don't go wild, just install ones you think you'll actually use. 🙂
Pro Tip: I've been writing about Windows 10 for quite some time, and earlier versions of Windows before that. While you're visiting, why not check out my Windows 10 & PC help area? Thanks!