Is there an easy way to see how much RAM my new Win8 PC has installed without taking it apart? And, for that matter, check available disk space too?
You definitely shouldn't need to tear your computer apart to figure out how much RAM you have installed, and, of course, even if you do tear down your PC or laptop, you still won't be able to tell how much free space there is on your hard disk! Still, it's always a bit of a puzzle to figure out your exact system configuration on a Windows PC and the solution seems to change with each OS upgrade too, so even if you did know how to do so in Win7, Win8 is a new beast.
As I have demonstrated so many times before, however, the key is really to use the terrific search system in Windows 8. In fact, just as Spotlight completely changes how you work with Mac OS X, the search system in Windows 8 should really change how you accomplish any task, launch any program or retrieve any document. It's that powerful!
To pop it up, either press Windows-C (for the Charms Bar) or Windows-S to go directly into search, or swipe in from the right if you have a touch screen, or move your cursor to the top right and give it a few seconds to show up. In all cases, you'll get the Charms Bar (well, unless you Windows-S to go straight to search):

Click on "Search" and type in PC INFO: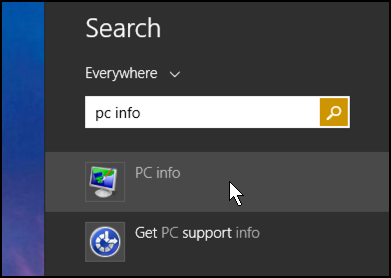 As shown, the first match is what you want. Click on it.
You'll go straight into the summary PC info screen, with just the info you seek: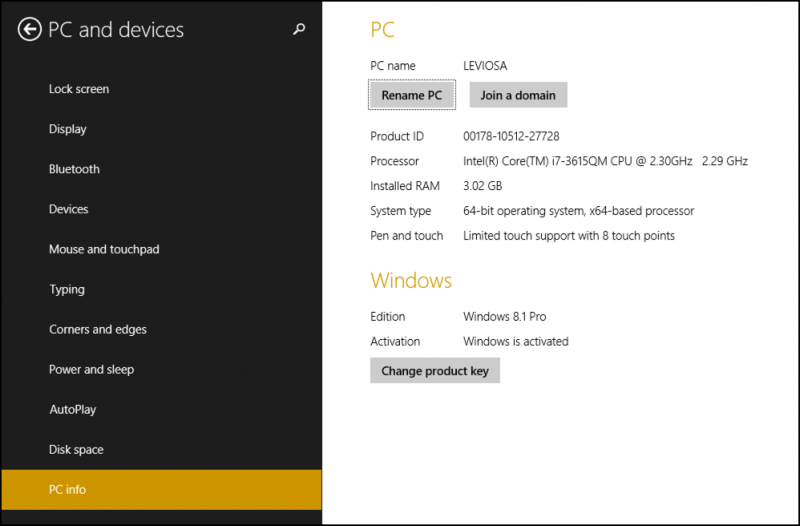 You can see on my system I have the (rather odd) 3.02GB of RAM installed. Your number will doubtless be a bit more normal, typically a power of 2, and most often 4GB, 8GB or 16GB.
While you're at it, look on the lower left, just above "PC info" and you'll see "Disk space". Click or tap on it.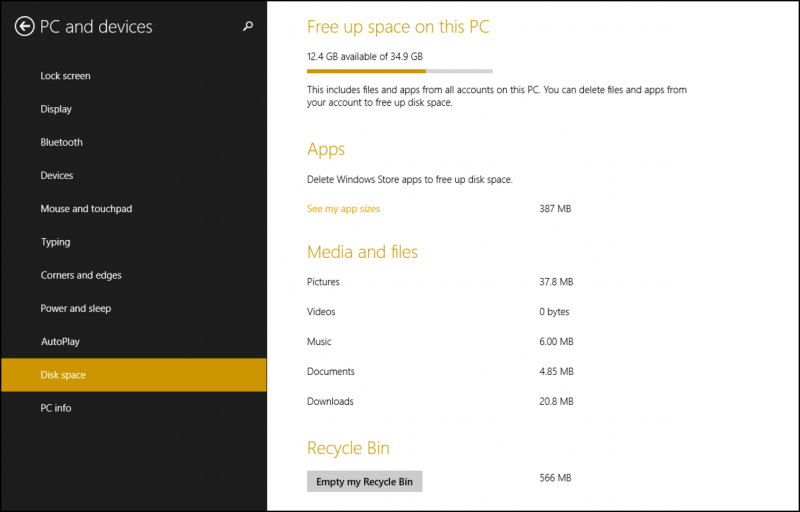 Ah, okay, so I have 34.9GB of disk space allocated for Windows 8 on this particular system, of which 12.4GB is available, about 35% of the total disk space. Windows breaks it down further, dividing the space used into Pictures, Videos, Music, Documents and Downloads, which can be very helpful, though notice that I've used up 22GB of disk space and it seems like none of it is actually listed since these all add up to barely 400MB. I must have a lot of mystery files (actually a lot of the disk space is consumed by Windows programs and the system itself).
Whatever yours looks like, now you know how to check if Windows 8 is activated, how much RAM you have available, and what your current disk space situation looks like. All with a quick "pc info" search. Nice.