I have a Samsung Galaxy Tab 10 and really like it. It's fun to have Android on a big screen. The only thing I haven't figured out is how to check for app updates rather than wait for the system to stumble across them. Is there some trick to that?
If you've only used Android on a smartphone's 5″ screen, you're right that it is a different experience on a 9″ or 10″ screen. More icons, more options on windows, bigger type and much more space for apps to sprawl and show more information, whether that's terrain on a battlefield, clouds while you're flying, or just puzzle pieces, it's a much better experience. Same with an iPhone versus an iPad, of course.
Updating apps in Android is puzzling, however, because for reasons I don't fully understand, the developers opted not to have a "Check for Updates" option or even an "Installed" option on the main screen of the Google Play Store app. And yes, it's the Play Store where you check for updates to your apps.
Let me show you! First, now you know what app icon to tap:
You can see it approximately in the middle of all the app icons, "Play Store".
Tap on it.
This is what I mean. You'd never know that somewhere in this app is the ability to see what apps you've already installed and check for updates too. It's all about the new here, new apps, new games, new movies etc.
But on the top left, adjacent to "Google play" on the white bar, is a button with three horizontal lines. Yes, that's a button.
Tap on it.
Ah, look. Options. What's kind of strange is that the graphic is from my Google Plus account page, but I guess they wanted to have something there. It's not what we care about anyway, so it's safely ignored.
What you seek is My apps. Tap on it.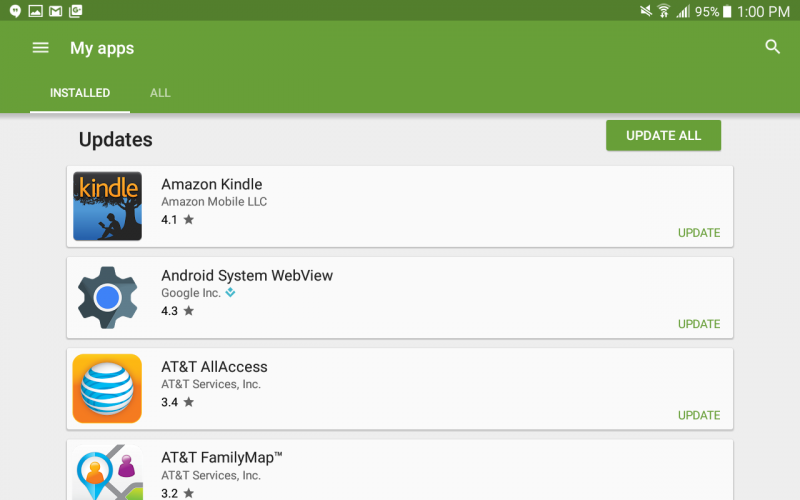 There we go. Here's a list of apps I have on my own Galaxy Tab tablet that have available updates. Note that the Google Play Store can differentiate between apps you've downloaded at some point on any of your Android platform systems (the "All" tab) and those actually on this specific device (the "Installed" tab, as shown).
To update everything, tap on "Update All". Most likely, at least one app will request specific permissions, a screen that pops up just like this:
If you're good with granting these apps the requested permissions, tap on Accept, otherwise Skip the update.
Eventually things will download:
And when they're all done, you're all up to date with your apps.
Easy. Just hard to find. 🙂