I tried Classic Shell Start Menu on my Windows 8 computer as you suggested [see: Add a start menu to Windows 8] and it's nice to have the Windows 7 start menu return. But… I want to just live in a Win8 world. How can I uninstall a program in Windows 8.1?
Glad you found that having a start menu return on Windows 8 to be both useful and a barrier to full adoption of the Windows 8 experience. The thing about the jump from Win7 to Win8 is that it genuinely is a big jump in the user experience, but if you can just stick with it long enough to get the hang of the charms bar and start screen, it's really just as easy to use. In fact, with the considerably improved search system, I think it's easier to do things in Win8 than it ever was in previous versions of Microsoft Windows.
I realize I might be in the minority with this opinion, however. 🙂
As always with Windows 8 / 8.1, I'll accomplish the task by searching for what I want to accomplish:
The fourth option looks like what I seek (though #3 is probably a link to the same thing, just more wordy).
Click on Uninstall a program…
Here's a list of all the programs installed on the Windows 8.1 system, including a variety of Apple programs. It's not immediately obvious how to go from here to uninstalling, however, but let's scroll down and find Classic Shell:
Not sure why the user interface works this way, but when you check a program you want to remove, the line above the listing changes from "Organize" to include "Uninstall" as a text link. See it?
Click on Uninstall after choosing the program you want to remove.
I'd recommend against checking the "don't show me this dialog in the future" box, personally, because it's better than accidentally removing something you wanted to actually keep, but that's up to you.
Ready to proceed? Click Yes.
All stop. The program's running. Which is no surprise…
Fortunately Windows 8.1 is smart enough to kill a running program before it tries to uninstall it (the default button chosen just below the window listing the program you're uninstalling).
Good enough. Click "OK" and Windows will jump in, asking if you want to let the uninstall program touch your OS: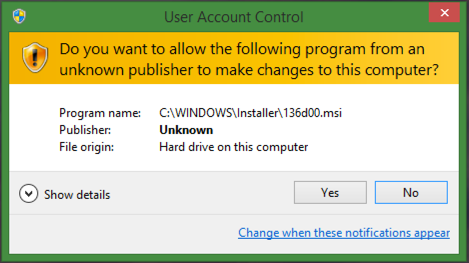 You do, of course, so click on "Yes" to proceed.
Shortly thereafter it's done and you're looking at the list of programs on your system but the uninstalled program has vanished.
Done. Easily. And that's how you uninstall an unwanted program or app from Microsoft Windows 8 / 8.1.