I went to see Avengers: Age of Ultron over the weekend and it was awesome. Except for one little problem: My Apple Watch kept lighting up in the theater as message notifications popped up. I ended up putting it in my pocket. How do I go into "movie mode" or turn it off?
Not surprised you liked Avengers: Age of Ultron, actually. It's a great movie and well worth seeing in the movie theater. At the same time I applaud you for being sufficiently aware of those around you that you don't want your Apple Watch lighting up throughout the movie: When I see movies it's way too common for someone to be checking their phone or otherwise thoughtlessly interacting with a device during the show. Makes me want a signal jammer!
What you're asking about is a great puzzle, though. I realized the same issue the first time I went to a movie with my own Apple Watch on, that there's no "turn off the screen" mode. There are some sort-of solutions, but none quite do what you want other than powering the device down entirely. That's the best solution so far…
To start, here's the watch face since that's the "home screen" for the device:
You've doubtless seen that before!
From this point, a swipe upwards will let you get to airplane and do-not-disturb modes:
Both sound like they might work, but whether you're in airplane mode (which also pushes your iPhone into airplane mode, which I don't actually like as a feature) or in do not disturb mode, turning your wrist will still activate the screen and annoy your theater mates, so neither are a good solution to the problem.
Maybe in Settings? You can, of course, get there from the main apps view, attainable by pushing on the crown:
Settings is the gear icon right smack dab in the middle of the image above.
Tap on it and you can scroll through the settings. Nothing useful, unfortunately:
Turns out that the best way to go into "dark room mode" is really to power down the watch entirely, which also has the added benefit of saving a bit of battery life too.
But how to get to the power down button? Turns out you need to push and hold the button on the lower right edge of the Apple Watch (I keep wanting to say iWatch even though I know that's not what it's called) until the following appears: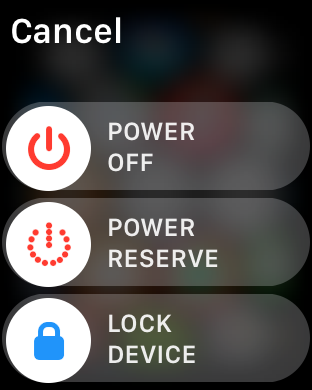 Now you can just slide the Power Off and the watch is off until you again push and hold the button to restart it. Oh, and booting up the watch takes longer than you'd expect, so don't panic.
Somehow I can imagine the Fandango app or similar adding a "I'm in a Movie!" mode, but so far, this is the best solution I've got to offer you. Thanks for being thoughtful of others around you!