Love my Samsung Galaxy Tab 7, but the display sleep timer drives me crazy when I'm reading an ebook on the Kindle app. Keeps turning the screen off! How do I stop this?
I know just what you mean, if you have a tablet set up with a relatively short sleep timer, the time it takes to read a page of an ebook in the Kindle app, or even a complicated Web page, can be longer than the timer and you end up having to constantly tap on the display to keep it awake. Really annoying!
The easy way to fix this is to change the time to sleep timer in settings on your Android device, but there's a much cooler feature on the Samsung Galaxy Tab 4 devices (by the way, you can't have a "Galaxy Tab 7" since they don't make them. I think what you mean is that you have a Tab 4 with a 7 inch screen). Turns out that because there's a camera on the device that's facing you when you're looking at the screen, you can enable "smart screen" and it'll know you're looking at the device and override the sleep timer. In fact, this works with all Android tablets and smart phones, as far as I know.
Let's look at how to enable this on your Samsung device. First, here's a typical home screen:
If you don't see the Settings app shown, tap on the grid of tiny squares on the lower right to find it.
Tap on Settings and you'll likely see your wifi options:
Tap on "Controls" along the top.
Now you'll be at motion control and voice and input methods. It'll likely look quite like this:
See the Smart screen option on the left? That's what you want.
Tap on it.
That's what you want. You can tell, even the description should lift your heart: "Screen stays on as long as you are looking at it."
Tap on the check box to enable it and an informational screen pops up: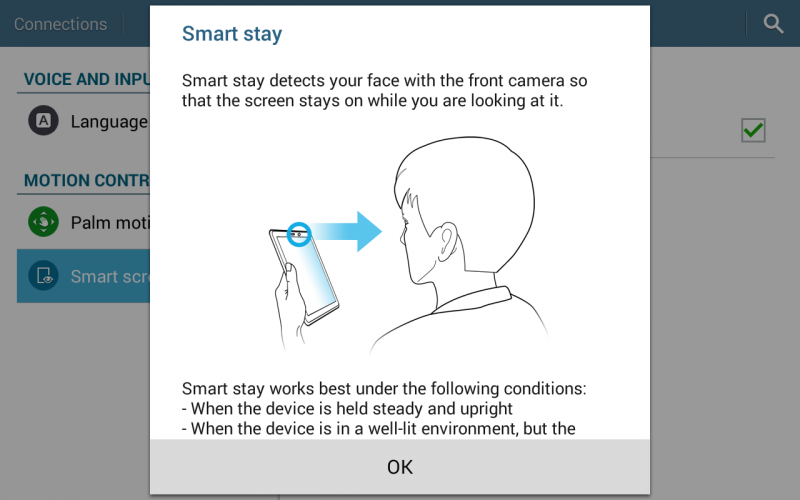 That's it. Enabled. Now if you're busy looking at the screen, the device should be smart enough to override the sleep timer and keep on so you can relax and enjoy your ebook.