I'm running Google Chrome on my Windows system and would really like to be able to add a toolbar or two to help me learn more about the sites I visit. In particular, is there a good SEO (search engine optimization) toolbar you recommend?
First off, I'll give you my standard SEO disclaimer: the more you focus on it, the more you'll slowly find yourself going insane as you realize that it is partially unknowable and subject to the whims of the electronic Gods. So if you must install an seo toolbar, at least be aware that it's only going to be able to show you a fraction or portion of what's going on. Still with me? Okay.
Used to be that the best reason to download Firefox was because it had a bunch of neat custom toolbars, but nowadays every major browser has the ability to slap on a toolbar or two (or more!), including Internet Explorer, Safari and, of course, Chrome. I'm a bit of a purist in that I like to see the page I'm viewing, not the toolbar, but to each his own.
You can go to different sites to get toolbars, but I strongly recommend that you only go to the Chrome Store to get things. It decreases the chance that you'll end up with some malware, spyware or hijackware that messes up your browser and, potentially, your computer. They're not good, trust me on this.
Let's have a look at the process. Start by clicking on the small rectangular button on the top right of the Chrome browser. It has a bunch of choices, but you want "Settings":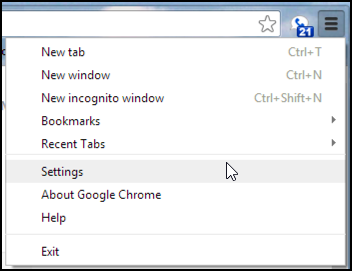 Before you go further, though, have a close look at the space between the empty star icon and the horizontal-lines button: most extensions you install add buttons at this point, so if you don't recognize one, it's a warning sign that there might be a malware toolbar problem.
You can see that I have the Google Voice extension that I've added to Chrome, that's the tiny phone handset icon with the "21" superimposed. Yes, I have a lot of voicemail. 🙂
Let's proceed. Choose "Settings" and look on the left side of the resultant window:
If you guessed "choose Extensions" give yourself a prize! You're right. Click on that.
Now look for this near the bottom of the page:
Clicking on that — rather than me giving you the URL — guarantees that you'll be heading towards the official Google Chrome extensions directory. The top left looks juuuust like this: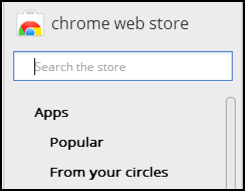 Here's where you can specify a keyword related to your search. For you, "SEO", so type that in.
There are quite a few different matches, but here are two extensions worth examining more closely:
I have no experience with either, so let's rather randomly choose "SEOquake" because its icon is more attractive. Yes, sometimes that's all it takes for a potential customer to choose one over another. Amazing, eh?
Click on "+ FREE" and you'll get a one-click respite when you can decide if you really want to proceed:
But of course you do. 🙂 Click on "Add" and after just a moment or two the browser will inform you that all is good:
What's cool is that you don't even have to restart Chrome to get it to work. In fact, it's already working.
Just go to a new Web site, like perhaps my film blog, and you'll now see a tiny toolbar show up with lots of SEO stats:

That's it. Done. Nice.
Now just remember to examine and analyze SEO stats in moderation. Your sanity will thank me.