I just switched from iPhone to Android and love the new experience. I'm wondering, however, what I need to do so that Android Auto works on my car's entertainment system? I have a new Subaru that supposedly has Android Auto, but I've never tried it!
One of the environments that many of us spend lots of time in every day is our automobile, so it's no surprise that both Google and Apple are battling for control of the vehicle. Fortunately, and perhaps somewhat atypically, their software plays well together so every auto manufacturer now includes both Apple CarPlay and Android Auto with their ever-more-important infotainment / entertainment systems. As a nice added bonus, since most systems require you to plug the phone into your car for data communication, your phone will also gain some critical charge along the journey too. Some of the newest (and more expensive) cars also include wireless Android Auto and Apple CarPlay, which uses both Bluetooth and Wifi connections simultaneously, but I actually prefer the wired connection.
Since you only have to grant permissions to the vehicle the very first time you plug in your smartphone, it's easy to forget those first few steps when you switch from Android to iPhone or vice-versa. It's pretty straightforward, though, and there are lots and lots of options you can choose to make the experience exactly what you want to see on your car's screen, whether it's a modest Subaru display or an enormous Tesla screen…
STEP ONE: PLUG IN YOUR PHONE
The first step seems obvious but let's document it anyway: Find the USB plug on your car, get the right cable, and plug your phone into your car's infotainment system. I'm testing things out on a 2022 Toyota Corolla that has wired, but not wireless connectivity. When I plug in my Google Pixel 6 Pro here's what shows up on the phone screen:
As it suggests, you'll want to move your attention to the car's infotainment screen. The Corolla displays:
Ready to proceed? Great. Tap on the "OK" button on the car's display.
APPROVE PERMISSIONS ON THE ANDROID DEVICE
The next step takes your attention back to the phone – yes, it's quite a back-and-forth process – where it'll now show this:
Yes, this is what you want to set up. Tap on "Next" to proceed.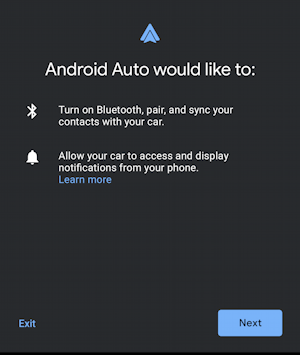 There are a lot of permissions being requested in those two sentences. The most important of which is sync your contacts with your car which means that data is going to be in the car infotainment system even if you and your phone are not present. Not a big deal for your own or a shared car, but if it's a rental then it's very important to "forget" your phone in the car system before returning it!
You good with all these permissions? If so, just tap on "Next". If you aren't, remember that you can just Bluetooth pair the phone with the car and still use it for music and phone calls, the display just isn't an Android display.
Assuming you proceeded, the car's display will change to Google Maps from your phone!
Success. Now, a few basics on how to work with Android Auto! First off, notice on the top right that it shows battery level for the phone and signal strength for the cellular signal. Top left always shows the time. The lower left concentric circles is the most important button in the entire interface however, because it's the Android Auto "Home" button. Notifications are accessible from the bell icon and you can launch Hey Google at any time by tapping on the microphone icon (or using the built-in audio prompt system from your car in most cases).
CUSTOMIZE ANDROID AUTO IN A FEW TAPS
Tap on the home button – the lower left circle! – and you'll get to the view that looks like the setup images in the preview:
Notice that most of the frame stays the same, from time to battery level, and most all of the icons along the bottom. Part of mine has changed to Spotify music controls (but if you look in the previous image, it was also Spotify, just showing the name of the track). To launch any of these apps, just tap on their icon on the screen. Check your calendar? Jump to YouTube Music or Spotify? Investigate GameSnacks? All doable with a single tap.
The Toyota icon's worth noting; it's how you go back to the built-in infotainment display on the car and each manufacturer has its own icon that appears. Your Subaru will show, you guessed it, "Subaru" instead.
Switch back to your Android phone and there are two main areas worth checking out. First, go to Settings and search for "Auto" to get to the Android Auto settings. This works best if your phone's still plugged into the car:
There are a lot of settings and options to consider and try out on this display, make sure you swipe up to see how you can customize your experience. You can also customize the launcher by tapping on "Customize launcher" (just below "General"). It lets you choose which apps show up at all!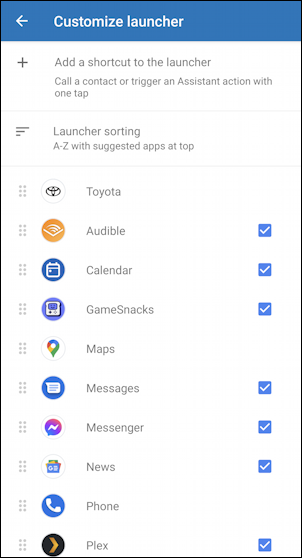 That's about it. You can experiment and try different buttons and options to see how the rest of it works, but overall, it's probably a big improvement over the current auto infotainment system, and with its up-to-the-minute maps and traffic, it's terrific!
Pro Tip: I've been writing about Android forever! Please check out my extensive Android help area for hundreds more useful tutorials and guides! Thanks.