I love my iPad, but the app icons are so small that I can't always figure out which is for what program. Is there a way to make them even just a little bigger?
Apple has been somewhat quietly updating and improving the iPad operating system (which used to be called iOS, like iPhones, but is now known as iPadOS instead). From an iPhone with a bigger screen, the iPad now has a lot of additional features and capabilities that take advantage of the bigger screen. If you have an iPad Pro, you have a LOT bigger screen!
But it still comes down to usability and having an interface that lets the maximum number of iPad users accomplish the tasks they desire. And that's where the many settings in iPadOS can prove helpful. You can set up screen zoom, for example, in Accessibility, but even without tapping any of the Accessibility features, there's a way to make the app icons bigger that also lets you enable a couple of other super useful features. Let's have a look…
CHECK FOR IPADOS UPDATES
Before we proceed, here's how the iPad home screen looks if you have the defaults enabled. The app icons aren't big, but they aren't tiny either: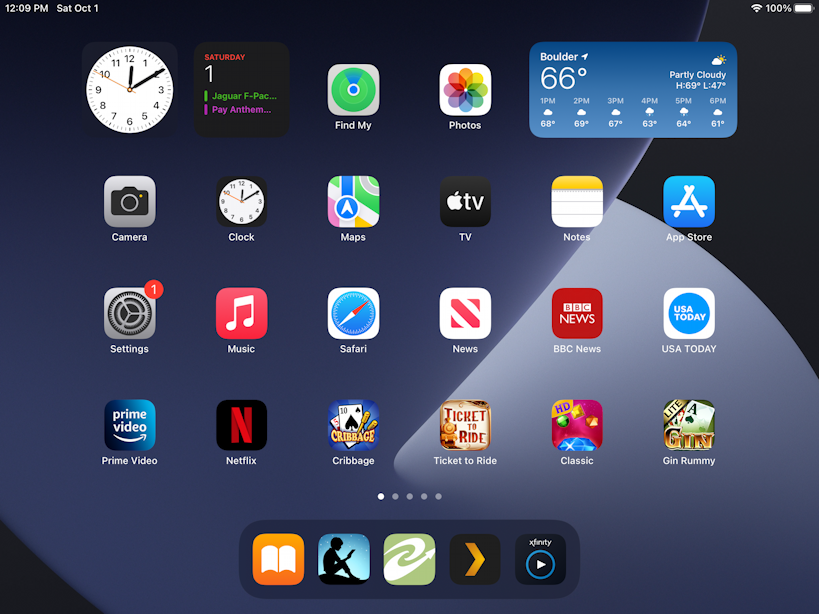 Still, those app icons could be bigger. Notice that the Dock could also show a few more options too if I wanted to drag some icons directly onto it. But let's stay focused. Tap on the Settings icon and it will not just show Settings, but also remind me that there's an OS update available: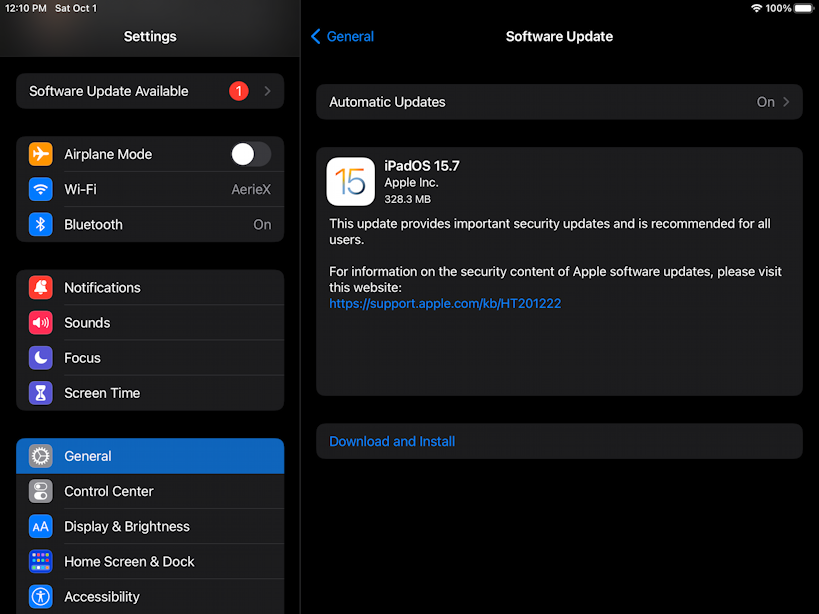 I'll apply that update in a minute. For now, look at the list of options on the lower left. Specifically, find "Home Screen & Dock". That's the one you want. Tap on it to reveal those settings and preference options: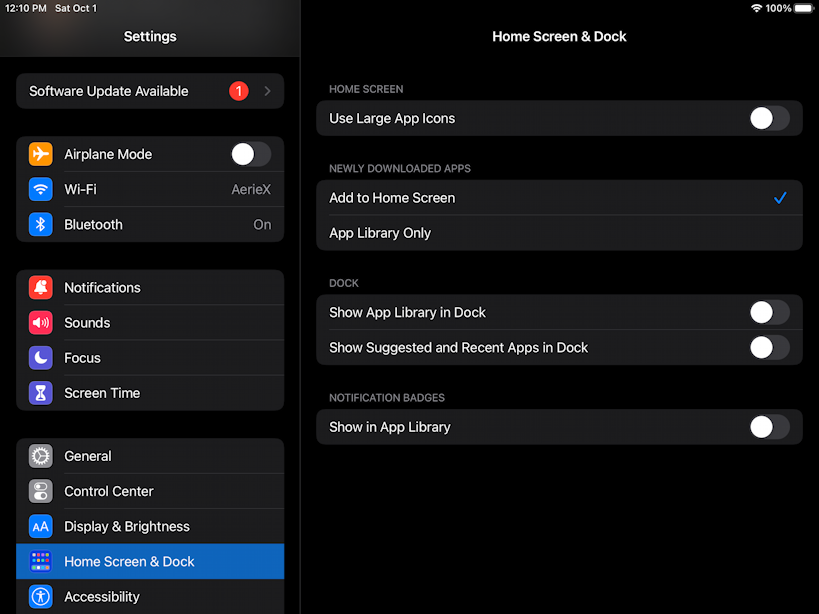 There's that setting!
USE LARGE APP ICONS ON AN IPAD
You can enlarge all the icons on the iPad's home screen by simply enabling "Use Large App Icons". Tap on the switch to the right so it displays green, which means it's enabled. At the same time, also enable "Show App Library in Dock" because it's such a helpful feature: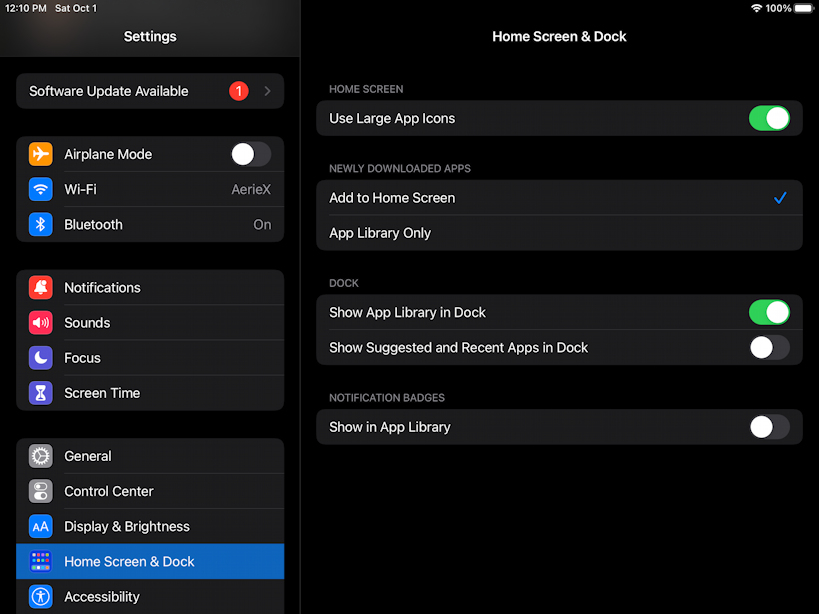 Ready? Push the Home button to get back to the main screen of your iPad. With bigger icons: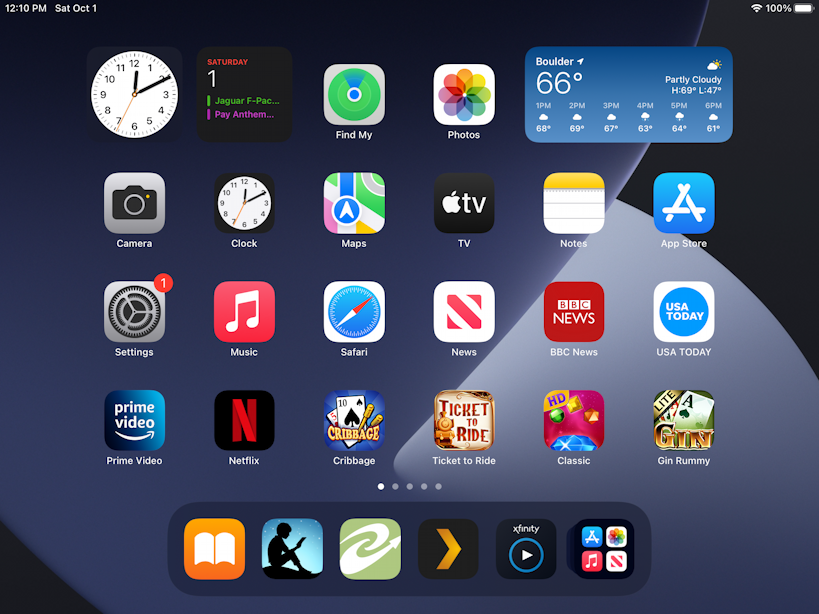 A visible improvement. Now, what about that App Library button in the Dock?
WELCOME TO THE IPAD APP LIBRARY
I surmise that most people don't realize that the iPad now automatically organizes all apps by category and offers a handy folder-based view of every app on your device, whether you use it every day or once in that proverbial blue moon. But tap on the icon in the Dock that shows four mini-icons and a whole new view is revealed: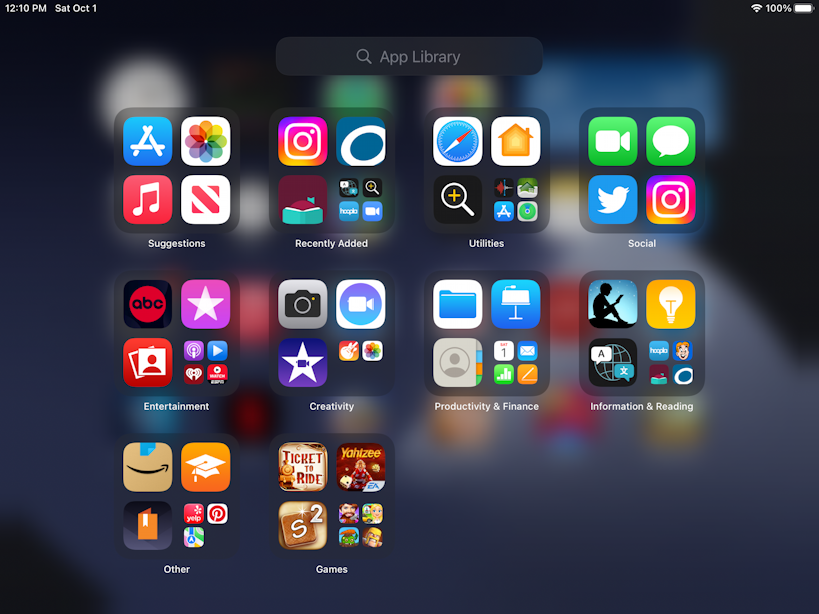 Handy, isn't it? Notice also that there's an app search feature that's shown up too, though it's pretty hard to see at the top of the screen. Tap on a folder and it will show all the apps that match that category. Tap on an app icon and it'll launch just like if you would have tapped it on the home screen.
That's it. The fast and easy way to make bigger app icons on your Apple iPad, and enable another useful feature too. Hope that helps you out!
Pro Tip: I've been writing about the Apple iPad lineup and its many apps for years. While you're here, please do check out my extensive iPad help area for lots more tutorials!