I saw that my company's Google One account now includes access to a VPN managed by Google, without any additional charge. Since I'm paying for a VPN, should I switch? Is VPN by Google One easy to install and use? I'm on a Windows PC.
Most of us spend an alarming amount of time on public wireless networks, whether it's at the local coffee shop, library, school, airport, or coworking facility. Needing a password to access the network doesn't mean it's secure because once everyone's connected, their devices are all on the same local network. Many access points also monitor traffic and not only log requests but can reject certain connections and even kick you off the network for inappropriate use.
What's inappropriate use? The most obvious culprit for that is BitTorrent, a terrific distributed file archiving and sharing system that allows people to download enormous Linux install images in just a few minutes but also is the heart of illegal file sharing. Download a just-released Hollywood movie or all the episodes of the latest streaming series? If you don't have a subscription, it's not legal and most public access points don't want to be part of the acquisition process.
Enter Virtual Private Networks or VPNs: By using a VPN you can not only protect yourself from malicious users and software on the local network but also hide your interaction with the network if you are doing anything that might be otherwise problematic. VPNs are also smart from a privacy and security perspective on any public network even if you're just shopping on Amazon or checking your email.
There are tons of third-party VPN providers that range from free (generally not good at actually ensuring your privacy) to subscription models (I use both NordVPN and ExpressVPN, both of which have a modest annual subscription fee). But Google? Google One is a popular business subscription service that offers lots more disk space and access to additional tools, but a VPN by Google?
I've been using Google One's VPN for a few days now and so far it's excellent. So fast that I forget it's running, even while I appreciate being safe from malicious actors on the public wifi networks I utilize. Is it safe for Bittorrent, though? I'll talk about that a bit more after we go through the install and use tutorial!
HOW TO DOWNLOAD VPN BY GOOGLE ONE
If you don't have a Google One subscription, that's the first step, and you can learn more about all the different features and capabilities here: one.google.com/about. If you're all set up, you can go to one.google.com/benefits to learn more about the VPN offering:
A VPN requires software installed on the client system, and Google VPN has client software for Windows, Mac, Android, and iPhone. Go to the benefits page, as shown above, and the "Download app" button will pick the right option for you. Since I'm on a Windows PC, it'll download the Windows version.
Before you get there, however, you'll need to log in to your Google One account: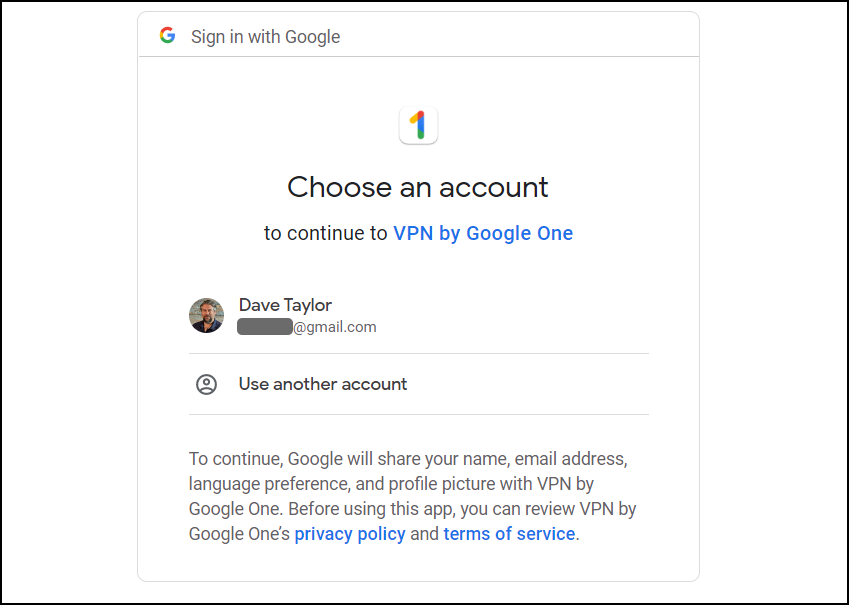 Then a rather interesting warning appears which makes me appreciate that the Google team have recognized that scammers can now ostensibly offer 'free Google VPN' that's actually a trojan horse app that will not do the job at all:
Look on the Address Bar of your Web browser, and if it's not .google.com, then bail and start over at one.google.com.
All looks good? Then click on "Sign in" and it'll download the installer app automatically. The following will appear in your Browser:
That's the Web browser portion of the download and install done. Let's switch to the app install itself.
INSTALLING VPN BY GOOGLE ONE
Now that the installer is on your computer, simply open it up and you'll find it's a very simple installation. Once installed the VPN program will launch in its own little window. The only configuration question you'll need to decide is whether you want the program protecting you automatically, restarting every time you reboot your computer or not:
This will mean that it will also be running on your home network and other secure networks, not just public wifi. Personally, I prefer the ability to enable and disable my VPN, so I chose "Skip", but you might try "Launch at startup" and see how it works for you.
Tip: The Mac has tighter system security so you'll need to go into System Settings to allow the program to access some of the operating system internals to add itself as a virtual private network. It only adds a click or two to the installation.
Once you've done that, you'll be shown another information screen from VPN by Google One:
Ready? Great, click on "Get started" and you'll finally be at the main window:
This means it's time to learn how to use it!
HOW TO USE VPN BY GOOGLE ONE
Since this is just released software, I actually expect that some of the user interface elements will be tweaked over the next few months, but for now, turning on the VPN is weirdly subtle, given that it's a one-task app. You want to click on the slider adjacent to "Use VPN" in the middle of the window. It then changes to:
On the PC it also pops up a handy notification too:
And that's it. You're now online with the Google VPN. You can go back to that window and click on "View Settings", but there are really no settings you can access:
Eagle-eyed users will notice that the VPN program also adds a shortcut; on the Mac it's in the menu bar along the top and on the PC it's in the shortcuts area of the Taskbar along the bottom:
Right-click on the tiny key icon – as I have done above – and a set of useful shortcuts are offered, making it the easiest way to interact with the VPN program, no question. For simplicity, I suggest you click and drag the VPN shortcut icon onto the Taskbar itself to make things even easier.
TESTING IF THE GOOGLE ONE VPN WORKS
Since it is so speedy, how do you test to see if it's working? If a VPN works, it's changing your IP address and your corresponding digital geolocation too. This can be easily ascertained with a handy utility called WhatIsMyIP.com. When I turn off the VPN and go to the site, it reports this as my IP and location:
That's correct, I use Comcast and am based in Boulder, Colorado.
When I turn on Google One VPN and go back to the site by reloading the page, however, notice how it changes:
Google is based in Mountain View, California and you can see that it's supplying my IP address for the rest of the Internet, as we would hope. It's also reporting that I'm in California, not Colorado, which is great though it can be confusing when using apps and visiting Web pages that use your location to report weather, local restaurants, traffic, etc.
THOUGHTS ON VPN BY GOOGLE ONE AND TORRENTING
Users report – and I experimentally verified – that you can indeed access and use the BitTorrent network through the Google VPN and it seems to work without a hitch. However, unlike companies that are based overseas and are structured specifically to ensure your privacy, Google might not be so supportive of these behaviors and might even report usage to the appropriate government authorities. The general sentiment in the community seems to be that it's a good VPN alternative, but if you do want to download movies, software, music, etc via torrent, then a commercial VPN might well be a smarter alternative. As I said earlier, my recommendations in this regard are NordVPN and ExpressVPN, but there are a lot of options on the market.
Overall, though, I am very impressed with the Google One VPN and am going to be using it a lot. Every time I'm on a public network, it helps me ensure my online privacy and security, which is a pretty nice feature for a free add-on capability for a service I already have. Definitely worth checking out.
Pro Tip: I've been writing about Mac, Windows, and overall online security topics for many years. Please check out my extensive Windows help area for lots of tutorials!