A while back I filled in some demographic data on LinkedIn and am now wondering if it's affecting my job search and the ads displayed. How can I easily regain control of my demographic information on LinkedIn?
We are well into the age of Big Data and the fact is that however taciturn we are about the information we share, the ability of smart systems to connect the proverbial dots and aggregate our presence on various sites means it's hard to keep things secret. Some social networks don't even both to hide that both they and third parties are harvesting your data to build up a profile of your use and identity. LinkedIn, perhaps surprisingly, is in the opposite camp, with a very transparent approach to the information you add and what it's allowed to do with that data, from job search targeting to advertising on the platform.
If, that is, you know where to look.
With that in mind, let's explore how LinkedIn prompts for your demographic information (and by demographics, I'm talking about age, gender, sexual preferences, ethnicity, etc), shows it to you, and then lets you decide what, if any, should be accessible to either recruiters searching for candidates or advertisers trying to best target their promotions.
YOUR DEMOGRAPHIC DATA ON LINKEDIN
Start out by logging in to LinkedIn in a Web browser (you can do this on a mobile device, but the interface is different). Then click on your profile pic on the top right…
I refer to this as the "Me menu" for what are I hope obvious reasons. Once you bring up the menu, choose "Settings & Privacy", as highlighted.
You'll move into the complex world of LinkedIn settings – there are a lot! – and there'll be a new entry that you might not have seen before:
No surprise, click on "Personal demographic information" to proceed. You'll get a bit of an explanation from LinkedIn about what it collects and how it utilizes it:
Whether or not it "promotes fairness and diversity" or not is something I'll leave up to you to decide, but notice that you can "remove all personal demographic information" if you decide LinkedIn really doesn't need to know your sexual orientation or ethnic background after all.
To proceed, click on "Edit demographics".
ENTER YOUR DEMOGRAPHIC INFO
Once you click on "Edit demographics" you'll have a pop-up that has quite a few questions, some of which might feel rather too personal. It starts out fairly benign:
Important to remember is that you can skip any or all of these questions if you'd rather not share. No penalty, no error, no problem. Scroll down further and some of the questions are rather interesting, however…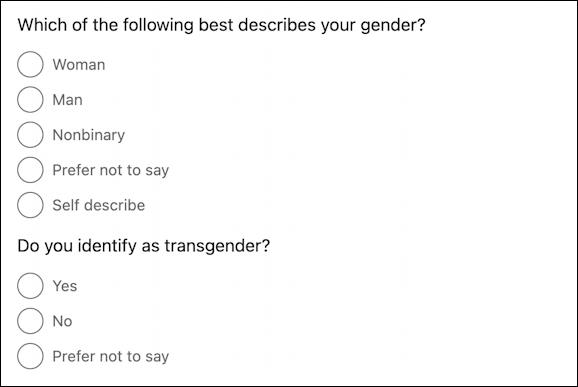 The latter question certainly brings up the question of privacy again, however; do you want to have recruiters contact you because "they're looking for a transgender person to join the team" or get ads because you have identified as transgender? You can choose "Prefer not to say", or just skip the question, as desired.
CONTROLLING YOUR LINKEDIN DEMOGRAPHIC DATA
Once you're done filling in or updating your demographic information, click on the "Agree & save" button and you'll then be able to set how it'll be used on the LinkedIn platform: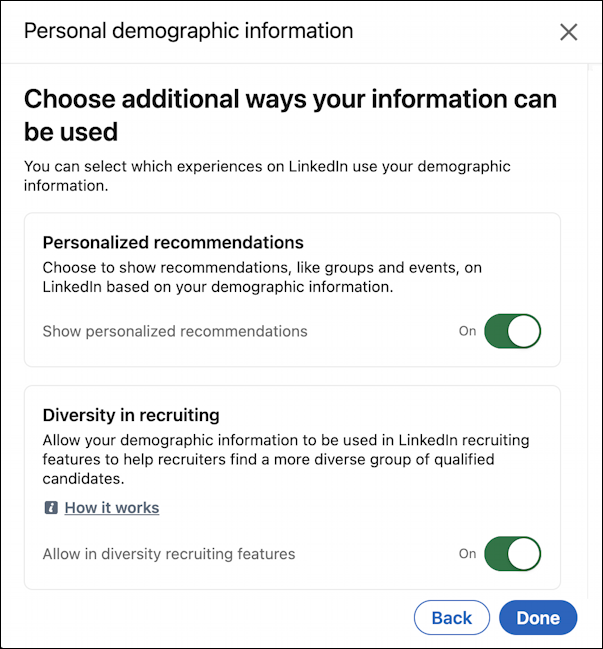 I encourage you to read and think about each prompt before you decide how to proceed. Want to disable "Personalized recommendations"? Just click on the on/off widget to disable that access.
Importantly, scroll down on this window too as there's one more setting that's pretty important:
I strongly encourage you to click on "Settings" so you can decide whether you want ads on LinkedIn that are targeting specific demographic information or not. Most people will likely opt out of this feature:
It shows just age and gender, and there are now laws about online advertising targeting by ethnicity and sexual identity, but… do you really trust LinkedIn? I suggest disabling both or not having that demographic information in the system at all if you're concerned.
That's it. Props to LinkedIn for making this easy to enter and manage; it's a lot better than most other social networks nowadays, which is a problem.
Pro Tip: I've been writing about LinkedIn since the launch of the popular professional networking site. Please do check out my extensive LinkedIn help area for lots more tutorials while you're here!