I just got my brother's hand-me-down iPhone 13 and it's really nice, but his wallpaper is a bikini-clad woman. Nice for him, but not for me! How can I switch it to a flower or rose wallpaper?
Congrats on getting an iPhone 13 from your brother, that was very nice of him to share it with you. If you're seeing his wallpaper, however, it sounds like you didn't reformat and reset it, which is actually what I recommend you do before you go any further. This way it removes all his preferences, contacts, Web site history, apps, etc. Then you can start with that proverbial clean slate. Here's a Apple tutorial if you want to do that: How to factory reset /reformat an Apple iPhone.
Either way, you should end up running iOS 16, which was just recently released and changes how wallpaper works and is set on the iPhone. Still running iOS 15? I'd encourage you to upgrade, but if not, well, the way I'll show how to pick and set a new wallpaper should work with that too. The hardest part of the process is going to be finding the image that you love and want to use. You'll see what I mean…
FIND A GREAT ROSE WALLPAPER WITH GOOGLE
This entire process can be done exclusively on your iPhone – or iPad, since it'll prove just about identical – so let's start by finding the wallpaper you want to use. Easiest is to open up Safari and search for something like 'iphone 13 wallpaper rose flower'. Then tap on the "Images" filter along the top. Here are the results I get: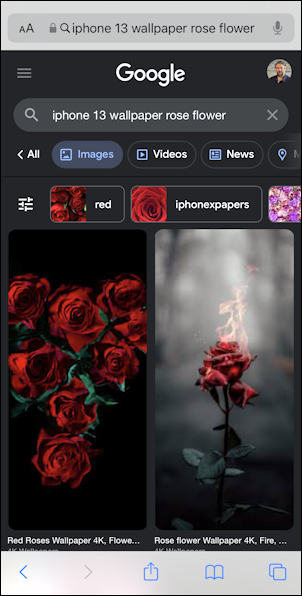 Already two beautiful and striking images, but swipe down; there are thousands of images from which you can choose.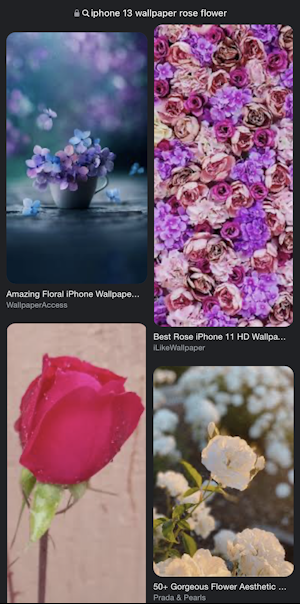 So many pretty pictures! When I start hunting for a new wallpaper, I allocate at least 30 minutes to look at the many options and enjoy all the astonishing imagery that's online. Eventually, you'll find one you like, perhaps this image from the image site Unsplash: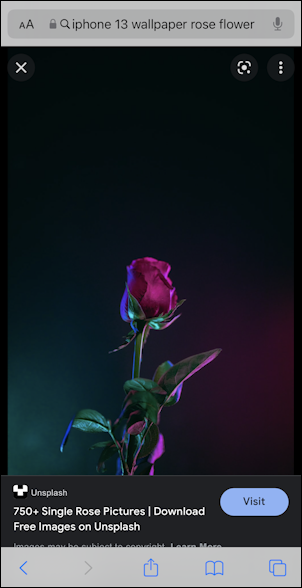 You don't want to grab this image yet because it's often a lower resolution thumbnail shown in Google image search. Instead, tap on "Visit" to go to the Web site then scroll as needed to find the image again. This time you can see it has a few keywords associated with it: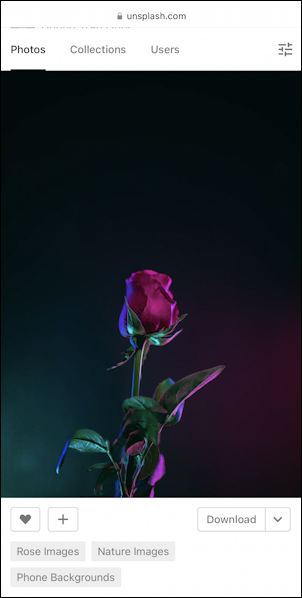 This particular image is from Vietnamese Unsplash photographer Dương Trần Quốc and is free to download. Perfect.
Note: Just because an image is accessible through a search engine doesn't mean it's in the public domain and free for you to use, particularly in commercial works. As a wallpaper, though, you're probably safe for personal use.
Tap and hold on the image while still in Safari and a menu will pop up: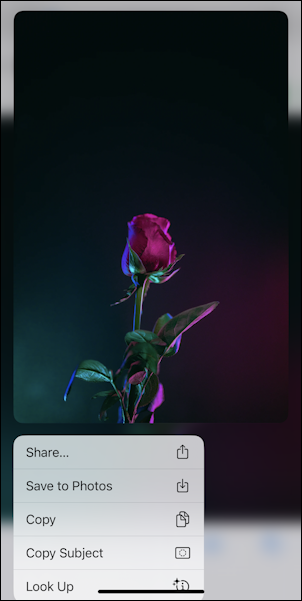 You want to choose "Save to Photos". Do this for a half-dozen images that you like, then we'll have to switch to setting the image as your desired wallpaper in the Settings app. Let's do that!
HOW TO SET A PHOTO AS A WALLPAPER IN IOS 16
For the second half of this task, it's time to switch from Safari to Settings. Launch the Settings app, then swipe down just a little bit until you see "Wallpaper", as shown about half-way down in the below image: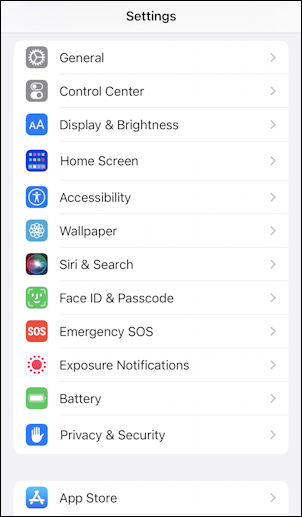 Tap on "Wallpaper" and it'll show you a redesigned wallpaper interface that arrived with the iOS 16 update. If you see something different – or the lower portion is omitted – then no worries, you should be able to follow along anyway.
The big difference in iOS16 is the addition of lock screen widgets, but we'll bump into those momentarily. For now, tap on "Add New Wallpaper". It will show you a bunch of options, both from Apple and your own photo gallery:
Not sure how it figures out which of the gallery images to suggest, but they're not bad choices at all! Still, we've saved that rose wallpaper so let's use it, right! To access your full photo gallery and camera roll, simple tap on "Photos" on the top left. It's the light blue button. Mine shows the three rose HD photos I've saved, along with a few of my other images (all of which actually would work well as wallpapers too, as luck has it):
Let's use the single rose against the black background, as I think that's going to be a really striking image for the lock screen in particular. That's done by tapping on the image to select it.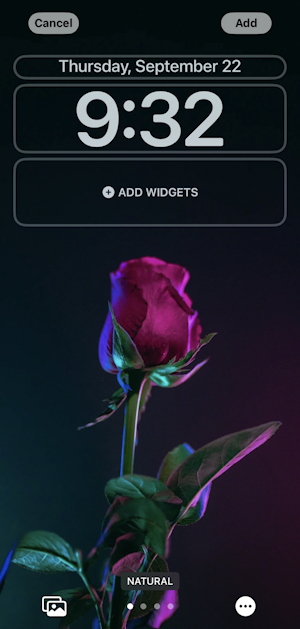 It looks fantastic, actually! The new iOS 16 widgets that appear here – including the date and time! – are all elements that can be tweaked or modified. See this tutorial for more info: Customize your iOS 16 iPhone Lock Screen Widgets and Appearance.
Happy with how it looks? Tap on "Add" on the top right of the screen. Since you can also use it as the home screen background, you'll be prompted to save it as a "wallpaper pair". I have mine set to blur the image for the home screen, but keep it crisp and bright for the lock screen: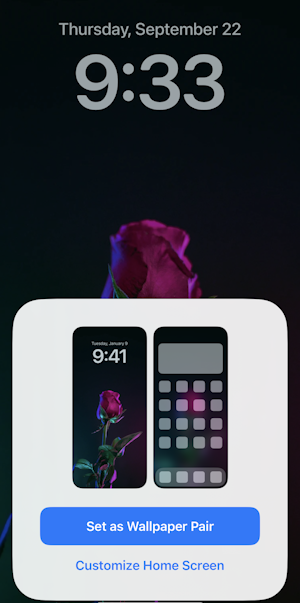 Tap on "Set as Wallpaper Pair" and it's all set and ready to use. In fact, with the addition of a few useful widgets, the lock screen wallpaper is perfect:
Mission accomplished and a beautiful rose is now the wallpaper of your iPhone 13. This entire process, of course, works for any image or image theme, whether it's your brother with his bikini-clad women, your cousin with her horses, or your accounting with retro calculators! Have fun.
Pro Tip: I've been writing tutorials for the Apple iPhone since it was first released. Please check out my extensive iPhone help area for lots and lots of useful content.