Now that you have an Android phone, are you ready to start using Google Wallet? Surprise! It's already scanning your Gmail for card info. Here's how to manage that and how to add a new credit card too.
With over a billion active Gmail users, it's a sure bet that most people get at least one email newsletter, statement, or similar every so often. Some people might get updates on a daily basis! What you probably don't realize, however, is that Google is scanning all of that email to try and identify loyalty and membership card information. As you'll see in a moment, when I opened up Google Wallet on my Android phone, it already had a half-dozen loyalty cards in the system, though I never entered any of them myself!
From a privacy perspective, it's a bit alarming, but there's no denying it's also convenient. You can also go into Google Wallet and delete those you'd rather not have associated with your account, now that you know about it. That's part of what I'll show in this tutorial too. Finally, we'll look at how to add a new credit card to Wallet so you can use it to pay for goods and services, not just ensure you have a handy record of loyalty programs.
LAUNCH GOOGLE WALLET ON AN ANDROID PHONE
Since just about every Android phone has NFC (near-field communication), it'll automatically open up Google Wallet if configured when you're within an inch or two of a reader. For example, the point of sale scanner at the local supermarket. Try it! If not, swipe down from the top of your screen and you'll see a list of handy shortcuts:
As the prompt suggests, "Tap to open". If you haven't set up your Wallet before, it'll look something like this: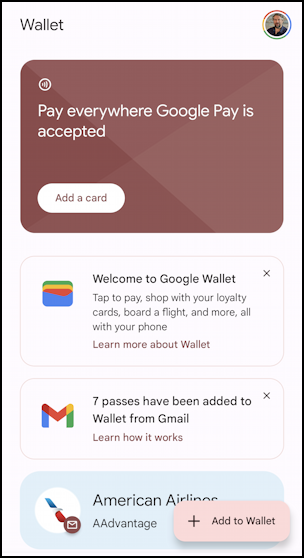 You can add a credit card by tapping on the "Add a card" on the top or "+ Add to Wallet" on the bottom, but before we do that, let's see what loyalty cards have already been automatically added.
REVIEW AUTOMATICALLY ADDED LOYALTY CARDS
Look closely at the above image and you'll notice the message "7 passes have been added to Wallet from Gmail". Seven! To review them, simply swipe upward…
It's interesting to see which companies send email that reveal membership numbers, but there's nothing too alarming here, all in all. That Sears Brands one's a bit surprising, though, and I am confident that I will not be shopping at a Sears store in the future, so let's remove it.
To do that, tap on its info on the screen.
Sorry, Sears, but it's time to remove your loyalty card from my Google Wallet. To accomplish this, all that's needed is a tap on the "•••" link on the top right. It reveals a button:
Tap on "Remove" and it'll prompt a confirmation: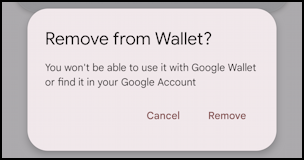 One more "Remove" tap and it's gone. Loyalty info cleaned up.
HOW TO ADD A CREDIT CARD TO GOOGLE WALLET
Back on the home screen, it's time to click on "+ Add to Wallet". It offers up the ability for you to choose any one of four types of information:
Actually, there are more than four options because you can add boarding passes, event tickets, even your Covid vaccination card to Google Wallet. For now, tap on "Payment card" and you'll find that it actually uses the device camera to make the process of entering the card number and such remarkably simple. In no time you'll see this:
That's it. Now you can add whatever credit cards you want, add loyalty cards (or remove the ones that were automatically added but you don't need cluttering up your Google Wallet), and more. Have fun!
Pro Tip: I've been writing about Android since it first showed up! Please check out my extensive Android help area for hundreds of useful tutorials and guides! Thanks.