I've been using Google Analytics for a while and a client just asked me about the traffic on a specific page. I logged into the Analytics site and dug around everywhere, but can't see anywhere I can actually just type in a URL and find the stats for that specific page. Is it possible, or is that just not how Google Analytics works?
When I first read this question, I was pretty convinced that the answer was no, but I asked this question on Twitter (you can follow me to see these sort of questions if you'd like: I'm @DaveTaylor) and found out that there is indeed a way to accomplish what you seek, though it's so complicated that I asked the chap who shared his info — @robertpatterson — twice to help me figure it out.
Fortunately I was taking screen shots as I went along, so I think you won't find it quite so baffling.
The ironic thing, however, was that my first test was to figure out how often people visit the Ask Dave A Question page, just to realize that it was one of the pages I'd forgotten to include the Google Analytics code in the first place, so… no traffic data at all. For this demo I opted to look at my parenting blog instead, as you'll see.
Start by logging in to your Google Analytics account and looking on the left side: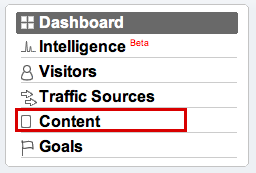 As you can see from my highlight, click on "Content" and you'll see it opens up and offers a variety of different content-related options:
Choose "Top Content". Now you'll see a pretty complicated page of information:
Scroll down to the bottom of the page — that's the secret! — and there's a small search box where you can enter a specific URL or a subset that matches a set of URLs.
I'll search for the articles I've written on my parenting blog about Cirque du Soleil by using the name as it shows up in my URLs:
The resultant information shown is for the page or pages that match. For me, there are 7 pages that Google Analytics are tracking that have the pattern "cirque_du_soleil", and here are the basic stats for them:
And, of course, a pretty graphical representation of the traffic trends:

That's it. Turns out that there's a lot you can find out in Analytics if you have the patience to poke around and experiment. I recommend you spend some time poking around!