I'd like to have a try at doing some Facebook Live. Looks fun! What's the easy way to get started with my iPhone 6s? Or do I need a fancy camera setup?
You're good to go live with Facebook Live if you have an iPhone or Android phone, actually, though obviously a better camera and microphone will up your game as you would expect. Still, the most modern generation of devices does surprisingly well, partially because many of the people who will participate in your Live broadcast are likely watching it on a small mobile device screen anyway. Win:win!
It also turns out that it's actually more difficult to use a fancy video rig or setup to go live than to just use your smartphone or the Webcam on your computer. Facebook doesn't want live TV, it wants live users so the bar to entry is surprisingly low. People who are more into it with their weekly live chat programs definitely use a little lavalier microphone, but quite honestly you can pick one up for under $40 if you really want to go down that route. Here are a bunch of options on Amazon: iPhone lav microphones or Android lav microphones.
With that preface, it really is easy to get started with Facebook Live. In fact, it's a button staring at you on a status update: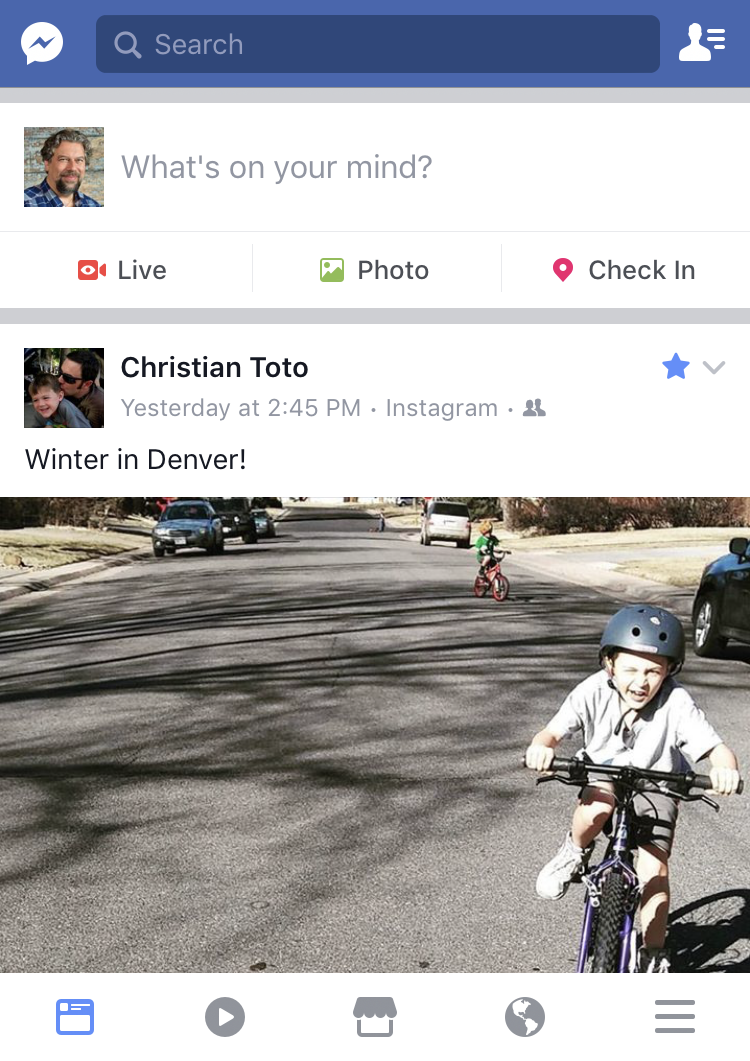 You can see the "Live" button on the lower left of the status update box? Tap on it!
There's not much else to do before you're live, but you do want to describe your video. "Talking about the SF Giants" or "Playing with my new kitten!!!" or "Jan and I talk about retirement", whatever. The more interesting your description, the more likely people will click to tune in: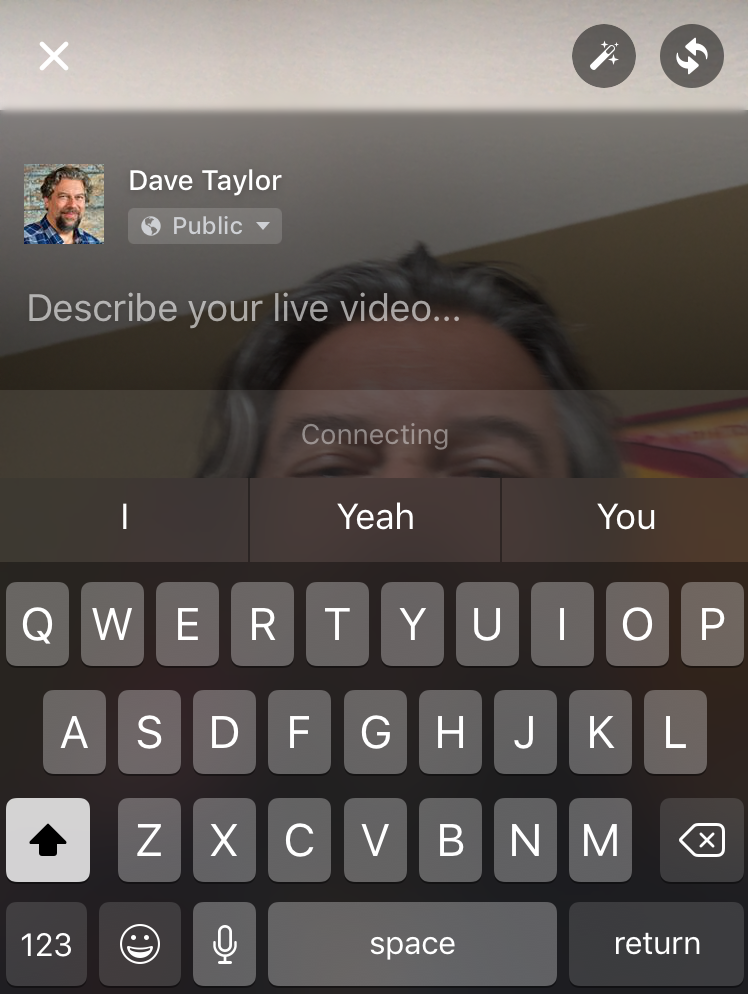 This is also a good moment to consider framing, background, lighting, etc, though you can't quite see yourself on camera fully yet. Still, try to avoid a distracting background, make sure your primary light source is "behind" the camera so it illuminates your face rather than making you look like you're a silhouette and try to remove background noises and distractions as best you can.
Ready? You can rotate the phone to prepare — it'll require you be in horizontal mode anyway — and when everything's set up tap on the big blue "Go Live" button: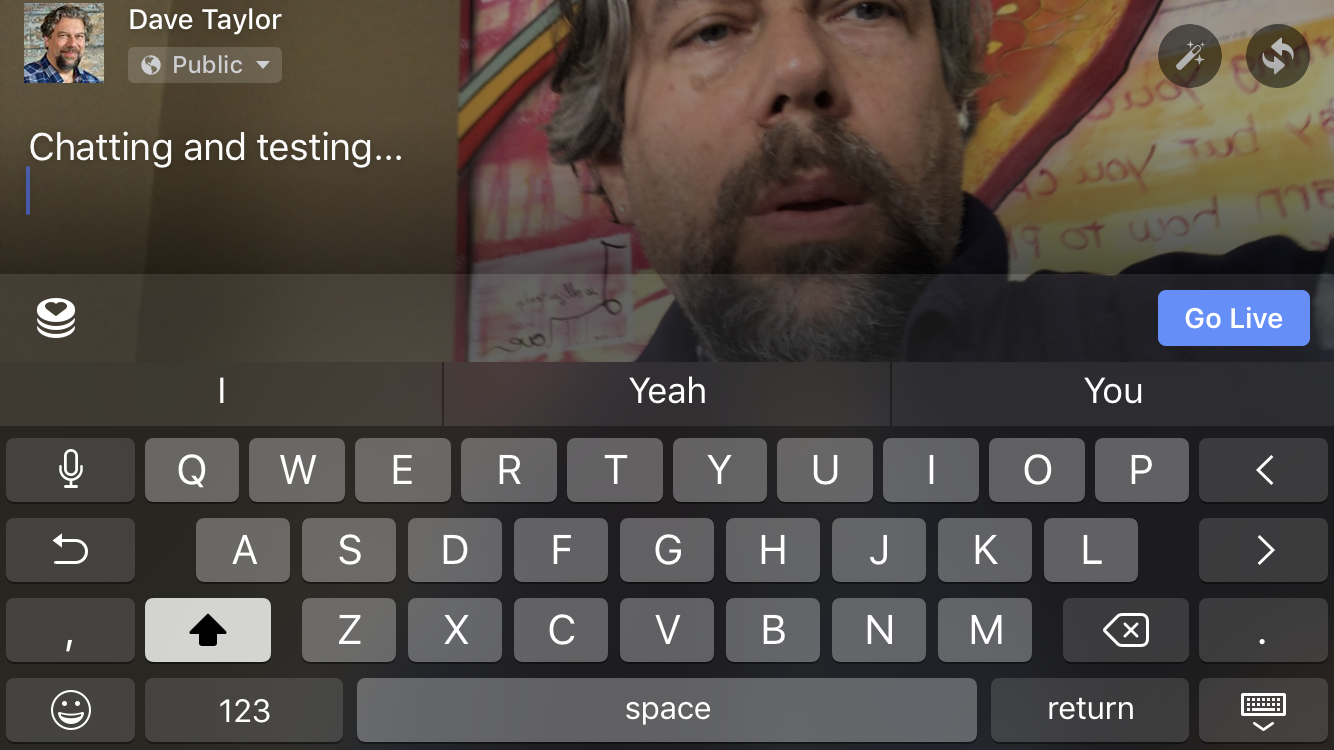 Notice also that I've set this stream to "Public" in the top left. You can do a Facebook Live stream just to your friends if you want too, just tap and change that setting.
But let's go live! And BOOM! You are, once you tap "Go Live":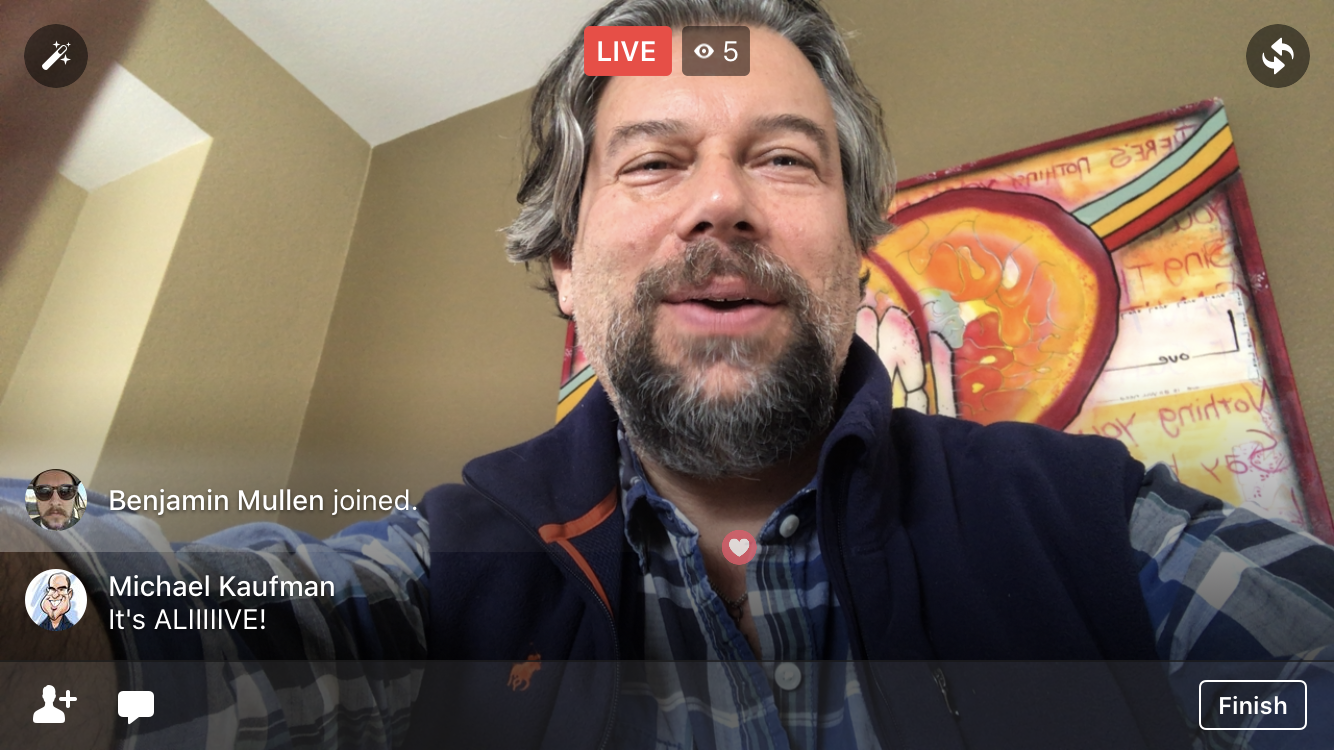 You can see that there are five people viewing this live stream (the "5" adjacent to the orange "LIVE" button at the top of the screen), that Benjamin Mullen just joined and that Michael Kaufman sent the comment "It's ALIIIIIVE!" too.
If you look more closely you'll also see that the words in the painting are backwards. That's because I'm using the front-facing camera on my iPhone 7, not the rear-facing camera. It's a dilemma: The front-facing "selfie" camera lets you see what's on screen, including comments as they come in, but it flips the image left/right so any text is backwards (as is your face!). The rear-facing camera is better on all smartphones, but then you're flying blind, with no idea about comments or who's joined or left. I keep thinking there's a gadget that would let you get the best of both worlds, but so far haven't figured it out. I'd suggest you try both ways and see which works better for you!
Your number of live viewers will ebb and flow so don't get too caught up with how many people are on at any given time. Facebook recommends you talk with the people commenting, which is how Angie and I are sharing a joke in my Live session: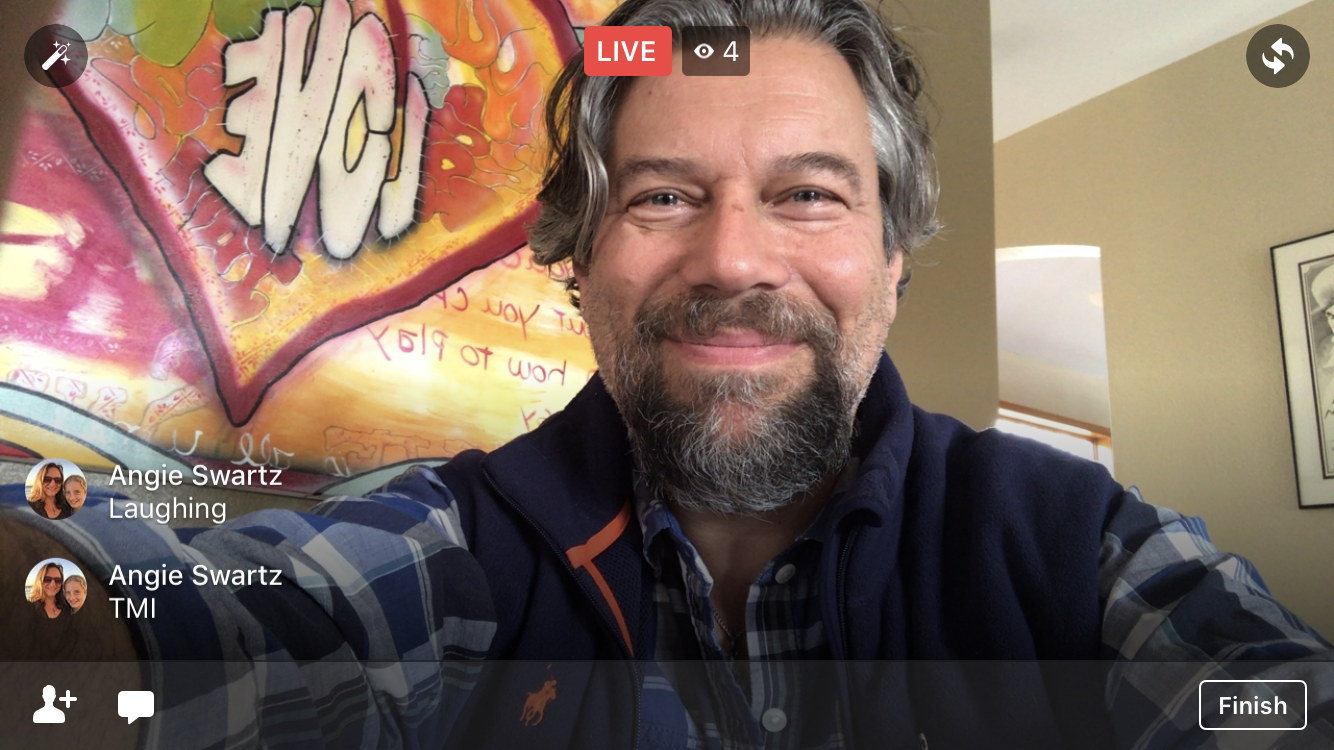 Done with your live session? Okay! Tap on "Finish" on the lower right.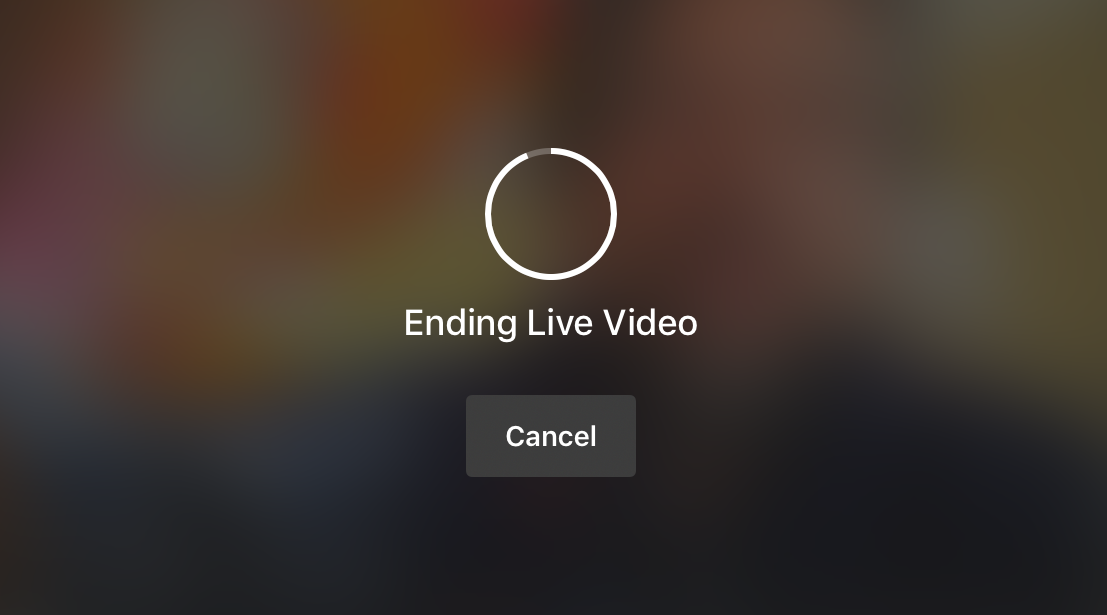 Now Facebook automatically saves a copy of the entire stream, including all comments — with timestamps! — and you can decide whether you want to make it available as a recorded video or not:
Fortunately it's not all about me with my mouth open, mid comment. You also get stats here too: I can see that I had 8 people live with me during the stream, and they left an impressive 31 comments. I'm going to leave this as Public and post it by tapping on the blue "Post" button. Now it's there in my profile stream forevermore, ready for people to watch and comment, like, share, whatever: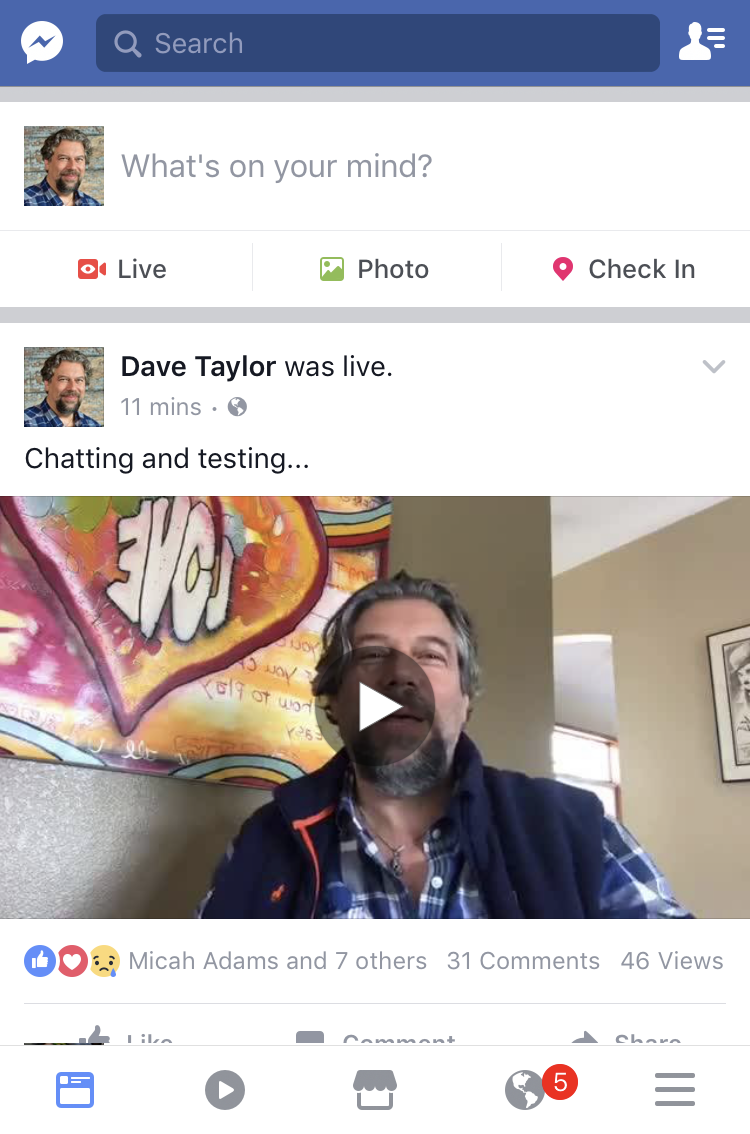 And that'd all there is. Really quite simple. Now the hard part: being interesting while you're on Facebook Live!
While we're talking about Facebook, I encourage you to follow Ask Dave Taylor on Facebook and check out our extensive Facebook help articles here too.