I'm a secretary at a local college and constantly bump into Web pages I want to read. But I can't at work. Is there a way to set up reminders to check out these pages after hours? Running Windows 10, if that matters.
There are quite a number of different ways you can set reminders to check out interesting Web pages and online content for a time when you can sit and focus on them. The original solution, of course, are bookmarks, but somehow the use of bookmarks in a Web browser like Microsoft Edge seems to have evolved to being more permanent. So bookmarks are sites you want to visit again and again, not just read once. Another common solution to defer reading Web pages until later is to push them into separate tabs behind the current window, then you can pop over and read them at your leisure. I'm not personally a fan of that and if the pages have animations, embedded videos or other content, that can slow down your browser even though it's not front and center. Not so good.
A third solution is to simply email yourself the links. That's pretty easy and a lot of Web sites have an email link that's just a click or tap away. But then you have to keep typing in your own email address, right? And so, since you're on Windows 10, a fourth solution and one that I like: Use Cortana to remind you!
In fact, the Cortana reminder feature is built in to Microsoft Edge, though the implementation is a smidge tedious. Still, let's have a look!
First off, here's a page I bumped into that looked really interesting: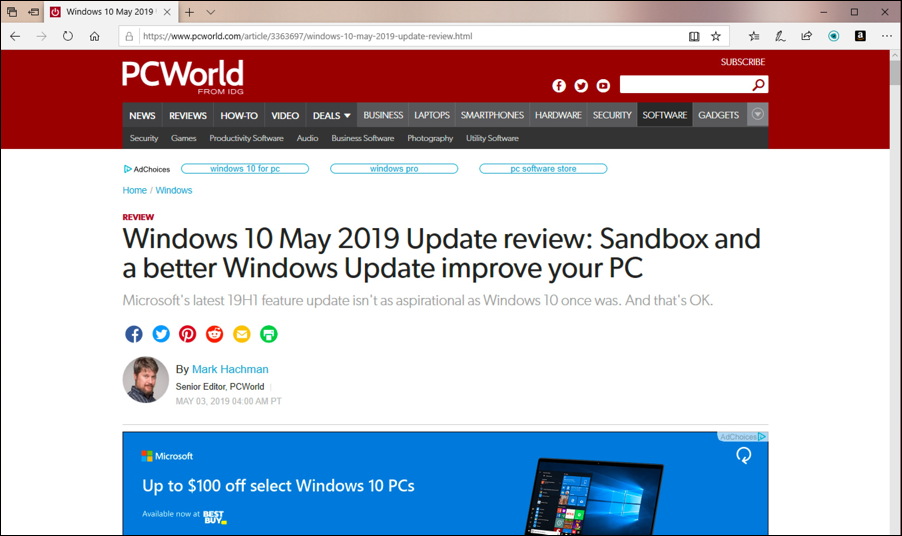 Notice the page even has bright, cheery icons including one that lets you email the link to someone (even yourself). Still, this is 2019 so let's do something a smidge more sophisticated! Along the address bar there are a bunch of additional icons along the top right. Let's zoom in:
See that square with an arrow jumping out? That's the "Share" feature and it's actually pretty slick! Click on it and here's what you'll get:
Yours might look slightly different because you have to install the Facebook app to get that one to work, for example, but as you can see, a bunch of useful buttons and a link to get more Apps to hook things up too. For this task, however, it's "Cortana Reminders" that you want to click (or tap, of course). A bit confusingly, this will bounce you down to your Start Menu on the lower left of your screen as it allows you to set up a reminder: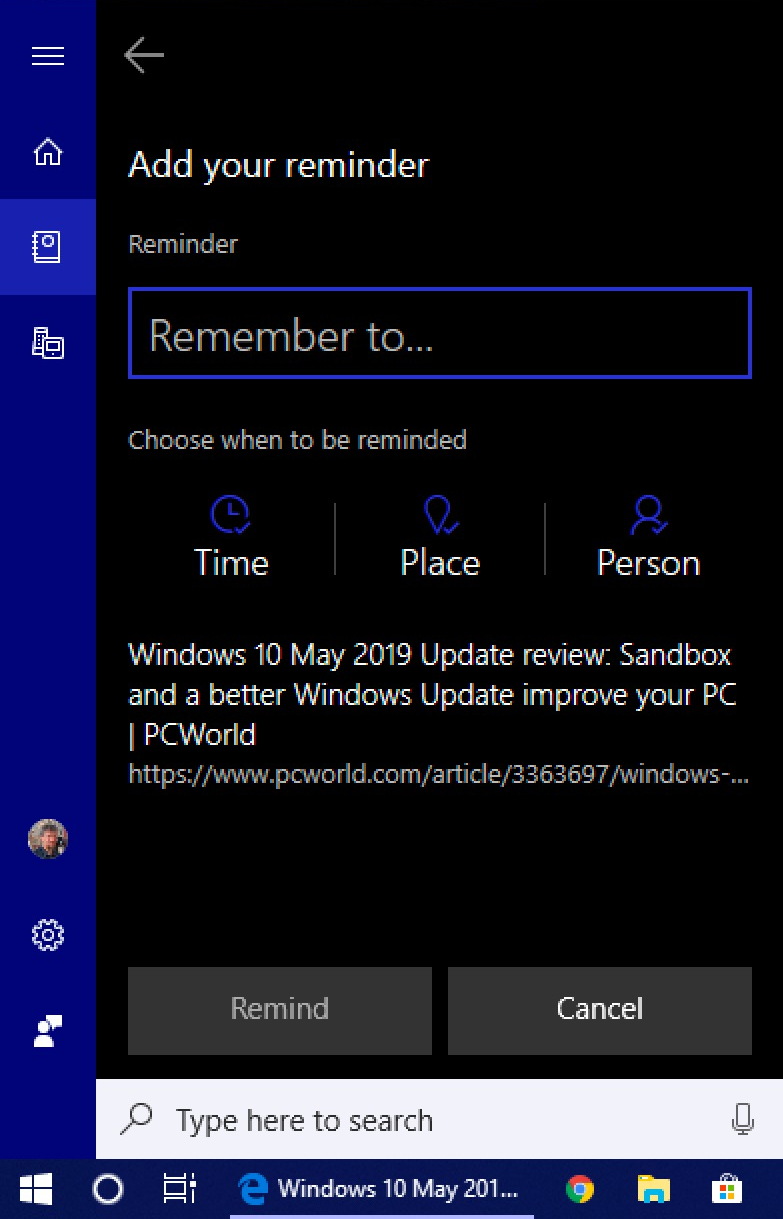 Notice that the Web page title and link are both already in this reminder template. Handy. You can set it up to trigger when you get home, for example, but using "Place", but I tend to be a bit more time oriented, so I'm going to click on "Time"…
Lots of options, but I wish there was a "in 6 hours" or "this evening" or something. Since there isn't, however, then "Another time" is going to be the best option. Click on that to proceed and you can quickly dial in the time you'd like for the pop-up reminder:
You'll use a different time, no doubt, but you can see, it's pretty easy. Once you're done with the settings, click "Remind" and you're done.
Then this evening – or whenever you've set the reminder – it'll pop up on the screen, ready to be clicked on so you can jump to the page in question: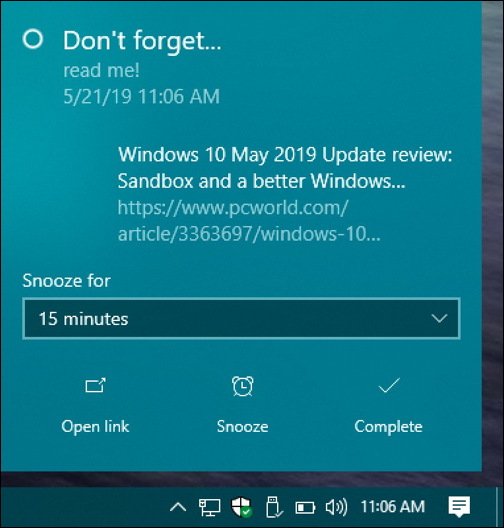 Pretty cool, actually, though it'd be even more cool with a bit of streamlining by the Microsoft Cortana team. Still, a neat solution to your challenge!
Pro Tip: Want to get the most out of your Windows 10 system? Please check out my extensive Windows help here on the site!