Now that I've updated to Windows 11 on my new laptop, I can't seem to find Solitaire and other games that I've enjoyed over the years. Are they all gone or do I need an Xbox account or what? Interested in both Solitaire and Minesweeper…
There's an old joke in the Linux world that Microsoft Windows is the "Solitaire OS" and certainly a lot of people who have used Windows computers over the years have enjoyed their games of solitaire. And no wonder, the implementation from Microsoft has always been simple, straightforward, and fun, surprisingly addictive because if you can't get it to work, maybe the very next shuffle will yield to that wonderous moment when all the cards neatly stack on the top spots and you win.
Perhaps in response to this, and the incredible popularity of the simple puzzle game Minesweeper, the games are a bit less obvious in the Windows 11 environment. Add the slick integration into Xbox Game Pass for the millions of PC users who also have an Xbox and subscription and the incredible wealth of excellent and immersive modern PC games and it's no wonder Microsoft figured people probably don't want to play solitaire and minesweeper any more. But what if you do?
WIN11 GAMES: SOLITAIRE & CASUAL GAMES
Most all of the casual games from Microsoft have been collected into a modular set with its own interface, known as "Solitaire and Casual Games". It's already on your PC, so look in All Apps to find it, or search for it with the Taskbar search facility:

You can see that my recent apps list includes "Solitaire & Casual Games", so you can recognize the icon. Interestingly, it shows an ace of spades, but there's no version of Spades available through the app. Hmm… maybe they didn't think that one through!
Choose it and most likely you'll see this as a splash screen: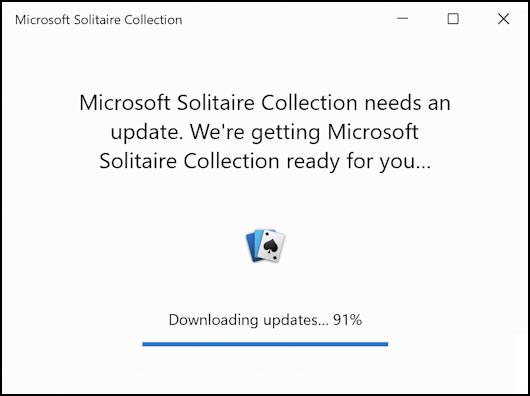 This might take a few minutes but it's updating things in the background to ensure you have the latest version of the main program and the default games that are also included. Eventually, it'll bring up the actual main screen of the Solitaire & Casual Games app: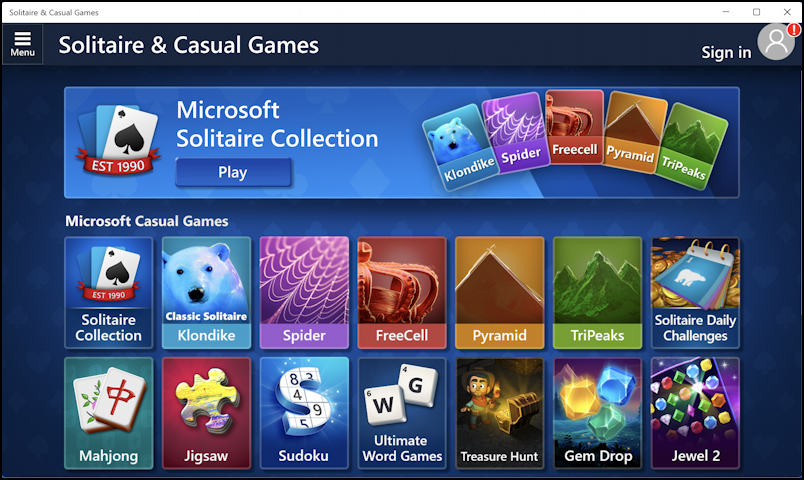 Lots of solitaire games, along with a lot of new and interesting games, including Mahjong (actually a tile matching game, not the actual gambling game so beloved in Asia), Jigsaw, Sudoku, Treasure Hunt, and more. Klondike is the standard solitaire game people have enjoyed playing on their PCs for decades, but where's Minesweeper? Scroll down a bit…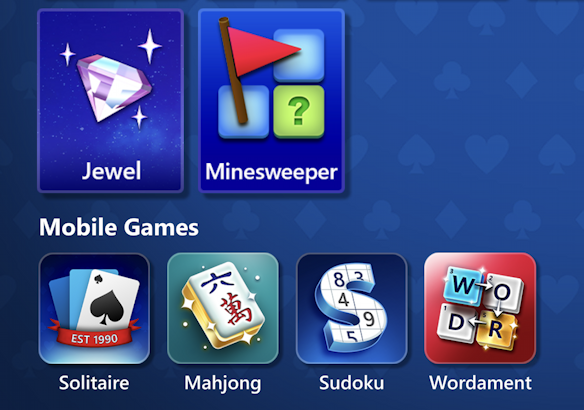 Yes, it promotes some mobile games too, but don't let that distract you, just remember that Minesweeper is included, even if it's typically out of site on first launch. Click on "Minesweeper".
MINESWEEPER ON WINDOWS 11
Go to launch Minesweeper and you'll immediately understand what I mean about the modular nature of this new casual game center, because instead of launching the game, it pops up the following: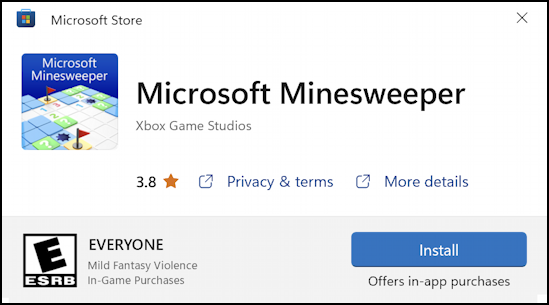 You need to download and install the specific game, and it now has in-app purchases. Click on "Install" to proceed and after a few moments (depending on your Internet speed) it will launch a different home screen specific to Minesweeper, which is clearly a bit more fancy and sophisticated in Win11:
Notice the "Themes" area on the right; you can change the user interface to match the original O.G. Minesweeper if you prefer. Or just click on one of the colorful buttons along the top. I'll go for a 9×9 "Easy" game…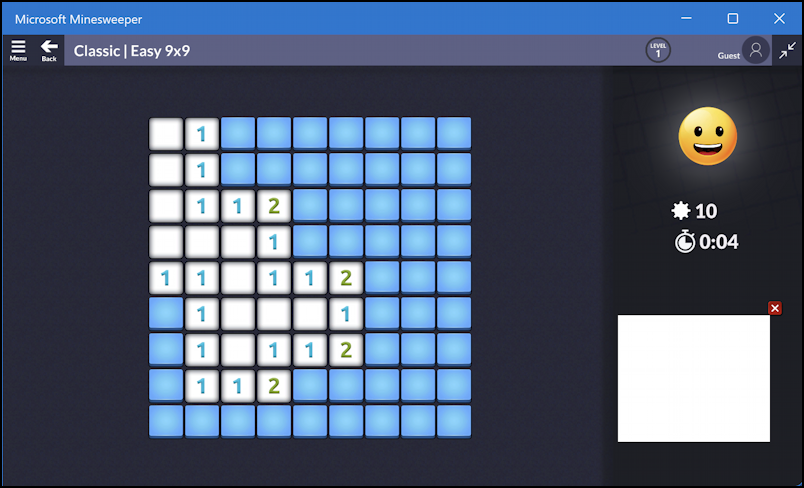 I've already clicked on a spot and had quite a bit revealed. Unsure how to play Minesweeper? Read this: How to Win at Minesweeper. Good luck!
PEEK AT A FEW MORE CASUAL WINDOWS GAMES
While we're considering the Solitaire & Casual Games program, here are a few more games that might whet your gaming appetite: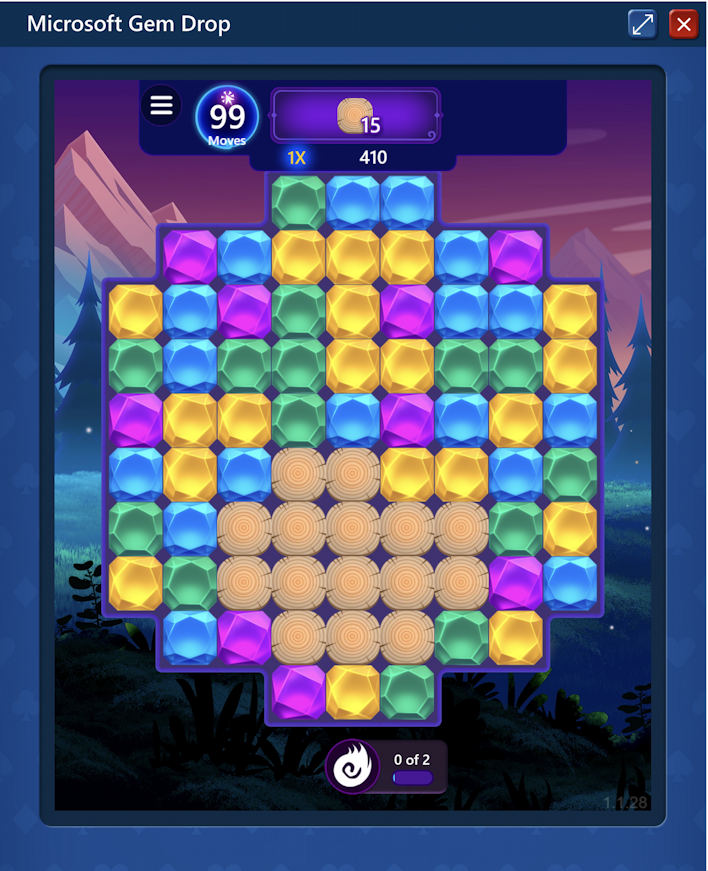 This is Gem Drop and it's very fun, a game where you're trying to create specific patterns to remove as many groups of a single color as possible. Similar games in the games suite are Jewel and Jewel 2. Here's the latter: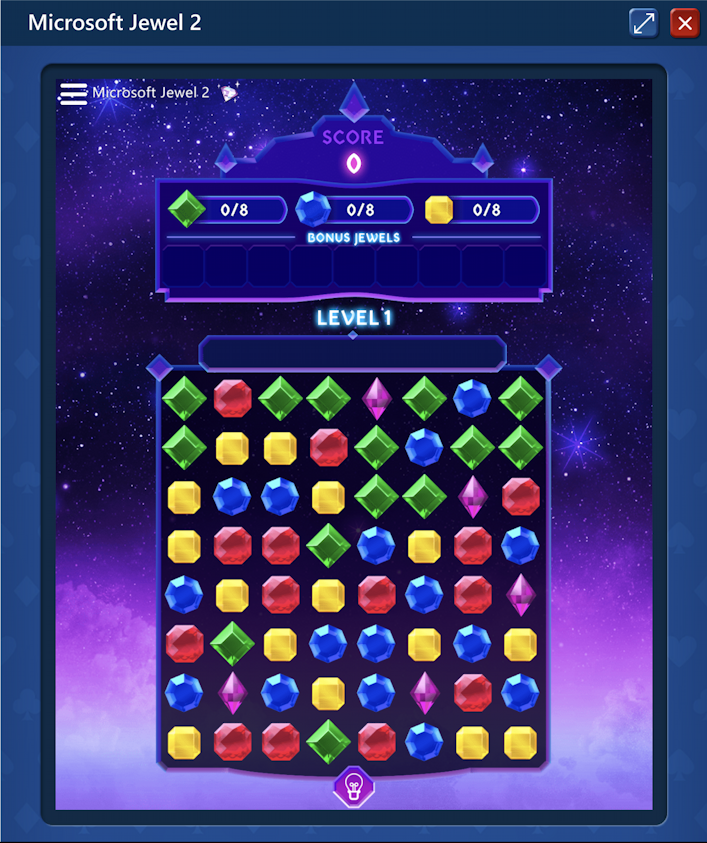 Perhaps you'd rather try something even more old school? How about a top-down dungeon exploration game? That's what the game Treasure Hunt is all about: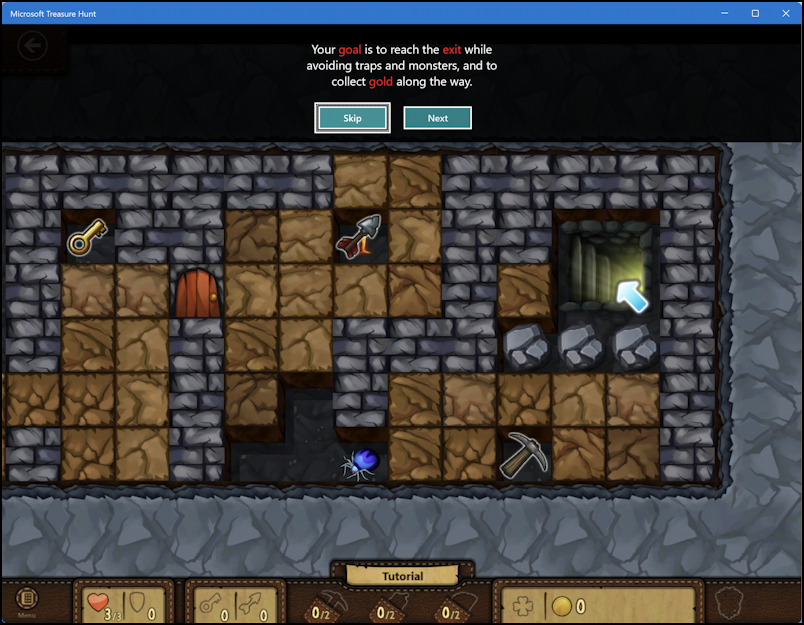 I admit, I have spent quite a bit of time playing all of these games. Casual games are great because they're fun if you have five minutes to spare or want to allocate an hour or more, as appropriate. But what about the granddaddy of all these games?
KLONDIKE SOLITAIRE IN WINDOWS 11
The Solitaire games are pre-loaded in Solitaire & Casual Games, so a click on "Klondike" will immediately reveal the familiar green felt table and stack of cards: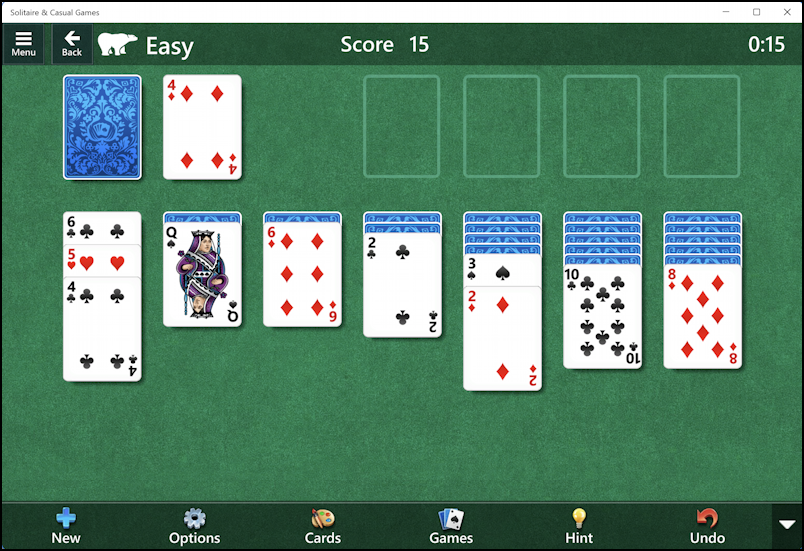 Okay, I admit, I have already started playing the game. It's so easy to play this addictive card game on the computer, no picking up and moving cards required. That should get you going with both Solitaire and Minesweeper, along with some other fun casual games from Microsoft that are worth checking out. Good luck and have fun!
Power User Tip: I've been writing about Windows for many years and have an extensive Windows 11 help library here. Please check it out while you're visiting. Thanks!