Facebook has always managed to track your activity when you're not actually using Facebook, often through sites that use Facebook for their login process. But you can see what's going on! Here's how, and how to control it too…
Did you realize that each and every time you visit another Web site that has any sort of data sharing relationship with Facebook that it gets logged and recorded in your Facebook profile? For years they've been flying under the radar with this, where we users have suspected something was going on but didn't have any way to see. Finally, after a lot of negative feedback, Facebook has opened up those doors and is allowing us to not only see what other sites are reporting activity back to Facebook, but allowing us to manage it, block individual sites and even block the entire logging system.
If you can figure out where it is and how to get to it. Interestingly, it seems to only be accessible through the Facebook Mobile app (all the demo videos are for mobile, for example). Facebook describes this information collection thusly: "Off-Facebook Activity lets you see a summary of the apps and websites that send us information about your activity, and clear this information from your account if you want." Got it? They are quick to affirm that everyone's doing it, why are ya picking on us? which is reasonable until you see the alarming range of activity being logged. My Off Facebook Activity is a log of almost 900 Web sites I've visited in the last few months, many of which I don't think I ever actually saw (pop-ups? Pop-under ads? redirects to and then from the site?)
Anyway, let's jump in so you can see your data too. Start on the Facebook mobile app and tap on the three horizontal lines icon on the lower right corner. Then tap on "Settings" and swipe down to "Your Facebook Information". You'll see this: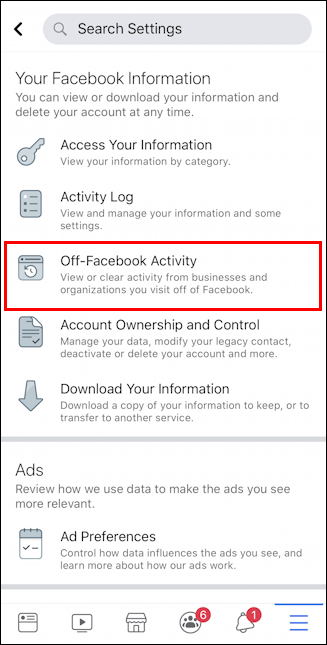 If you aren't seeing the Off Facebook Activity entry, make sure that you have the very latest version of the Facebook Mobile app and try again.
Once you've tapped on Off-Facebook Activity, you'll get this initial rationalization, errr, explanation: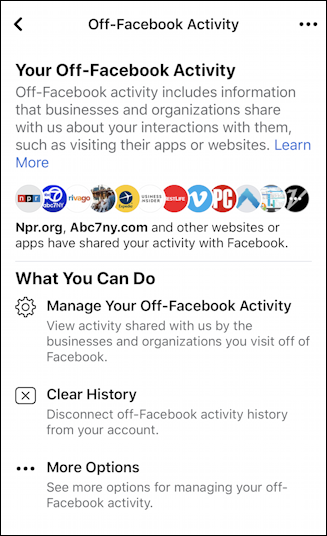 See all those colorful icons? Those are actually the favicons of the sites that are on the top of my own OFA list. To start, I'm going to tap on "Manage Your Off-Facebook Activity" to get a scope of just how much information Facebook is gleaning from my daily Web and Internet usage…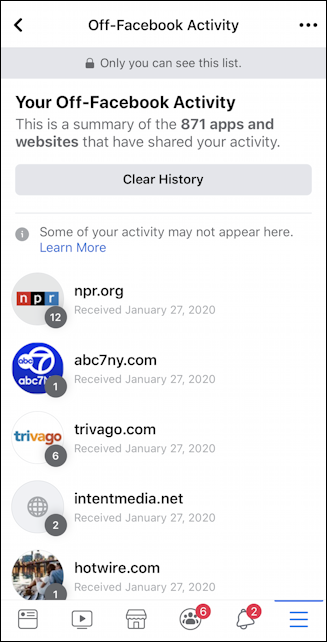 This is a summary of the 871 apps and websites that have shared your activity. 871. And that's not even particularly high from what I've been reading from other people. Some are seeing over 1500 sites being logged and tracked. Yikes. Also, see that tiny number associated with a site? That's how many different activities are being logged. Why is NPR logging 12 different events? I mean, I can see "logged in using your FB credentials" but what I do on the site? No thanks.
For any of these sites you can also dig in further to learn more. Let's pick on abc7ny.com to see what's being recorded. That's easily done by tapping on the site in question.
Not too bad, just 1 interaction. Probably a log in or just the hit of visiting the site since I don't recall having to actually log in to read an article on the ABC7NY site. Still, fascinating to read, isn't it? Swipe down and you'll get a few choices about what you can do from this point:
As highlighted, if you want to stop this particular site logging activity with Facebook, choose "Turn off future activity from …" on the bottom. Not sure about the site? You can visit it. Or just use the "<" on the top left to move back to the big list of every site that's logging. But let's tap on that "Turn off future activity from abc7ny.com" to see what happens…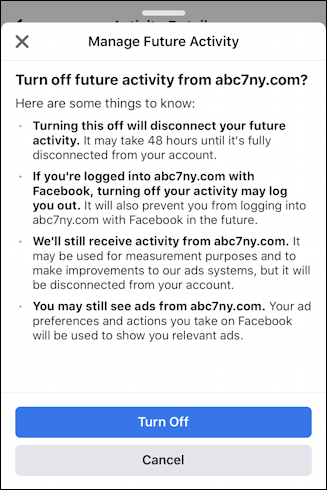 That last point is pretty important: This won't stop you getting adverts on Facebook from ABC, ABC7NY or similar. It just stops the activity logging on Facebook. Disabling all adverts? Not yet an option. Someday maybe there'll be Facebook Premium, but I'm not holding my breath for that addition…
But let's disable this! A tap on "Turn Off" does the trick, and you even get this tiny little confirmation:
Subtle, eh?
Maybe instead of going through all 871 sites one by one (or whatever your number is!) you'd rather just tap on the "Clear History" button on the very first page of the Off-Facebook Activity area. Okay, here's what you'll then see:
Notice that it's smart enough to dig through my list and identify that 16 are using Facebook for identify verification purposes (including IFTTT, as noted). Honestly, then what the heck are the other 855 sites logging?!
Tap on "Clear History" if you want and know that you might need to re-log in to a few sites afterwards. Or tap on "More Options" on the previous screen to see this set of options:
Of all these options, probably "Manage Future Activity" is the most important. Tap to set that as you desire. Done. Sheesh. Now let's see if your experience surfing the Web and using apps on your phone is adversely impacted. My guess is that it'll be just fine…
Pro Tip: I've been writing about Facebook for years. Please check out my extensive Facebook help area for tons more tutorials! And heck, follow AskDaveTaylor on Facebook too, because I post content there on a daily basis too. Thanks!