I find myself constantly sending links to Google Docs in my organization, and it's tedious. I have to open Google Drive, find my docs, get the share link, and paste that into the email. Is there a smoother and easier way to accomplish this task in Gmail?
Google has done a good job of making quite a few tools and apps available for users. Most notably Gmail, which has over a billion active users now, but the Google Office suite is terrific and Google Drive as cloud-based storage is quite convenient. It's a bit confusing how Drive and Google Docs fit together if you're thinking about it from the perspective of a PC or Mac user, however, but basically, Drive is a storage space and Docs is the subset of what you have on Drive that is shared or created by one of the Google Office Suite of programs.
However you visualize it, however, it's clear that each of these products is developed by a different team that might not spend a lot of time talking to the other teams there at Google. The result is clumsy, where people open up Gmail, start writing an email, open up a new window, go to Drive, then find the Doc they want, then open it, "share it" to get the share link, then go back to Gmail and paste in that long, ugly URL. But it turns out that there's an easier and far more elegant way to do this that's one of the dozens of tiny icons on the Gmail compose window toolbar!
EASILY ADD GOOGLE DOCS SHARE LINKS IN GMAIL
It's easier just to show you. Here's a Gmail message I'm poised to send to my colleagues:
See that weird triangle icon just to the right of the smiley face along the bottom? That's what we'll use.
First, though, some text:
Ordinarily, this is where I'd open up a separate window to Google Drive or Google Docs, right? I'm going to click on the triangle icon instead:
You can see the cursor over the icon and the tiny tooltip that's popped up saying "Insert files using Drive".
A click and…
You can see it shows Folders, Files, and even offers up a search bar. More importantly, along the top it lists My Drive, Shared with Me, Recent, and Upload.
SHARE YOUR MOST RECENT GOOGLE DOCS IN GMAIL
I'll click on "Recent" to find the docs I'm working on currently: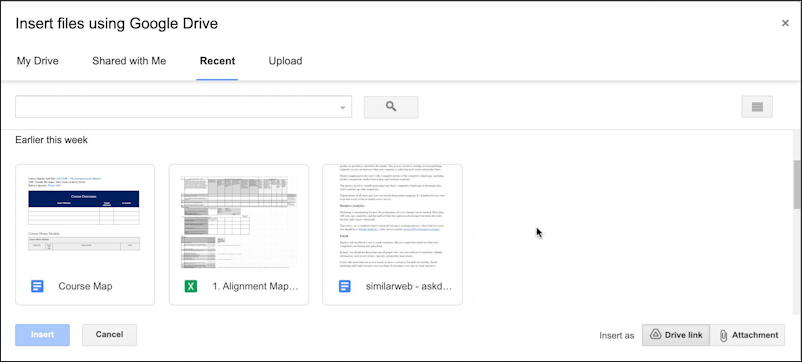 Ahhh, I can see the lightbulb illuminate above your head. But look more closely because on the right you have the option of embedding a Drive link or choosing Attachment to attach an actual copy of the doc (if people don't use Google Drive, for example, or you don't want them accessing the shared doc). I'll stick with "Drive link" and choose the most recent two files, one a "Docs" document, the second a "Sheets" spreadsheet.
How do you choose two? Click, then shift-click.
Now they're ready to add:
A simple click on the blue "Insert" button on the lower left and check out what appears in the Gmail message: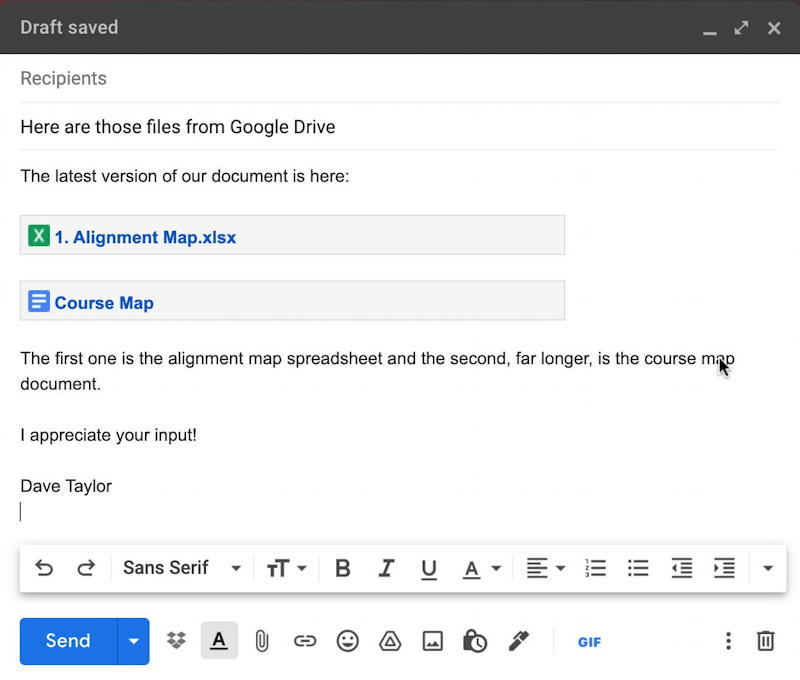 Nice and neat, with tiny icons to represent file type and everything. Also note that they are indeed embedded as part of the message, not just attachments. Or, for that matter, long, ugly URL links.
And that's how it's done. Now go forth and share!
Pro Tip: I've written quite a bit about Gmail and Google services. Please check out my Gmail help library for lots more tutorials while you're visiting!