I was going through my Windows Defender configuration on my new Win10 laptop and came across SmartScreen. I don't get it, is it related to the display settings? Should I enable it?
In this particular instance, Windows Defender wording isn't very good because "screen" is more in the sense of a filter than in the sense of a display setup, though it's easy to see how you could get that confused. Think of it as a tool that checks programs before you run them to ensure that they're legit and safe to execute. After all, you don't want to have malware slip onto your computer without any warning and then just start taking over your processor or, worse, turn out to be ransomware and encrypt your files!
In general Windows Defender is the program that Microsoft should have had in the system from the very beginning, certainly as soon as it was obvious that viruses and other malware was a problem. And yet it took them years to get something up and running. The good news? It's pretty darn good and unless you hang out in the darkest and most questionable portions of the Internet, having Windows Defender running and updated should keep you pretty much safe on a daily basis.
Which brings us back to SmartScreen. First, how do you get to it? I like to use Windows search. Try "defender security center":
This will let you quickly launch Windows Defender to the main page which offers an update on everything you have enabled and disabled.
Rather to my surprise, I apparently don't have SmartScreen enabled either!
You can see it on the lower right with the yellow warning icon. Turn on SmartScreen for Windows Store by simply clicking on the "Turn on" button. Makes sense, eh?
Now the icon will change to show that this too is enabled: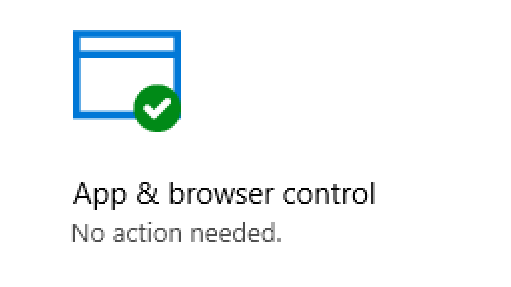 To drill down and see which specific features you've enabled, click on the icon to jump to the SmartScreen configuration page.
It looks like this:
There are three main areas of functionality, the first of which is for SmartScreen to check apps you run and the files you download. That's a no-brainer, so enable it. Then every time you go to run an application or program, it'll check to ensure it's legit and safe. I'll show you the error that pops up if it isn't found on the list a bit later in this article, so stay tuned.
You can block things but 'warn' is usually sufficient because it'll pop up a window and you can then opt to run or prevent the app in question from launching.
Scroll down a bit and the next section has a different setting:
If you don't use Microsoft Edge (and you should try it, way better than the ancient Internet Explorer!) this is irrelevant, but if you do, why wouldn't you want a tool that checks Web sites before you jump to them and find out that they're dangerous and full of malware? 🙂
The third section is tied to the Windows Store itself:

Again, enable that. Between the three of them, you've just made your computer safer and added a layer of protection to your online experience too. Smart indeed.
Oh! And if you do try to launch a program that's not known by Microsoft's database, here's the kind of error you'll see:
Know it's safe and are sure you can run it without danger? Check the box and click "Run anyway". Otherwise click "Don't run" and consider deleting the program from your computer immediately.
Long answer. Short answer: yes. Enable and run SmartScreen in Windows Defender.
And while you're here, please do check out our extensive Windows help area for all your Win10 and PC questions.