I've been posting some videos for my company on our YouTube channel and find it tedious to respond to viewers questions and comments. Is there a fast and easy way to do this?
A whole lot of YouTube channels seem to have an unwritten but strictly enforced policy of ignoring all comments, however positive or negative. If you get thousands of comments each day, I understand the logic, but if your channel viewership is a bit more modest, well, why the heck aren't ya answering your fans and potential customers? Not only that, but if you really are going to ignore their feedback it's also easy to disable comments on a video, or your whole channel, from the creator settings area. At least that way you set expectations that you're not going to be responding.
Props to you for actually tracking and responding to user comments on your videos. I do the same on my YouTube channel AskDaveTaylor — subscribe today! 🙂 — and am surprised how often I get follow-up responses where they express amazement that I do answer questions and queries.
The YouTube back end Creator's Studio has a Community tab where you can go through the comments and respond, but I agree, it's pretty tedious if you have more than an occasional comment every few days. Instead I encourage you to take advantage of the slick pop-up window that offers up your comment stream from any page on YouTube, even videos from other creators. So if I'm looking at the latest movie trailer, say, I might see this on the top right:

It's pretty subtle when there's a lot on screen, so no worries if you've never noticed it before. But click on the bell icon and a window pops up that shows you all the new comments: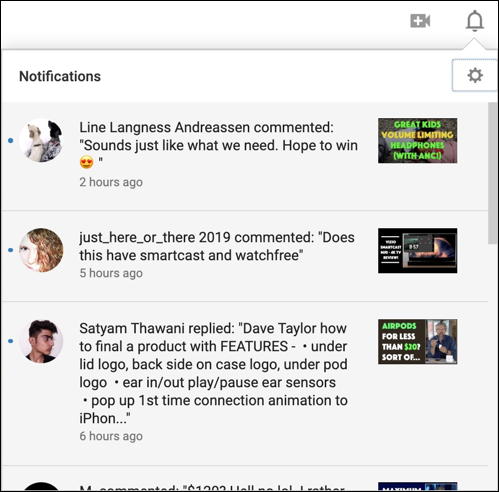 That tiny blue dot (yes, it's really subtle!) shows which comments are new since the previous time I responded to comments on my channel. Notice on the right side that each has a tiny thumbnail from the video in question too; I have hundreds of videos so usually it's quite a mix.
Let's respond to the second comment, the question from "just_here_or_there 2019". To do that click on the comment itself: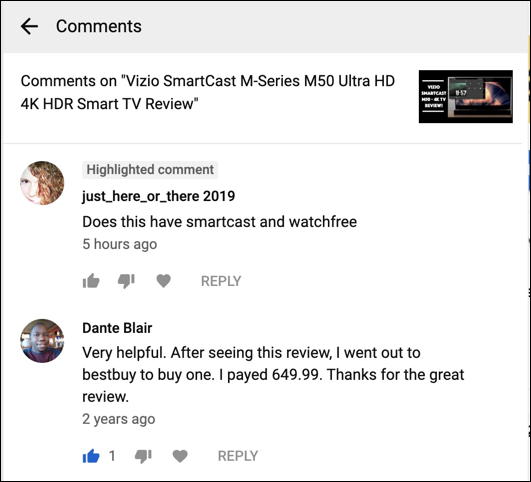 At this point you can favorite a great comment by clicking on the heart icon, or vote it up or down with the thumbs. Let's reply, however, so you can see just how easy it is within this handy pop-up window.
A click on "REPLY" and the text input area shows up right in this window!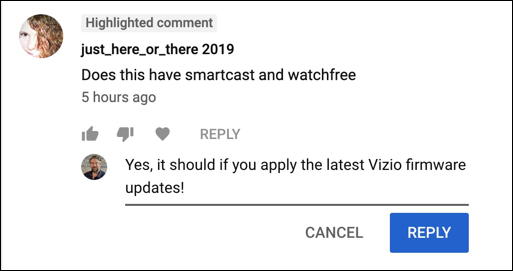 That's all there is to it. A click to post it, and you can use the left arrow on the very top of this window to go back to the top view and reply to the next comment. Or, if it's hateful and you don't want it associated with your channel, there are a few other options you can select by moving the cursor just to the right of the comment until the three-dot icon appears: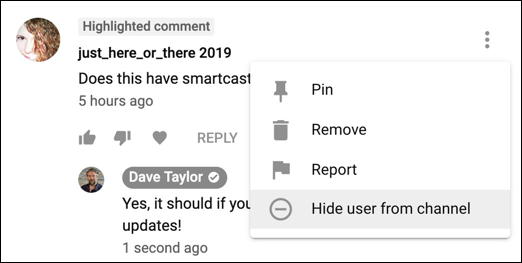 As you can see, the options are to "Pin" a comment (causing it to be at the top of the comment stream even when newer comments are added to the video), "Remove", "Report" (and please do report harassing, bullying, racist, sexist and other junk comments. It helps clean up YouTube for all of us) and, my favorite, "Hide user from channel". This last one is the work of an evil genius, really! Choose it and the commenter will see their comment if they go back to your video, but no-one else will ever see it. That way they won't repost or fill up your comment stream with a flurry of hostility because they think it's "slipped by" your notice. Smart.
Anyway, that should help you respond to comments quickly and keep up on everything happening with your YouTube channel. Good luck, it's a jungle out there!
Pro Tip: I've been writing YouTube help content since I posted video #1. I'm at over 900 videos on AskDaveTaylor on YouTube, so you can safely imagine just how much experience I have at this point! 🙂