I just bought an Amazon Kindle Paperwhite at BestBuy and was frustrated that upon opening it isn't signed in to my Amazon account. What's the easiest way to sign in to my Kindle account without having to enter my (complicated) password?
The first few generations of Amazon Kindle devices had a fairly tedious sign-in process that involved you choosing your Wi-Fi network, entering that password, then entering your Amazon account and password pair. If you had two-factor authentication (which I definitely recommend! See: How to Set Up 2-Factor Authentication on Amazon.com) then you'd have to enter that code too. Ever since Kindle devices gained Bluetooth capabilities, however, the pairing and sign in process is quite a bit easier if you also have a smartphone with Bluetooth too.
The trick is to get everything set up properly in advance on your smartphone. This means you need to download the Kindle app [Android or iPhone] (not the Amazon shopping app, though you can grab that too if you want) then sign in to your Kindle account in the app on your Android or iPhone device. More likely than not, you've already done so, but double-check it's ready to go before you proceed. Turn on Bluetooth on your device too.
Ready? Let's do this!
ON YOUR KINDLE: TIME TO SIGN IN
Pull your Kindle out of its box — I filmed an Amazon Kindle Paperwhite Signature Edition Unboxing when I unpacked my new device – and push on the power button. You should end up here: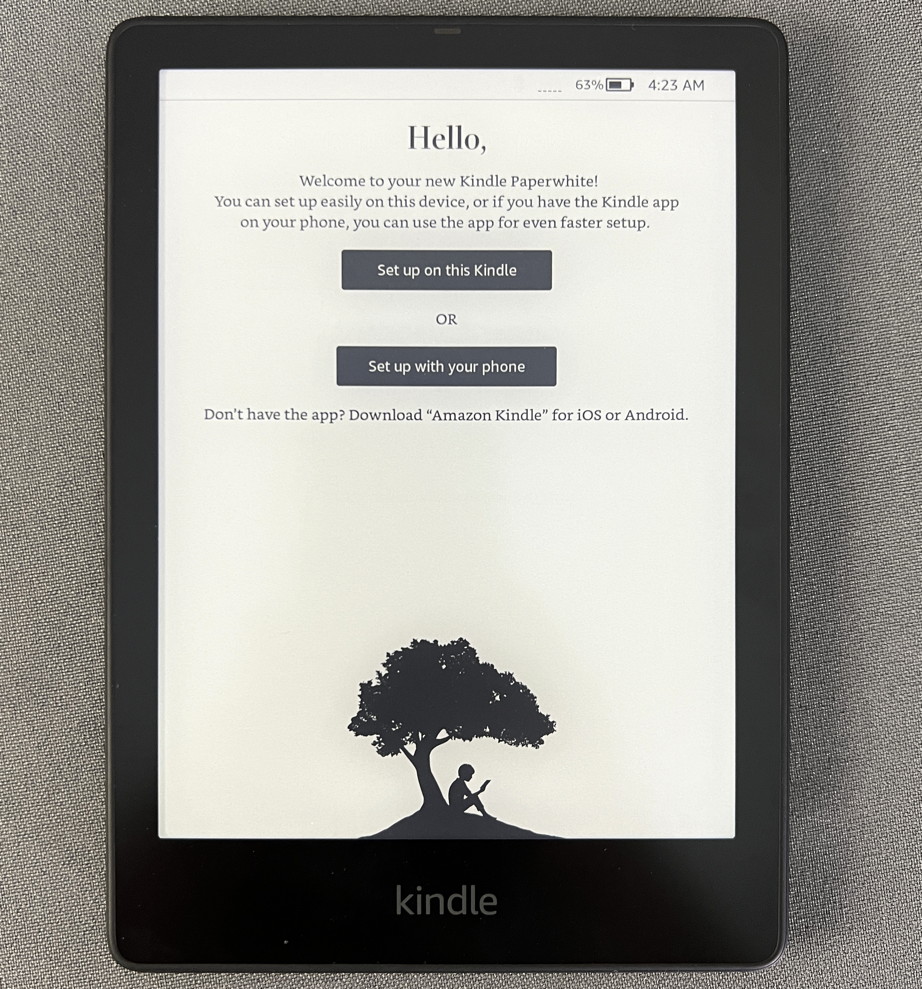 As shown, you can "Set up on this Kindle" but the far easier way is to "Set up with your phone". Tap on the latter button.
It'll then explain what to do: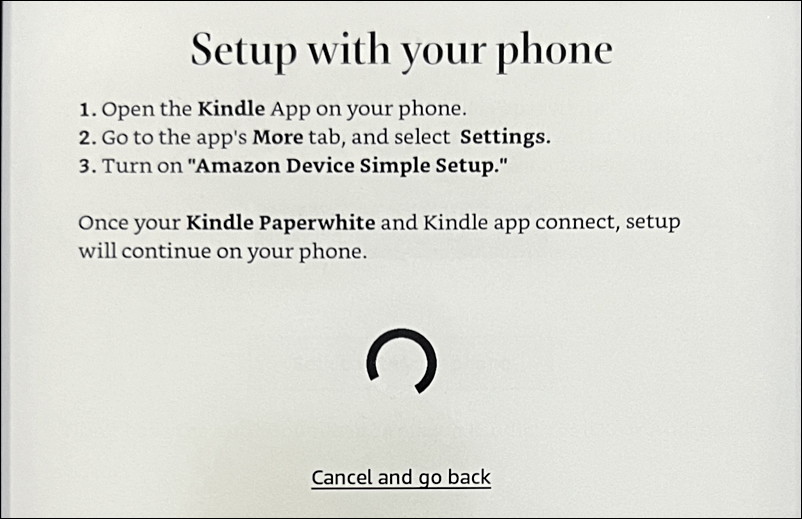 No worries, though, I'll walk you through all the steps.
IN THE KINDLE APP ON YOUR SMARTPHONE
You can put the Kindle down for a bit, most everything for the next few minutes will involve your smartphone. Go into the Kindle app, then tap on the "More" button on the lower right. You'll end up here: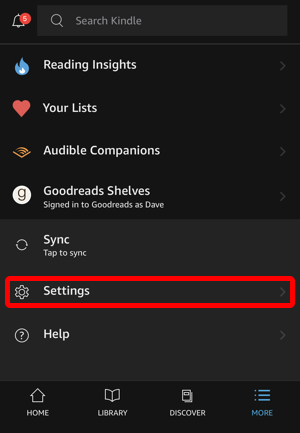 As highlighted, tap on "Settings" to proceed. You'll see quite a few different settings and options, with the feature you want rather buried in the middle of the screen:
Again, as highlighted, tap to enable "Amazon Device Simple Setup" and it'll request permission to access your Bluetooth connection. This occurs in two steps, first within the app:
Tap on "Allow Bluetooth", then the phone system itself will prompt you for permission. Enable that too.
The Kindle app will now search for your new Kindle device, so make sure they're within a few feet of each other. After a moment or two, the app should announce that it's found the new device!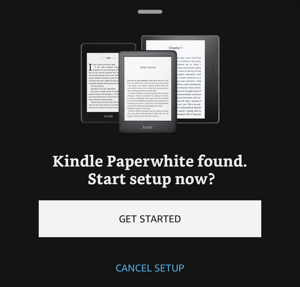 Finally, we're ready to actually start setup. So far, this is all about pairing your phone and Kindle. Now we can do the fun stuff.
SETTING UP A NEW KINDLE DEVICE WITH YOUR PHONE APP
Amazon refers to the login and setup process with a Kindle device as "registering it with your account", so it's no surprise that the app window refers to it as "Register Your Kindle":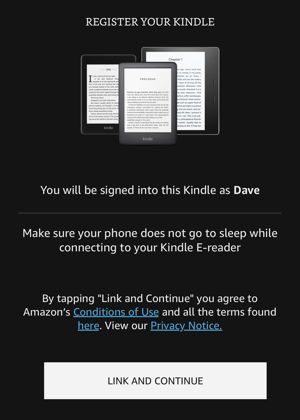 Signed into the correct account? Great, tap on "Link and Continue" on your phone.
After a moment or two, the Kindle device screen will update!
Looks good? Then proceed with the steps on the phone app…
Your Kindle will want to access your local wifi network without any phone or computer involved, so that's the next step, to pick the default wifi network for your new Kindle Paperwhite. It'll list all the visible Wi-Fi networks, along with any you might have saved on Amazon for device setup convenience: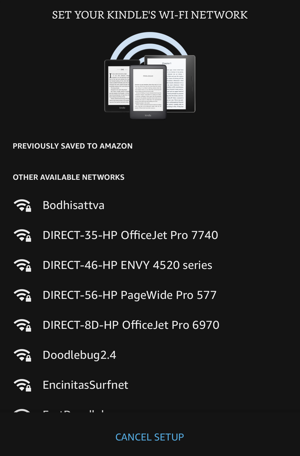 I don't save any of my wifi network passwords on the Amazon system for security, but if you do have any already saved, that's the easiest path. If not, tap on your own network then enter the password to proceed.
And you're done!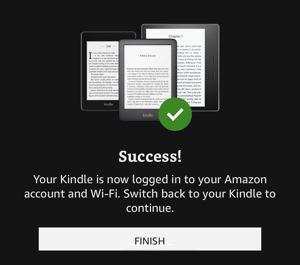 Tap on "Finish" and you're done with your phone for this process. Well done.
Meanwhile, on the Kindle itself…
Notice that the Kindle now displays the correct time too (in the previous Kindle Paperwhite screen it showed 4:25AM!)
That's the account I want to use, so I'm going to tap on "Next" on the Paperwhite to proceed. And that's it. After a minute or two to sync up the device, download the latest books, etc, I'm finally all set up and ready to go:
As it happens, I'm eager to jump into Amor Towles' new novel "The Lincoln Highway", so I'm outta here! Your setup should be as straightforward too, and you too should be reading your next favorite book in no time.
Pro Tip: I've had Kindle devices for many years and have written quite a few Amazon Kindle Help tutorials here on my site. Please take a few minutes to check it all out!