I get some pretty funny text messages from my dad and am wondering if there's an easy way to copy, share, or forward them to my cousin? I use Messages on my iPhone, if that makes any sort of difference.
While generally text messages, whether through Apple's proprietary iMessage platform or the more open SMS text message system, are considered a 1:1 or 1:many communication, there are plenty of times when it's useful to be able to forward those messages to others. It might be a funny joke from your Dad – yay Dad humor! – or a snarky, upsetting message from your boss or your ex. The most obvious way is to take a screenshot and then share that, but your iPhone – running the latest iOS – has some much more sophisticated options.
As always, start by ensuring you have the latest iOS release for your iPhone by going to Settings > General > Software Update. As of this writing, the latest version is iOS 15.6, but iOS 16 is coming pretty darn soon, probably within a few weeks. All updated? Great, let's proceed.
HOW TO SHARE AN IPHONE TEXT MESSAGE
I've been waiting for a table at the Cheesecake Factory for a while now. The place is always mobbed! My friend Harry still hasn't shown up, he's perpetually late, so when I finally do get the confirmation from the restaurant that our table is ready, I of course want to forward it to him.
Here's the original message from The Cheesecake Factory system:
Hurray! Now, how can I easily forward this to Harry so he can speed up and get to our meal already? The answer is to tap and hold on the text message itself. You probably do this to respond with what Apple calls "Message Effects" like the thumbs up, the heart, or the "haha" graphic. Here's what shows up after a moment or three:
My friends and I use the thumbs up and heart icons a lot to interact through Messages. You can also "Copy" the text message if you want to paste it into a new message, but that's not always the best strategy. Translate it? You can do that if it's in a language you aren't familiar with. But what you really want to do is tap on "More…".
Some power users have already figured out that the trashcan lets you delete text messages, either an individual message or all of those selected with the little blue checkmark, from your phone. That can be handy if other people occasionally peruse your Messages. What we want for this task, however, is the arrow on the lower right, the "Forward" arrow.
FORWARD A TEXT MESSAGE FROM AN IPHONE
Tap on that Forward button on the lower right and the message is instantly pasted into a new message box, and you're prompted to specify the recipient:
Before you send it, notice that it's a regular text input box, which means you can add additional notes, emoji, whatever you want. I added a couple of emoji to make it a bit more fun before I sent it to Harry.
Here's how it looks when I view my side of the ongoing chat between Harry and myself: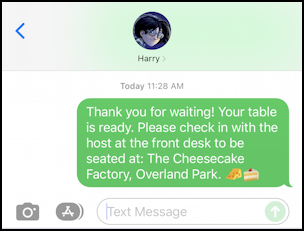 🧀 🍰 = Cheese + Cake. Entirely logical, right?
Anyway, that's how it's done. Remember that just as you can select more than one SMS text/txt message or iMessage to delete, you can also choose more than one to forward with a single tap on the share arrow too. Very helpful if you want to share a back-and-forth convo.
Pro Tip: I've been writing about the iPhone and iOS since the very first iPhone was released. I've also owned every major iPhone model! Please check out my iPhone help articles while you're visiting. Thanks!