Unlike Chrome, I really like that Microsoft Edge has a home button. But it just goes to a Microsoft web page when I click on it and I want it to go to a football news page instead. How do I change what page is linked to my home button in Edge?
In the early days of the Web, there was little more important than finding a really good "home page" and then setting that as the URL associated with your home button. Without any real "memory", Web browsers always started up with your home page too, so there was great competition from companies like Microsoft, Yahoo, and similar to great a useful and interesting customized page that would allow the company to also show you banner ads too. Mostly that's gone but Microsoft hasn't quite let go of the '90s so instead of the Bing search home page, it shows you the main page from msn.com, personalized with your weather and more.
But you don't have to stick to that page if you'd prefer something else! In fact, you can use any of the billions of Web pages as your home page if you'd prefer. From ESPN to the Wall Street Journal, your Reddit feed to your college campus info page, if you can get to it in Microsoft Edge, you can set it as your home page. You can also therefore have it associated with the home button on the address bar too!
HOW TO FIND A GREAT HOME PAGE
To start out, I have the same home page as everyone else, the default page for Edge users:
Look closely and you'll see that there's a local weather indicator (40F, on the top left). More curiously, this page has no actual URL, as is demonstrated by the blank address bar. Adjacent to the bar and just above the weather indicator is the home icon. Click on it and you'll go right back to this page again!
You're interested in soccer news (when you say "football", I assume you mean soccer. If not, you'll see how to travel in a slightly different direction to get NFL news instead). Look more closely at the categories bar along the top of the page:
My Feed, Coronavirus, Top Stories, US, Entertainment Sports, eSports, Lifestyle, Money, Celebrities and Royals News, and World. Reminds me of the sections of USA Today, actually. To get sports news, click on "Sports".
Now you can see the top sports categories: NBA, NCAA BK, MLB, NHL, NFL, Golf, Tennis, Racing, NCAA FB, Esports, MMA / UFC, Soccer, WNBA, and Cricket. Just in case you don't know all those acronyms, that's the National Basketball Association, National Collegiate Athletic Association, Major League Baseball, National Hockey League, National Football League, Mixed Martial Arts / Ultimate Fighting Championship, and Women's National Basketball Association. It's a lotta acronyms!
Choose "Soccer" to proceed and you'll see it's even further categorized by world soccer league:
Finally, you can choose Premier League, Champions League, La Liga, Bundesliga, Serie A, Ligue 1, or MLS. I follow the Tottenham Hotspur Premier League team, so that's what I'll choose: Premier League. Now, finally, a page of interesting news and information:
Looks great. Most importantly, we now have a Web page URL in the address bar.
With that page address visible, time to switch focus…
HOW TO CHANGE YOUR EDGE HOME PAGE
It's time now to click on the "•••" button on the top right of the Edge browser. That brings up a menu: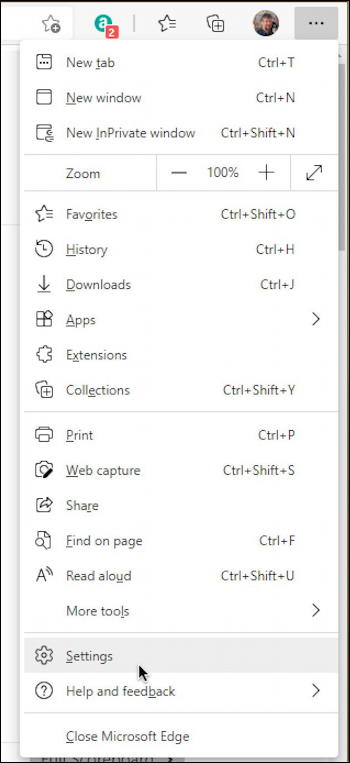 As highlighted, choose "Settings" to proceed and a new tab opens with the extensive set of customizations and preferences you can change. Choose "Appearance" on the left side and here's what you'll see:
Just about done. If you suddenly decide you don't want a home button at all, you can change that, but instead, let's set it to the Premier League soccer news page. That's done by copying the URL from the address bar of the previous tab, then pasting it into the box "Enter URL", as shown:
That's it. Now you can test it by clicking on your Home button and… it takes you to the new page!
Pro Tip: I've been writing about Windows 10 and Microsoft Edge for quite some time! While you're visiting, why not check out my Windows and Microsoft Edge help area? Thanks!