I have a variety of recurring events on my calendar and it's really tedious to duplicate and reschedule each one. Is there some way in MacOS Calendar [iCal] to specify a recurring event that's every few weeks or even the last Friday of each month or similar? Thanks!
After so many years of developing their calendar program, it's no surprise that the Calendar app on your MacOS system is remarkably sophisticated and flexible. It can indeed let you set up recurring events with just about any recurrence you can imagine, from every X days to the Nth day of each month to the first, second, or even last day of each month. Calendar also has a lot of flexibility with alerts and can even have all-day events with alerts at specific times during that day too.
As always, start by making sure that you have the latest version of Calendar and MacOS. In the latter case, you are hopefully running MacOS 11 by now, but if not, Calendar hasn't actually changed that much in the recent past, so everything detailed herein will work with MacOS X too. Earlier than that? You might be on your own if you're running iCal, though it undoubtedly has a lot of these features too.
SETTING UP A RECURRING EVENT IN MAC CALENDAR
After so many years, I still want to call it iCal. iCal was introduced back in 2002, but officially changed its name to Calendar with the release of MacOS X 10.5 in 2012. That means I'm 9 years behind calling it iCal, but in my defense, I hear others refer to the program that way too. 🙂
Anyway… let's get into it. The lazy way to create an event in Calendar is to click on the "+" and trust its natural language parser:
Unfortunately, it doesn't understand "every Thursday" so it creates an event for this Thursday called "Meet with Vlad every":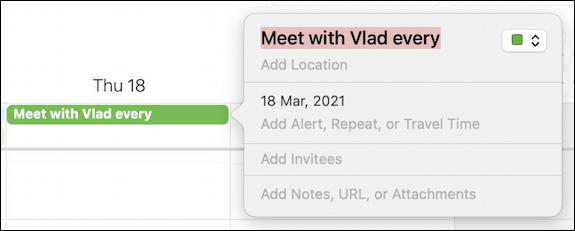 But we can start with that. A quick click and edit to fix the name, and a click on the currently scheduled date. That portion of the event then expands to offer more options: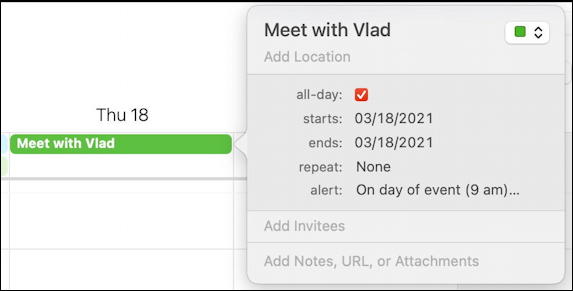 Uncheck the "all-day" checkbox and options for start and end times show up: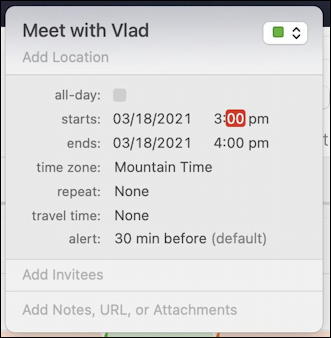 More importantly, notice that what else has shown up is the "Repeat" option, defaulting to "None", as you'd expect.
Click on it and you'll find it's actually a menu of possible recurrence intervals: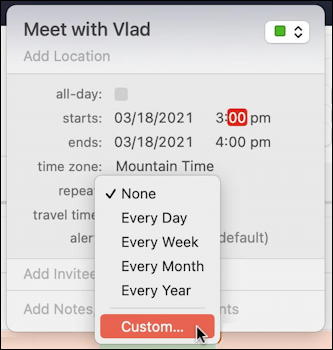 If your meeting is every week, it's quite easy: Click on the "Every Week" option and it's all set up. Done.
SETTING ADVANCED RECURRENCE FOR CALENDAR EVENTS
But let's actually set up a more sophisticated recurrence. Easy is to specify "Custom…" then detail that it should be every week, duplicating the functionality of "Every Week":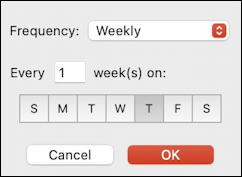 As is obvious, however, you can just as easily specify every 2 weeks or, if you choose "Daily" instead of "Weekly", every 10 days or even every 90 days if that's what you need. Now that my meeting with Vlad is set up, it's easy to set up multiple alerts: Move your cursor over the default alert and a tiny "+" shows up. Click on it and you can set a second, third, fourth or even tenth alert: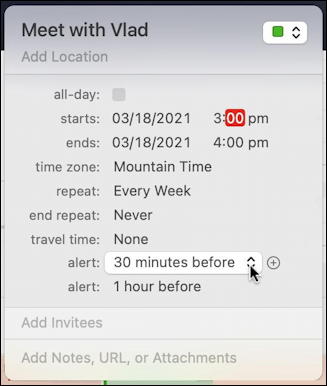 Now I've set it to be an hour before and 30 minutes before each of my weekly meetings. Helpful and a combination of reminders and calendar events both. What if you need to set up your event to be, say, the second Thursday of each month? A more complex recurrence, but Calendar can do that too, as you can see: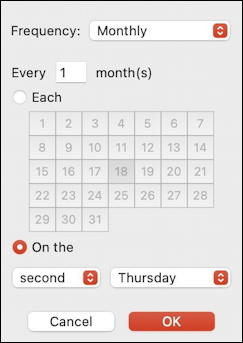 On the top portion you could specify the 8th of each month, or even choose two dates, so the 1st and the 15th. Or, as shown, the second Thursday of each month.
If you have multiple calendars as I do, don't forget to choose the correct calendar for the new event: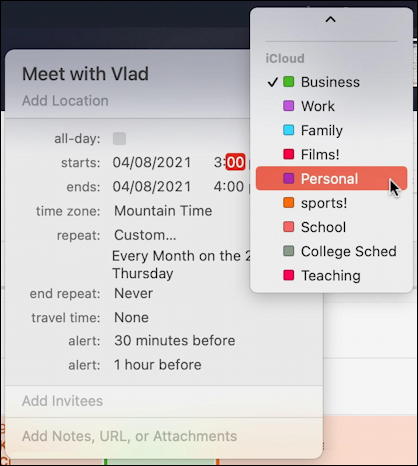 Finally, in case you've never specified it, Calendar has a venue search system incorporated, so you can easily type in the name of the place where you're going to meet and have it pop up a list of possible matches: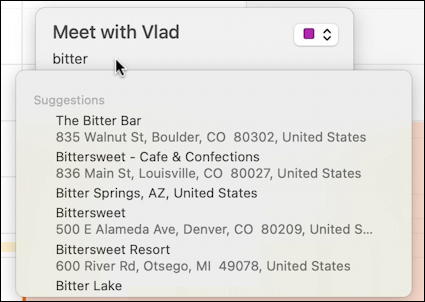 In this instance, I've typed in "bitter" to find the Bittersweet Café in Louisville, Colorado. Once I choose that, a map of the venue's location shows up in the event itself: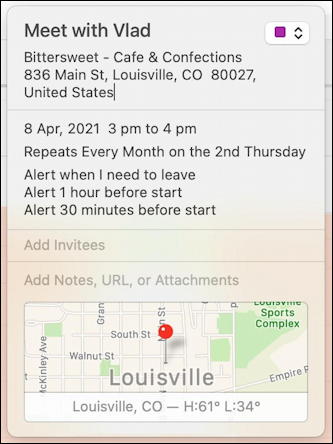 Because of how everything integrates on the Mac and an iPhone, if you have things in sync, Apple Maps can now suggest the venue when your event is getting close, Reminders can pop up a note telling you approximate time from your location to the venue, factoring in traffic, and much more. It's all quite slick once you get things set up with iCloud. Either way, though, now you know how to set up a complex recurring event in iCal. I mean Calendar. 🙂
Pro Tip: I've been writing about Apple and Mac since way before the introduction of iCal back in 2002. As a consequence, I have an extensive Mac help area here on the site and invite you to check it out while you're visiting! Thanks.