I just got a new Barnes & Noble Nook e-reader, a Glowlight 4, and it's fantastic. I love it. How can I download and add some of my own EPUB ebooks to the device, however? I think it's called "sideloading" in the Nook world.
Barnes & Noble sent me a Nook GlowLight 4, and I agree, it's a terrific little handheld ebook reader with that cool eInk screen technology. It's crisp and clear in direct sunlight too, so it's the perfect reader for at the pool, the park, even just relaxing on a bench on a sunny afternoon. Used to be you had to go through all sorts of hoops to get a digital book file of your own onto an e-reader, but the latest generation of software makes it a breeze. In fact, it's easier on the new GlowLight than any other Nook device.
The biggest challenge is that you need to get the source ebook in EPUB format. If you have it in MOBI format, that's for the Amazon Kindle, but isn't compatible with your Nook. Have a PDF? There are some tools online that can do the conversion if you want to dig around. I haven't tried any of them so cannot make any recommendations…
I happen to have an EPUB file on my computer – The Gunslinger, the first book in the terrific Stephen King series The Dark Tower. It's small – about 550KB – and in the correct format, with .epub as the filename suffix. Let's get to work sideloading, uh, downloading this ebook!
PREP YOUR NOOK FOR FILE DOWNLOADS
The first step is to plug your Nook into your Mac or PC. Once you do, you'll see this screen pop up on the GlowLight unit: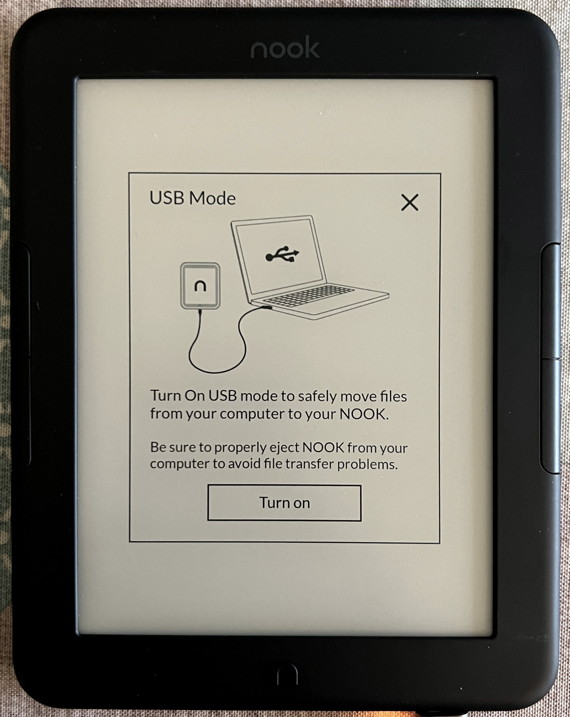 Tap on the "Turn on" button and it changes to being just slightly grey as a background. It's subtle. You'll know you did the right thing, however, when it pops up on your computer.
ACCESSING YOUR NOOK FROM A WINDOWS PC
On a PC, you'll see this appear in the lower right corner of your screen: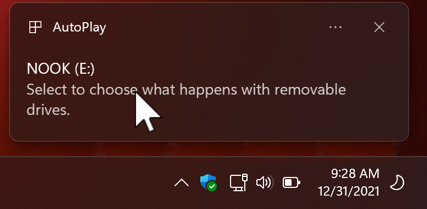 Click on it and you'll get a couple of choices of what to do: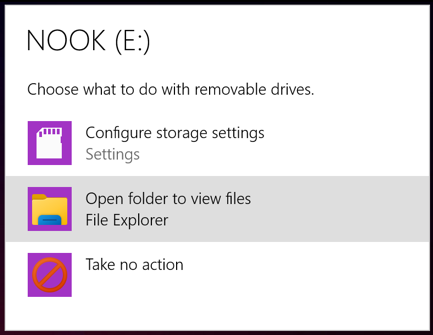 I recommend choosing "Open folder to view files", treating it as an external storage unit. Once you've done that, the experience will be identical to on the Mac, so let's show that too…
ACCESSING YOUR NOOK FROM AN APPLE MAC SYSTEM
If you have a Mac instead of a PC, no worries, plug in your Nook, enable USB mode, and it'll just show up on your Desktop: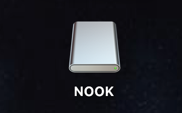 Double click on it to open the device in the Finder. You'll find that there are two folders: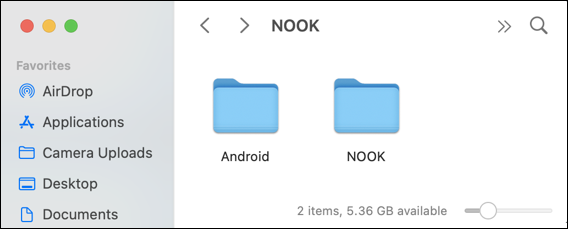 On older Nook devices, the NOOK folder contains "My Files", which is then split into further subfolders. With the latest generation, that's all irrelevant, so you can just drop the EPUB file into the NOOK folder…

Notice the kind listed is "EPUB". If it's something else, it might not work. Also notice that this particular GlowLight 4 has 5.36GB of space available (shown on the very bottom line, above) and that this ebook is only 550KB. That means that if all your ebooks are 1MB or smaller in size, you could easily store hundreds of ebooks on the device!
Once the file's copied across, make sure you EJECT the Nook from your Mac (or PC) before you continue. Then unplug the cable.
FINDING EPUB SIDELOADED EBOOKS ON THE NOOK
It's quite probable that when you unplug your Nook and open up the regular home screen that the new title or titles will just show up on the device: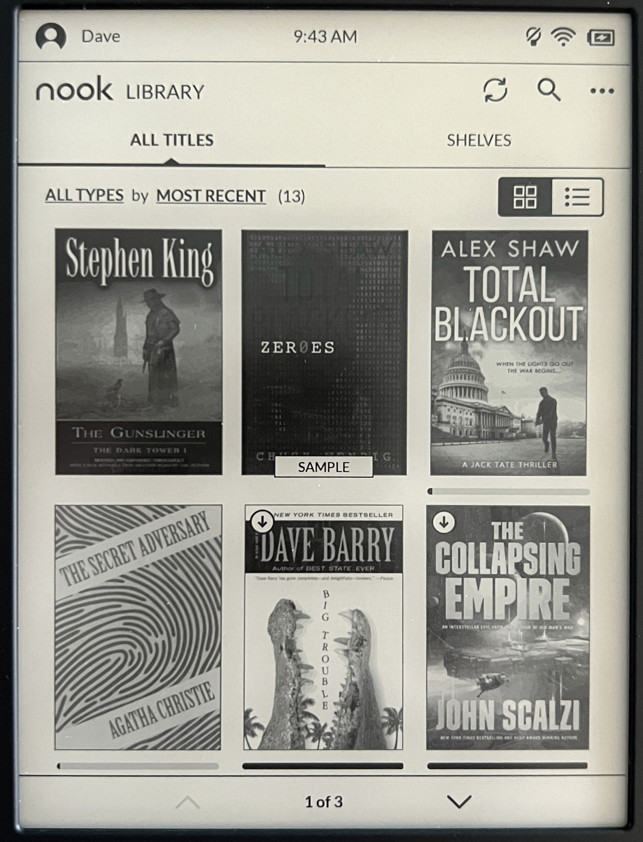 If that isn't the case, try tapping on the dual arrow "update" icon on the top right. Still can't see it? You might have it in the wrong format or have not properly ejected the device. The very first time I copied across a file, I did end up restarting (hold down the power button for 5 seconds, then choose RESTART) for it all to work too, so that might be worth a try.
Assuming it works, however, you're good to go! Congrats.
Turns out you can view just the titles you've sideloaded / downloaded onto your Nook too. Where it says "ALL TYPES by MOST RECENT" tap on "ALL TYPES" and a few options appear: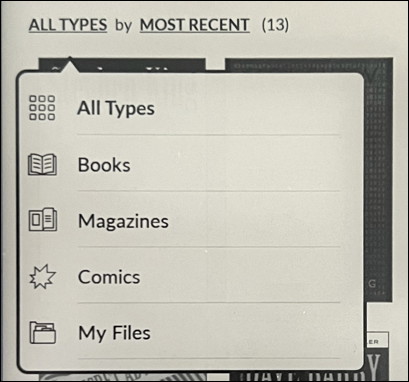 Choose "My Files" from this menu and you'll see just those titles that you've downloaded: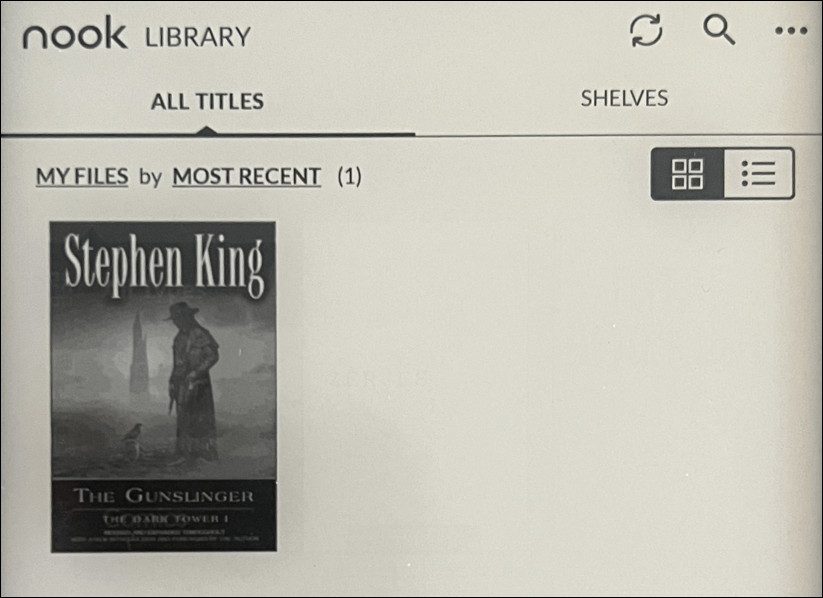 Does it all actually work? A tap on the cover of The Gunslinger shows that it does: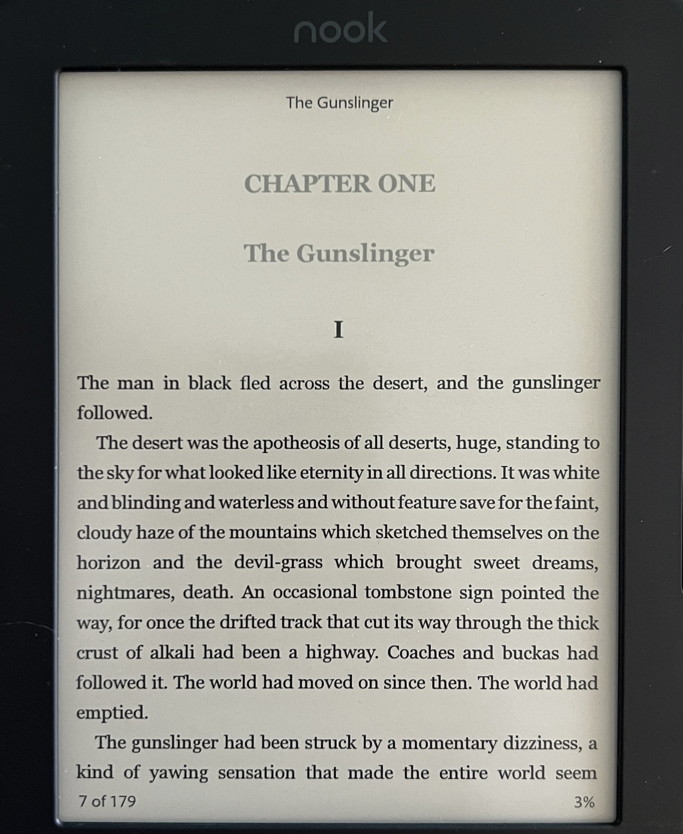 And now, if you'll excuse me, I have a book to read…
Pro Tip: I've been writing about ebook readers since they were first introduced. Please check out my Kindle and Nook Help area for more tutorials and articles.