Every time I go to buy something at Amazon.com it complaints that my credit card on file is expired. That's annoying! How do I just delete the card?
[[ Note: This article is updated in How to Delete Obsolete Credit Cards from your Amazon Account Payments ]]
Amazon is the king of making transactions easy, as demonstrated by their (patented!) one-click buying system. If you have your address and payment information on file, having things download or be shipped is but a single tap of the mouse or trackpad away. Dangerous, really. But that's another story, my need for online-buying-anonymous!
Because the site is so massive and so complex, it can definitely be the case that it's confusing too, so I know exactly what you mean with the expired credit card problem. In fact mine stemmed from the Target data breach and my credit card company issuing replacement cards across the board in response. A good thing, but a hassle too.
Let's figure this one out, however, not solve the financial world's problems. Deal?
Start by going to Amazon.com and looking for the "Your Account" link on the top right: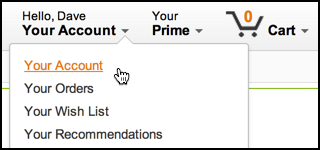 Once you choose it, you'll be astonished by how many different options there are. Dozens and dozens of 'em.
Look for this section:

You might think "Add a Credit or Debit Card" is the path to travel, but you'd be wrong.
Click on "Manage Payment Options" since you want to delete an existing credit card. Mine shows two cards, one that's my Amazon.com credit card, and one that's my debit card that's expired:

I expect you understand why in these images I have redacted the card numbers, my address, etc. You'd do the same, I'm sure!
Anyway, find the card that's expired, and click on the downward triangle to its right. More information appears: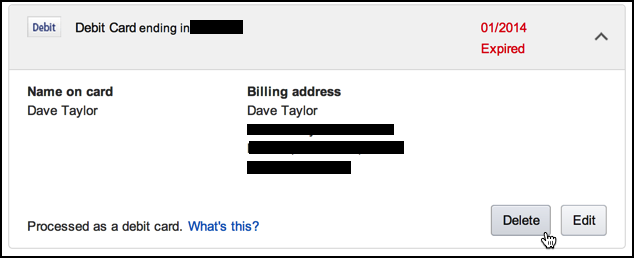 "Delete". Yes. Do it.

Notice that those smart folk at Amazon.com know that some tricksters are going to try and buy things then immediately delete the credit card, hoping that somehow the transaction won't occur. Well, duh, of course it's going to be billed. 🙂
Sure you want to axe the card? Click "Confirm" and you'll get a quick glimpse of…

and that's all there is. Done.