I have a couple of credit cards set up for my Amazon.com account, but I want to chop it down to just a single card. How can I see what cards I have associated with my account and delete those I don't want to keep on file?
As a massive powerhouse in online retailing, it's definitely convenient for people to have a payment method on file with Amazon.com so that one-click transactions are truly a single click. It definitely is convenient, but what if you've ended up with a number of cards listed, have expired cards, or just want to winnow things down to one card chosen just for the purpose of online shopping? Turns out that it's pretty easy, and doubly so if you use a Web browser to navigate the Amazon account interface.
Before we proceed, I will encourage you to consider designating one credit card to be used for all online transactions too; it's a smart way to compartmentalize so that if there are ever any problems with fraud, it'll be confined to that one account. Generally speaking, fewer credit cards is always better, but I don't want to go too far into financial management strategies. For Amazon, I find that an Amazon credit card [ through Chase Bank, check out the options ] works out well as it offers additional rewards as points for future purchases.
Okay, back to our task! Start out by going to Amazon.com in a Web browser, then click on the "Account & Lists" link
THE AMAZON ACCOUNT & LISTS MENU
Here's what you'll see (though the Buy It Again items on the left will be based on your purchases, not mine, of course):
As highlighted, click on "Account" on the top right.
Now you'll go to the center of your Amazon account with access to just about everything related to the site, from Kindle ebooks to your shipping history, wish lists to gift cards, even profiles and your login security: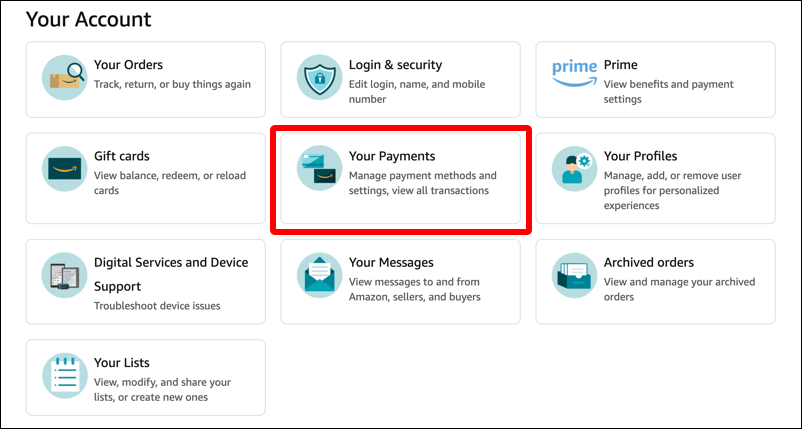 Choose "Your Payments" from the center of the grid.
MANAGE YOUR PAYMENT METHODS ON AMAZON.COM
At this point you'll be presented with a list of credit cards and bank accounts on file with the site:
For obvious reasons, I've redacted a fair amount of this information for my own privacy, but notice I have two Amazon Prime cards listed, along with a separate bank account. One of these cards was replaced by another after an incident of fraud, so it's surprising it is still listed here as an active card.
That, however, can be fixed.
Select the card you want to remove – you might need to visually inspect your physical credit cards to ensure you're choosing the right one – on the left side, then click "Edit" on the right (notice I've highlighted it above).
This pops up the following window: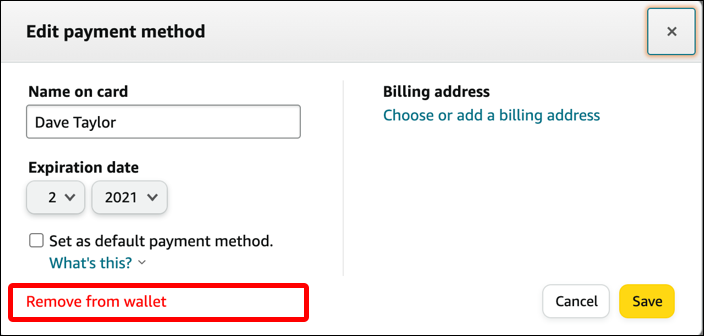 Notice you can't edit the card number, which makes sense, but you can change the expiration date if your bank has issued you a newer card with the same account number. You can also set the default payment method for one-click. Or, you can remove it. Click on the red "Remove from wallet" link on the lower left.
Note the disclaimer that removing the card doesn't magically obviate you from any payments due against that account. You can't be quite that sneaky and get away with it! It's also worth noting that even though this is an Amazon credit card, removing the payment method doesn't actually cancel the credit card. That's a whole 'nother topic, most safely done through the issuing bank (Chase Bank, in this instance).
Sure you want to remove this credit card? Let's do it! Click on "Confirm remove".
This is what I saw after confirming removal, which is a bit of a glitch since the other card is already listed as my default payment method, but… it worked. A click on "Update" to confirm and you'll get one more confirmation:
Done. Note you can also remove all your payment methods if you want, then enter card information on a per-transaction basis if you prefer. Or you could remove every card then re-enter the one card you want to use, just to ensure it's all set up exactly as per your requirements. Just look for "Add a payment method" on the left side of the Payments page and you'll be able to proceed without hassle.
[ Note: This article updates Delete Expired Credit Cards at Amazon.com, also on this site ]
Pro Tip: I've been writing about Amazon, eBay, and other online commerce sites since the dawn of the Internet. Please check out my Amazon online shopping help area for many more tutorials and articles!