My client keeps sending me WAV files for her project, but the program I'm using only imports MP3 files. Is there an easy way to convert WAV to MP3 and any way to edit the audio as I go if necessary?
Thought there aren't as many audio file formats as there are video formats, it's still rather startling to see just how many popular file formats are in use. Most common are MP3 and WAV, but there are lots of variations including Apple's M4A and the audiophile preferred format of FLAC.. The good news is that there's a program available for your Windows PC that can convert any of these formats to any other format. And did I mention it's free? No malware, no ads, no spyware, just a geeky tech program that might not be pretty, but is powerful and safe to install both.
I'm speaking of the venerable Audacity application, and I've been using it with great results on my Mac and Windows systems for many years. Rather than focus on conversion, however, it's really an audio editor, so you can use it to record yourself for a voiceover, grab the latest hit song and chop out your favorite 15 seconds, or even cut out umms, errrs and similar noise to clean up a recording. In fact, when I recorded the audio book version of Twitter Power 3.0 [available on Audible.com] I used Audacity to clean up all the pauses and breathing in the original recording.
DOWNLOAD AND INSTALL AUDACITY FOR WINDOWS
To start, you'll want to download and install the Audacity program on your PC. This is not quite as easy as "go to the Windows Store and click 'get'" however, because it's in a shareware repository known as Github. Best place is to start at Audacityteam.org and go to Downloads > Windows. Once you're there, it offers two choices for download:
Note: The version number might be different, but the download links will look similar.
I recommend that you choose the Installer option rather than the ZIP file. It's easier and the manual doesn't take up much space and, who knows, maybe you'll want to check it out to learn some of its more advanced capabilities.
Click on "Audacity 2.4.2 Installer" and you'll go to another Web site where there are quite a few different download options:
Mac, Linux, Windows, Audacity is widely available, which is great. Notice that the Windows Installer, including user guide, is only 26.8MB. Given how big the latest Windows updates have been, seeing an "MB" instead of a "GB" is a relief!
Click on "Audacity Windows Installer" to proceed. You'll get one of these pop-ups:
Answer "Yes" and you'll drop into the Audacity Setup Wizard:
Follow all the steps as usual with an installer of this nature – and I always accept all the defaults – and it won't be long until you're done, it's installed, and you're ready to proceed.
CONVERTING AUDIO FILE FORMATS IN AUDACITY
I'll be using this WAV audio file sample (click and listen, if you'd like):
Time to launch Audacity! The program always opens up with a blank window: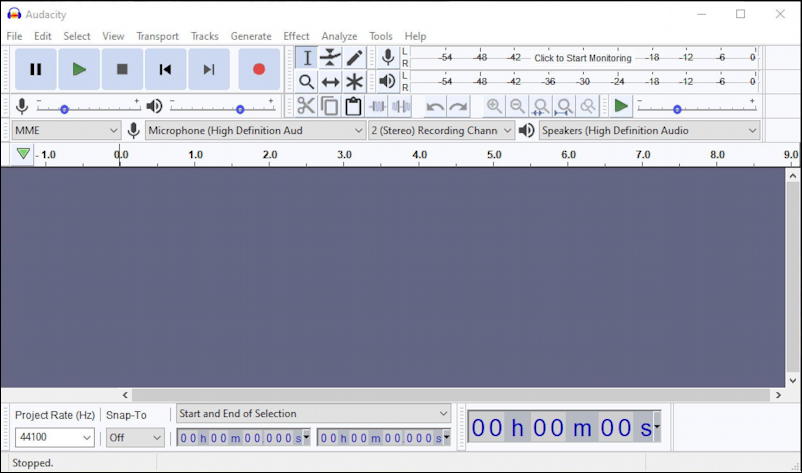 Worth noting are the audio control buttons on the top left and, immediately below that, the input and output levels and below that the input and output choices. Can you see "Microphone (High Definition Aud" and "2 (Stereo) Recording Chann" options listed? That means Audacity is ready to record from your PC microphone in stereo mode with the press of the red REC button. You can try that if you want!
To convert the WAV audio file, choose File > Open and select it. The file will display with a waveform:
You can click anywhere along the waveform to move the playback location indicator (a fine vertical line) then click on the Play button (the green triangle) near the top to listen. Notice how as you play the audio big spikes mean loud audio and very low spikes mean no audio or barely discernible audio. If you iterate by recording yourself and looking at the waveform you'll begin to see patterns and shapes, like the bulb at the very end of the above waveform that represents an intake of breath.
If you just want to convert the audio, of course, you don't need to worry about this at all, but stick with me for just one more thing…
It turns out to be really easy to chop out sections of the audio you might not want – or save just an excerpt – by click-dragging the playback location indicator. As you do so, it'll create a white background. You can then chop that out of the recording with Edit > Delete:
Prefer to save just that selected portion as an excerpt? You can do that instead. Choose the region with the click-drag action, then choose File > Export > Export Selected Audio…
EXPORTING AUDIO FROM AUDACITY IN A DIFFERENT FORMAT
In fact, conversion is done exactly the same way. If you don't have a specific portion selected, actions are considered to apply to the entire audio file. File > Export lets you then choose from a variety of popular output formats:
As you can see above, the standard formats are MP3, WAV and OGG (which "is derived from "ogging", jargon from the computer game Netrek, which came to mean doing something forcefully, possibly without consideration of the drain on future resources." At least according to Wikipedia). You started with WAV and want to end up with MP3, so choose "Export as MP3".
Audacity now pops up a file save window so you can specify what name to give the new audio file and where to save it:
There are a variety of settings in the lower portion of the window, but unless you already know lots about audio files, I would encourage you to leave it alone and work with the default settings. It is interesting to click on the "Save as type" menu, however.
Audacity supports a lot of output formats!
Stick with Mp3, close the menu, click on "Save" and you're… not done!
Here's what pops up:
If you are going to sharing the resultant audio file, it's smart to add some of this metadata to the output file, notably artist name, album and track title, but plenty of people ignore all of this. In fact, check "Don't show this when exporting audio" and you'll never see this window again.
Ready to proceed? A click on "OK" and you're done. For me, here's the resultant MP3 audio file (with the last portion chopped out, as shown earlier):
That's it. Mission accomplished, audio file not only converted from WAV to MP3, but edited along the way. All with the free Audacity program. It's a keeper.
Pro Tip: I've been writing how-to articles for over a decade and have thousands of them on the site. Please do check out my extensive Windows help area for lots more that'll help you get the most out of your PC. Thanks.