I'm a bit baffled: I already paired my Apple wireless bluetooth keyboard with my new iPad 3G [ed: see pair a bluetooth keyboard with an iPad] but for some reason when I try to hook it up a second time the iPad sees the keyboard but can't pair to it. What's going on and how do I fix it??
I bumped into the very same problem and it's a weird one. There's something about the range of Bluetooth or the mechanism by which things pair, because what I did was pair my Apple wireless bluetooth keyboard (which I love!) to my my Mac Mini, then to my wi-fi iPad. It worked fine, but when I went back to pair it with my iPad a second time, instead of just turning on and being recognized, the iPad got cranky and didn't want to pair it as it saw the keyboard was already hooked up to a device.
Now figuring that out took quite a bit of work and a fair amount of time on Google, searching for "problems pairing bluetooth keyboard ipad", for which there are a lot of questions, but not a lot of answers. So I experimented and figured it out! 🙂
I encountered what I believe were two problems. First off, that bluetooth keyboard has a pretty astonishing range, so even two rooms away when I turned it on, it automatically paired with my Mac Mini. I thought Bluetooth was supposed to work for about 7-10 feet, so I was pretty amazed. The second issue was that the keyboard was marked as already paired to another device. Why that didn't affect things when I first paired them, I don't understand, but unpairing it from the Mac Mini certainly solved the problem.
Here's what I was seeing, to start out. This is on the iPad:


It would spin and spin and spin. Sometimes it'd show the keyboard info for long enough to confirm that the keyboard wasn't completely dead: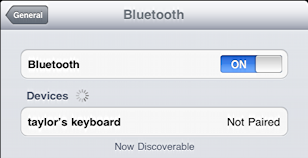 Try as I might, I couldn't get past this point. Back and forth, frustrating as heck! Why this can't show "keyboard (paired to another device)" is beyond me, but it doesn't.
To solve the problem, I switched to my Mac Mini, the device that already had paired with the keyboard. There I went to System Preferences and choose "Bluetooth". Here's what I saw:


Yup, even two offices away it could pair and connect. Incredible! But it was blocking me progressing with the iPad. So I needed to decouple the two. At first I thought I could just disconnect the keyboard from the computer:


Experimentation demonstrated that was insufficient, so instead I needed to click on the "Paired" status on the screen, then click on the "-" sign:


Am I sure? Ayup, I am:


Not more than a second or two later, this popped up on the iPad (not the Mac):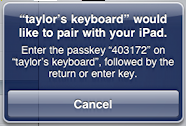 That's more like it! I type in the numeric sequence, press Return on the Apple wireless bluetooth keyboard and almost instantly I see: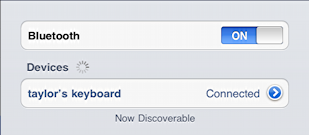 Phew! That solved it for me. Try this sequence, let us know if it works for you too.

And while you're at it, don't forget to check out the extensive iPad help we have on this site too. Got a question about the Apple iPad (or iPad 3G) that we haven't answered? Then let us know!