My friend did something to change the theme of our Messenger conversation on Facebook and it's really cool. I now want to do the same thing with my sister. How can I change themes on Facebook?
While some people argue that themes and skins in messages and conversations are a nefarious flashback to the heydey of MySpace – with its flaming skulls! – I think it's fun. What's ironic is that it's in Facebook's Messenger that you can apply themes, not in any of the other popular person-to-person chat features, while the main Facebook interface is locked into its white-and-blue theme, with no variation possible. Well, no variation through Facebook itself, at least, but that's another story.
What's worth knowing before we go further is that Facebook doesn't have an entirely consistent implementation of Messenger themes; they work great on smartphones, but when it comes to the Browser-based interface, the text balloon colors change, but the background wallpaper is missing in action. You'll see what I mean once a few themes are applied! Oh, and for the record, the only Messenger chat I have applied a theme is with my sister. Must be something about sisters and themes… 🙂
Anyway! Let's have at it. I'll be using Facebook Messenger for Android on my Google Pixel 6 Pro running Android 12.
CHANGE THEME IN MESSENGER FOR ANDROID
By default, Messenger uses the standard white and blue interface of Facebook. Well, okay, gray and blue: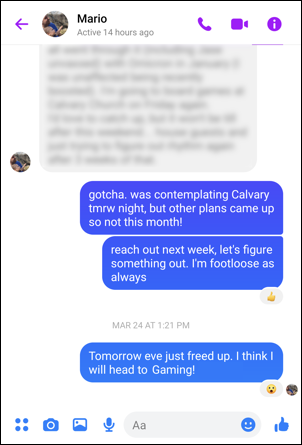 Notice that as the text balloons get closer to the top that they subtly change color, ending up grey and purple at the very top. This is my convo with my buddy Mario and it looks like probably 99% of other Messenger interactions. In other words, rather visually boring. So let's spice it up!
Tap on the "i" icon on the top right and information about this particular contact appears: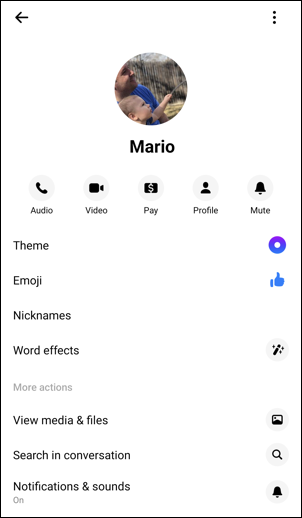 Ah, you can see all the options: It's not actually about Mario, it's about my conversation with Mario. Wait! Is that a movie? Anyway, you can see by the choices that this is where you can affect quite a bit about a chat, from themes to specific emoji, nicknames (maybe "Mario" should be "Luigi" forevermore?), even custom word effects.
CHOOSING A GREAT MESSENGER THEME
Tap on "Theme" and prepare to waste a lot of time checking out the options…
It looks like that's all of them, but there are dozens more: just swipe up and you'll see the full palette, including the ability to just choose a different color scheme without producing an entirely new theme. Love the Denver Broncos? No sweat, you can set up an orange and navy blue color scheme with your NFL pals!
First stop, Spooky Space: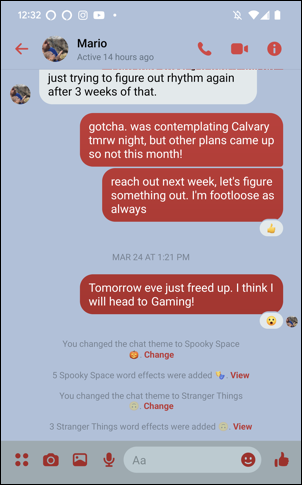 Notice in the small print that everyone in the Messenger conversation sees who changed the theme, nicknames, emoji, etc, even if it's in the small space. Spooky Space, by the way, is basically red and gray on light blue. What about Stranger Things?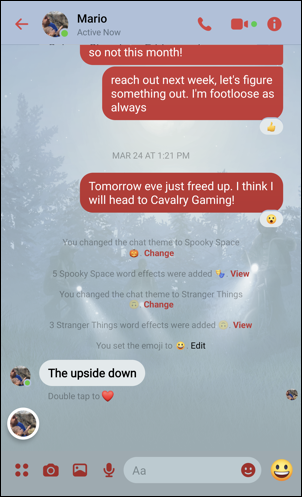 Mario picked up on that change quickly, as you can see by his response to these changes! But is he in the Upside-Down or am I in the Upside-Down? And what did happen to Barbara anyway?
This theme is much more fun because it's using a thematic background wallpaper too (though, as I said earlier, only on smartphones; the Web interface omits the backgrounds from Messenger themes, though the standalone Messenger app on Mac or PC does include the wallpaper. Confusing). It also adds "word effects" too.
How about Sky?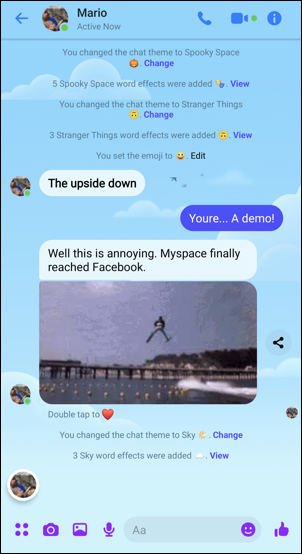 Yeah, he's snarking about Facebook "jumping the shark", as the GIF specifies. He might well be correct.
But hey, while we're on the tour… how about Tie Dye?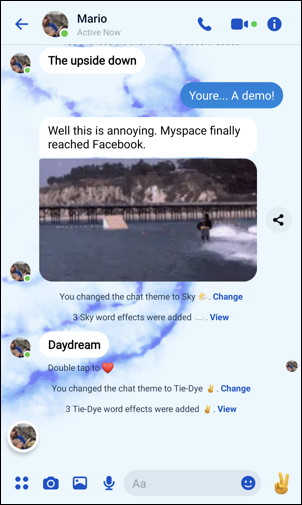 Actually, I like this one! Wondering why Mario sent "Daydream" as a one-word message? Because that's how you trigger a word effect; by using a key word in one of your messages. In Sky "daydream" is one of the words, and in tie dye, the two words are "peace" and "color".
That's it. Now you know how to change Messenger themes on Facebook and can amaze your friends! Have fun.
Pro Tip: I've been writing about Facebook since the very beginning, and encourage you to follow AskDaveTaylor on Facebook. Not only that but please do check out my extensive Facebook help area with hundreds of helpful tutorials and guides, along with my huge Android help area too! Thanks.